In the packed space of the Korean music industry, the music comebacks become more and more intriguing each year. Korean pop groups often step up their game and no two music albums will have similar concepts or vibe. In this fun space of music, the South Korean female group ROCKET PUNCH is thriving as rising stars in the industry. The group consists of members Yeonhee, Juri, Suyun, Yunkyoung, Sohee, and Dahyun. Though they have an interesting group name, they imbibe bright energy and aim to spread that and positivity through their music.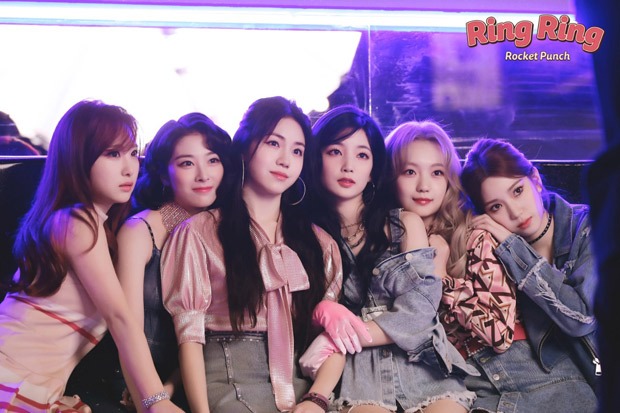 EXCLUSIVE: K-pop group ROCKET PUNCH talks newtro sound with 'Ring Ring', motivating each other amid pandemic and goals set for this year
The group made their to the stage on August 7, 2019 '빔밤붐(BIM BAM BUM)' track from their first mini-album 'Pink Punch' that garnered a lot of attention. ROCKET PUNCH members are emerging stars in the K-pop industry and already making an impact on international charts as well.
Their latest single album 'Ring Ring' plays the newtro genre which blends the synth-wave and synth-pop style of the 1980s. The music video dropped on May 17 and in just four days, it soared its way to the 10 million mark. This week, their song blasted onto the World Digital Songs Sales chart by soaring at No. 20. Though they are still new in the industry, they are emerging stars and quickly gaining international attention as well.
ROCKET PUNCH spoke to Bollywood Hungama about their latest comeback, what it means to them, their favourite tracks, and what are their goals set for this year. (Part 2 of video releases tomorrow).
How excited were you to bring 'Ring Ring' to life and play with 'newtro' genre?
YEONHEE: What we prepared... First of all, according to this concept, we tried to bring a new feeling when 'JUICY' out of 'BOUNCY' last time. Of course, the freshness of 'JUICY' is also important, but I think we did a lot of effort to bring this newtro and more exciting atmosphere to life.
If you could describe 'Ring Ring' in 3 words, what would those be?
JURI: Newtro!
DAHYUN: New challenge!
SOHEE: Just us!
The album's concept is unique. Which songs did you connect the most with and why?
SUYUN: Well, of course, it's our title track 'Ring Ring'. Since we all prepared hard with one heart and mind with great confidence, we seem to have excellent confidence in 'Ring Ring' and I think that it suits everyone very well.
YUNKYOUNG: Other than 'Ring Ring', our track 'Ride' also a good couple song.
YEONHEE: Personally, I think 'I Want You Bad' is also very good. A little sexy mood, Maturity!
What's one highlight for each of you from this EP?
YUNKYOUNG: It's everything from beginning to end.
JURI: Yes! There are too many!
DAHYUN: It seems that the point is to enjoy together while watching us enjoy on stage.
YEONHEE: With no intention, we always sing verse 3? Like 'Wow', there is always a part that pops out in a high pitch. Also in this 'Ring Ring', there is a scene where it bursts at the highlight of verse 3 and jumps with excitement. I think that is also a point of watching.
YUNKYOUNG: I really want you to watch the fancam too. There are a lot of points to know about not only the singing members but also everyone next to her. I hope you check it out.
ROCKET PUNCH is completing 2 years in August. What's the best thing you've learnt so far working together as a group, making music and performing?
JURI: For me, it's teamwork. I can do something with these 6 people at any time, and I can do something with them, but this kind of teamwork.. that we improved while staying together so it's very good. I learned that kind of teamwork.
With your EP 'RED PUNCH', you soared your way to the top of iTunes on the album's chart. How does it feel to be on the international chart very early on in your career?
YEONHEE: I think the more I listen to these stories, the harder I can prepare for the next activities.
SUYUN: And we will work harder to meet more global Ketchys. fighting!
If you could introduce ROCKET PUNCH's discography to a new listener, what songs would you recommend?
YEONHEE: Isn't 'BIM BAM BUM' everyone's answer?
YUNKYOUNG: Well, because it's a song that announces our beginnings.
JURI: That and 'Ring Ring' are more. Because the concept is also different. I want to show our fans that we have a variety of charms.
This past year has been rough. Life has changed drastically. You haven't met Ketchy in a while since performances are now remote. How have you kept yourself motivated?
SUYUN: First of all, it's a time when we can't meet them, but it seems like we tried to meet them through a way to communicate with them as much as possible, like V APP, SNS, etc. I think we are preparing while waiting only for the day to meet our fans. I think the Ketchys will do that, and even now, We are praying earnestly and waiting for the situation to get better.
YEONHEE: And there is only one more reason we were able to withstand again. We will definitely communicate with the catchers to wait and visit us, but the Ketchys are also really… as if they communicate with us, 'We are waiting for a Rocket Punch too much'. 'Because I'm waiting for Rocket Punch, I'm cheering for you', 'Cheer up and love you a lot', and fans conveying a lot of these messages. 'Until comeback, the Ketchys are waiting for Rocket Punch'., I think that motivates us a lot.
There are so many things to explore music and concept-wise. What would you try to do next?
DAHYUN: I still think it's good to keep trying new challenges, but I want to try something that's a little cool and strong...very intense.
Any goals set for this year? How does ROCKET PUNCH want to evolve as an artist?
SOHEE: For now, we hope things are getting better as soon as possible, so I think it would be nice if we could have a concert with Ketchys all over the world. We will work hard until the situation gets better until we can do the concert, so I hope you wait a little longer for it, Ketchys!
Have a look at the video interview:
BOLLYWOOD NEWS - LIVE UPDATES
Catch us for latest Bollywood News, New Bollywood Movies update, Box office collection, New Movies Release , Bollywood News Hindi, Entertainment News, Bollywood Live News Today & Upcoming Movies 2023 and stay updated with latest hindi movies only on Bollywood Hungama.