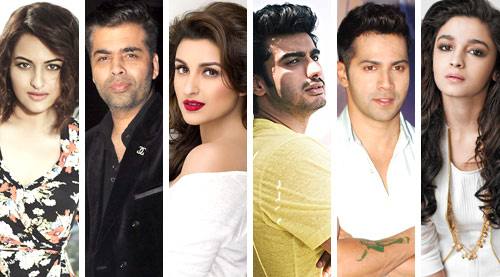 Many have seen their dreams come true in Bollywood and for some of them it was Salman Khan who gave them a big break in this world of glamour. While Salman Khan is known to share a great rapport with many actors and actresses, a lot of them have come in support of their colleague and have expressed their disappointment over the recent verdict on the Salman Khan hit-and-run case. Given the fact that Salman Khan also owns the Being Human Foundation for charitable causes like educating underprivileged children, a lot of them have mentioned about the kind and generous person Salman is.


Readers may be aware that during the court session that was held today, Salman Khan was convicted for a five year imprisonment over the 2002 case.


The following are the tweets wherein celebrities are extending their support towards the superstar and his family:


Sonakshi Sinha: Terrible news. Dnt knw wht to say except tht will stand by @BeingSalmanKhan no matter what. Hes a good man and no 1 can tk tht away frm him.


Karan Johar: I can only respond emotionally just now...my thoughts and prayers are with Salman and his family today....I wish them strength....


Parineeti Chopra: Hurts to think of what could happen. We will always be with you. Hope the judge sees the beauty of a human being that Salman Khan is.


Arjun Kapoor: Cant wrap my head around what's happening, scary how fickle life is, hope n pray he emerges stronger like he has in the past @BeingSalmanKhan. It doesn't matter what anyone or any court says he doesn't deserve this at any level...will stand by @BeingSalmanKhan no matter what...


Varun Dhawan: My prayers are with @BeingSalmanKhan and his family who I know love this country and respect its judiciary.


Alia Bhatt: It hurts when your own are punished, even if they are in the wrong. We love you and are standing by you.


Ayushmann Khurrana: Let the law take its course. And let his fans be his force. Let the judgment be the difference between the two. And we know who may win.


Pulkit Samrat: Today I wish he wasn't a superstar. Prejudice. @BeingSalmanKhan


Bipasha Basu: @BeingSalmanKhan is a man who has always helped d underprivileged! A man who has done so much humanitarian work. Prayers for a fair judgement. @BeingSalmanKhan is the nicest human being in this business. Wish all our Prayers and love help him in this difficult time. Deeply saddened.


Ameesha Patel: Just not fair on @BeingSalmanKhan . My prayers w him n his family to be strong. We r all with u


Farah Khan: In Dubai.. But thoughts n prayers are still in Mumbai with @BeingSalmanKhan n his family..


Sajid Khan: Support and prayers for @BeingSalmanKhan and the entire khan family...may god give them courage at this sad time...


Sophie Choudry: I respect the law but @BeingSalmanKhan & his family have helped so many people & have the kindest heart. This hurts. God give them strength.


Bhagyashree: The verdict! My heart is wid @BeingSalmanKhan n the family. I think he suffered enuf mentally for all dat happnd. But we hv 2 follw d law.


Ashish Chowdhry: I know no one is above law. But I also know @BeingSalmanKhan has a huge heart,n his family is an example of love n kindness. I pray for them.


Daisy Shah: The man is kind n has a golden heart n no 1 can change dat. The news r saddening. But I stand by @BeingSalmanKhan no matter what.


Kunal Kohli: Heart broken at the verdict against @BeingSalmanKhan. Prayers & strength to him & his wonderful family.


Farah Khan Ali: Prayers for Salman and all families affected by this judgement. God is great. @BeingSalmanKhan . Keep faith


Mika Singh: I stand for the man who stands for everyone .. Always respect you big brother @BeingSalmanKhan your fans R with you


Subhash Ghai: Salman khan n all of us have to respect court verdict but we all know that Salman is excellent as human who can't fight with destiny


He further also gave a statement to the media saying, "We all respect the court verdict for Salman Khan but we all in our fraternity know that Salman is an excellent human being and has done extraordinary community services too. Now he can apply for bail and justice in higher courts. That is the beauty of judiciary system too. Let's wait n watch. I sincerely pray for him coz I know him closely as a good person n a compassionate thinker."
BOLLYWOOD NEWS
Catch us for latest Bollywood News, New Bollywood Movies update, Box office collection, New Movies Release , Bollywood News Hindi, Entertainment News, Bollywood News Today & upcoming movies 2020 and stay updated with latest hindi movies only on Bollywood Hungama.