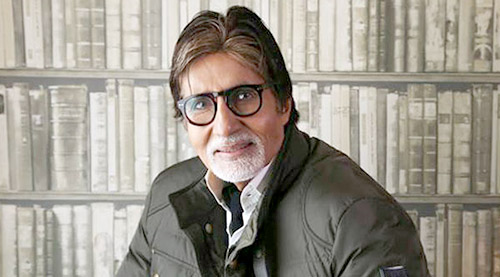 'Brand Bachchan', a long standing association with the world of films for 45 years, a legendary standing and a stature that has defied the changing rules of the Box-Office dynamics - Mr. Amitabh Bachchan has seen it and still happy to explore it all.


Big B speaks straight from the heart.


During last half a decade or so years, a new term called 'Brand Bachchan' has been coined. You may attribute this to media perception. But the fact remains that this brand is there to stay for many more years, or perhaps decades to come. If done consciously, what kind of effort went into getting this brand in place? And if this was incidental or happened sub consciously, how do you reflect at the way this brand has come into being?


Rightly, this term has been coined by the media or those that perceive and now involve themselves in the business of 'branding'. Terms and expressions keep getting manufactured for ease of reference. This is merely another such case. 'Bachchan' is my father's non de plume and now a family name. To protect it and give it furtherance does become the responsibility of the generations that come after. I do not know whether I have been able to contribute to it, but, of this, I am very certain and proud of that the legacy of my revered father shall remain for generations to come. What he has contributed can never be matched or surpassed by me or any other in the present family.


45 years since you started working in films, there has been a landmark change in film promotion. While audio and film release functions have been customary, radio, internet, print and satellite promotion is a must as well today. Today, how much of all of this is actually enough? And, have you actually felt like telling the makers of your film to put a stop somewhere?


As someone who has been fortunate to be associated with cinema in India for the past 45 years, I have indeed been subjected and made a party to some of the progressive changes that have occurred with time. Promotions are now an integral part of cinema releases, and one has to accept it, even grudgingly at times. Business models of today demand marketing strategy. The relevance of the first week collection reflects on the overall success ratio of a film. To get that limited seven days to bring in its maximum clientele is what promotions are meant to do. Some succeed, some do not!


I strongly believe that, for an actor of your stature who has been living cinema for four decades now, it would be near impossible to be seen resting. In such a scenario, honestly, doesn't it become annoying when you are being questioned/advised/probed with a repeated query around 'Sir, please take a break'.


Yes...






Of course, quite a few out there are perhaps your true well-wishers but still, doesn't it require more than just patience to repeat your stance on your work, health and general way of living your personal and professional life?


That would have to be a personal decision. My personal decision agrees to continue.


I am in my late 30's and my generation of actors/film makers is seen to be coming up with oft repeated statements like - 'Oh, it was such an experience working with a legend like Mr. Bachchan', 'I couldn't believe it when I actually gave my first shot with Mr. B', 'I couldn't have been a film maker if I hadn't made a film with Big B' etc. etc. When you hear such statements being made, how do you lead yourself to believe that these statements are indeed made straight from the heart?


I am humbled by such, but certainly not deserving of any.


The fact, though, is that same generation wasn't exactly forthcoming a decade and a half back when you were in the process of re-inventing your career. Due to this, you must have felt that all the eagerness, willingness and love expressed by the makers oscillates as the box office standing of an actor changes, even if it is an actor of your stature?


I am of no stature, so, let us put that away. Yes, age, time and circumstance will affect the standing of an actor in this profession. You either accept that and move away, or continue with a lesser standing. I am happy with the latter.


For Shamitabh, you sung for Ilaiyaraaja and came out thrilled. Overall though, what do you feel about the music which is churned by current composers? How do you react to the trends in music that continue to change every 2 years now?


Art, culture, morals, society changes with time. So does music. Each generation will have their choices according to their tastes. This generation feels and compliments a certain kind of music, and so be it. It may not necessarily adhere to those of another past generation or a generation to come. I think that needs to be respected. Because I belong to a generation that has long passed its prime, I shall appreciate the times of my time, but also commend what attracts the present. Both have intrinsic qualities. The lyricism of the past may not necessarily be valued by the sound and wording of today's music, but ... such is life!!
BOLLYWOOD NEWS
Catch us for latest Bollywood News, New Bollywood Movies update, Box office collection, New Movies Release , Bollywood News Hindi, Entertainment News, Bollywood News Today & upcoming movies 2020 and stay updated with latest hindi movies only on Bollywood Hungama.