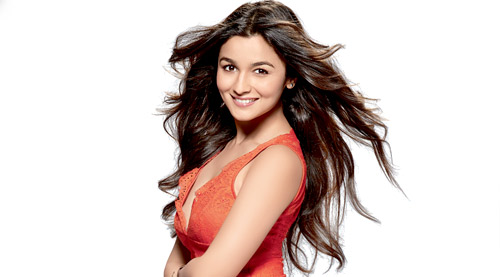 Alia Bhatt's debut film Student Of The Year had a scene where actor Sidharth Malhotra claims that Shanaya, the character played by Alia, is not really clever and that she is more about fashion than brains. But the role seems to have stuck with Alia Bhatt's real life image too. She became the victim of Facebook memes and Twitter jokes after her Koffee With Karan debacle. The actress in a fit of hurry claimed Prithvi Raj Chauhan to be the President of India and later, the statement made her a butt of jokes on the internet. She was regarded as the epitome of unintelligence and was criticized for her so called negligible IQ level.


Despite the jokes that turned out to be downright insulting at certain points, the actress decided to take it up as a challenge. In what could be termed as one of its kind move, Alia decided to feature in a video titled 'Alia Bhatt: Genius of the Year' for AIB (All India Backchod). The video in fact is a spoof on herself. The said video combined the jokes that went viral on the web and Alia decided to respond to them in a rather satirical manner.


While this move has left some surprised, many, on the other hand, have appreciated Alia Bhatt's tongue in cheek sense of humour and her sheer guts to laugh on herself.


In the era where Bollywood controversies and ego hassles form the daily dose of media gossip columns, Alia Bhatt decided to go ahead with this video and turn into a laughing stock, despite the risk of being flaked for the same. She is the first celebrity who decided to take a firm step and fight back criticisms but without offending anyone, at the same time adding the humour element. Many personalities are currently saluting Alia for her spirit and also for the fact that being one of the youngest actors in B-town, she has shown the level of maturity that very few have in an industry like Bollywood.


Author William Arthur Ward had once said, "To make mistakes is human; to stumble is commonplace; to be able to laugh at yourself is maturity." To have made 'sounding unintelligent' look like a cakewalk, Alia Bhatt surely deserves credit for her sporting spirit. When one achieves fame, it is quite obvious that their actions often hog the spotlight whether it's their sweet gesture or just a fumble. Though many actors claim that they do know rumours, criticisms and such jokes are a part of this glam industry, very few understand and handle it with grace. We believe Alia Bhatt has set a new example with her video.



Alia surely proved that she is one of those few celebrities who can accept her faults and send out a message that celebs too can falter when it comes to public appearances but instead of disowning it or ignoring it, accept it and move on in style. Well, her recent attempt got us wonder if the older generation of actors would have reacted the same way if they were being flaked on the internet. It looks highly doubtful! They may have resorted to PR activities promoting their good side as a part of damage control or may be have reacted strongly to media questions but we wonder if they would have taken this in their stride. Not just older stars, but many of the younger generation stars too complain over the constant limelight that they receive and turn blind eye to the cons of the industry. But somehow with the Alia Bhatt video, we think there is a change that we can see. For that matter, we appreciate the courageous spirit of Parineeti Chopra and Arjun Kapoor too. When Parineeti Chopra appeared in Koffee With Karan along with Alia Bhatt, many of them thought it was just to prove that the two are on talking terms since rumours had it that the two were on loggerheads since they are competitors. But taking that as the cue, the way Parineeti acted in this video is surely commendable. And Arjun Kapoor too is not really worried about being titled as 'Gareebon Ka Wolverine'.


Now that 'Alia Bhatt: Genius Of The Year' has gone viral, it will tend to face criticisms and many haven't taken this lightly like the way Alia and her fans did. Some are even calling it a desperate attempt of damage control, where the PR (Public Relations) team of the actress is trying to revamp her image. However, even if it is true, what we like is the courage that she has shown in accepting herself and the cons of stardom that come along.


Though she is only 21, she has understood the tricks of the trade and reacted maturely, a quality that many Bollywood celebrities seem to lack. She has proved that even though Bollywood celebrities are viewed with a high amount of scrutiny, there is always a way where we can make a point without being too rude and respecting the audience's criticisms.


Her level of acting has surely been raised from Dolce & Gabbana to Wisdom & Shabana and we surely had a hearty laughter on her paisa vasool performance.


We do not know if celebrities need to be condemned for their lack of general knowledge but we know that if not more intelligent, Alia Bhatt has currently scored way more marks owing to the kind of maturity she showed compared to many of her contemporaries.


Let's hope we get to see some more fun stuff like this from other Bollywood celebs too who are being trolled on the internet right now!
BOLLYWOOD NEWS
Catch us for latest Bollywood News, New Bollywood Movies update, Box office collection, New Movies Release , Bollywood News Hindi, Entertainment News, Bollywood News Today & upcoming movies 2020 and stay updated with latest hindi movies only on Bollywood Hungama.