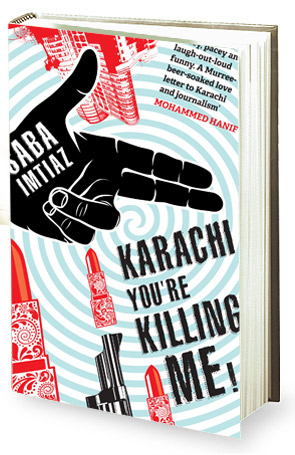 The book caught my attention when it was announced that Sonakshi Sinha's next film Noor is based on it. 'Karachi, You're Killing Me' is the book which pitches itself to be the coming together of Bridget Jones's Diary and The Diary of a Social Butterfly. With Pakistani author Saba Imitiaz promising that this 270 odd page book is a comedy that is set in Karachi and tells the tale of a 20 something journalist Ayesha, you brace yourself up for a roller coaster ride with several smile through moments.
What the book does really well is establish the character of Ayesha quite well. Once you go through first 30-40 pages, you get quite a clear idea around who Ayesha is, what she does for a living and how she is battling it out as a journalist in a city which is alternatively charming and hostile. She encounters several bitter-sweet moments in her day to day life where she has a difficult boss to deal with, a trusted male friend to look up to and a couple of female friends who give her good company in thick and then.
So while she spends her days largely in disarray, what keeps her going are several booze and party sessions where she comes across a mix of interesting and ambiguous people. On the other hand, the field gives her an experience of a different kind, as right from the rival journalists to opportunist politicians to roadside leaders she has a day that never ceases to amaze her. In the course of time, she also meets a foreigner from the West who sweeps her off and as one thing leads to another, a one night stand transpires into something much bigger.
Saba Imtiaz does well to set the pace for the book. She really sets up the characters quite well, not just of Ayesha but other principal and peripheral characters as well. Full marks to her for that. However, in the process, what does bother at times is the lack of plot setting sooner in the day. You go through half the book and are still hunting for the real plot to kick in. At maximum, it appears like Ayesha's memoirs on display and while they are interesting, you wonder if this would be all in the book which had an interesting enough premise to lead into a much bigger show.
Down the line, a conflict sets in as well. However, it doesn't appear to be really big enough that would consume the remainder of the book. Though you do not lose interest, the stranglehold appeal that you expected, especially with such a powerful title, isn't quite there.
Thankfully, the third act starts packing in some steam and you do join Ayesha back in her journey. A new episode opens up at this point in time, what with Ayesha picking up a new dimension in her career, and while the smile through moments continue to remain, there are a couple of turns that the book takes in as well which manage to impress.
What Saba does really well is to keep the language of the book quite frothy. It is young and funny that makes you nod your head in approval. In fact, one also has to add that since Sonakshi Sinha's name has been announced as the lead protagonist for the film based on this book, you succeed quite well in putting her name to the face. As a result, you almost hear Sonakshi mouthing the dialogues with her trademark delivery style intact. That largely succeeds in making this book all the more identifiable. Moreover, the Karachi setting is new for majority of readers as well, and you get to know a different side of the city which is hitherto unknown.
That said, it can well be expected that for the film's screenplay, the makers would tighten up the proceedings and kick in the plot a tad early in the day. That should ensure that the cinematic experience turns out to be even better than the written words that are up there for display. Now that should make Noorone of the funniest films of 2017!
Price: Rs. 299/-
Rating: ***
BOLLYWOOD NEWS
Catch us for latest Bollywood News, New Bollywood Movies update, Box office collection, New Movies Release , Bollywood News Hindi, Entertainment News, Bollywood News Today & upcoming movies 2020 and stay updated with latest hindi movies only on Bollywood Hungama.