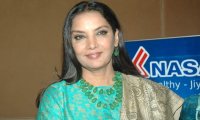 Post Anna Hazare's historic victory over the weekend, people from various walks of life were all praise for his determination to stand by a cause he so strongly believed in. Our B-town folks too weren't far behind in expressing their views on the phenomenon called Anna Hazare. Here's what some of them had to say...
Shabana Azmi: "Firstly, as a nation we have to thank Anna and his team for bringing the issue of corruption into focus. It's an issue that needed to be dealt with ...NOW! In a democracy, people must be active participants not passive recipients. They must set the agenda for a clean government. The groundswell of support for Anna happened because of the people's disgust with corruption on a daily basis. Anna helped them realize they matter and can make a difference. I agree with hunger strike being a form of satyagraha. I had gone on a hunger strike for slum dwellers many years ago. But having said that I feel parliamentary processes couldn't have been bypassed. I find many recommendations of Aruna Roy NCPRI far more practical. Janlokpal is not a magic wand that would eradicate corruption .But yes it's a big step towards dealing with the evil. To me the success of Anna's movement is if it brings a transformation within us the next time we are tempted a bribe to lubricate the working machinery...and we take the longer route and say no to corruption."
Rakeysh Omprakash Mehra: "This looks like just the beginning. The middleclass has woken up. Both the people and the parliament have to tread very carefully from here onwards. We need to build a nation with a sound value-system and a supreme vision."
Farhan Akhtar: "It's a great first step in the right direction and my heart is full of gratitude to Anna. It is a victory of the people and for the democratic process."
Sudhir Mishra: "It's the first step in the rebirth of democracy in our country."
Mahesh Bhatt: "The government did not have the moral courage to lock horns with Anna's movement because their hands were stained with 'blood'. Anna and his supporters have a right to feel triumphant. But the nation must not delude itself that heaven will descend in our backyard at the crack of dawn tomorrow. Get ready to run a marathon! The winning post is not yet in sight. The fight will now have to be fought and won in the real world and not in TV studios."
Smriti Irani: "As a member of parliament it was a historic day today when the voice of the people found resounding support by my party .We of the BJP had effectively upheld not only the supremacy of the Parliament but also supported the people's right to protest. Today was a victory for democracy for the people in the Parliament rose to the occasion and collectively affirmed their dream to see a corruption-free India."
Amole Gupte: "R K Laxman's Common Man spoke and the nation had to take heed. It is more than any game to be won. And as history shall record, nobody lost!"
Hansal Mehta: "I don't think this is going to end corruption. We are creating a parallel bureaucracy without looking closely at existing inefficiencies and flaws in the system. At least Annaji will break his fast and that is the only redemption in this victory. I am also very angry but this movement has failed to focus on systemic change. I don't want to sound cynical but the behaviour of govt and opposition in parliament has fuelled my cynicism."
R. Madhavan: "What Anna Hazare has achieved is fantastic and as an individual he has reached spectacular heights. I adore him. Lok Pal will deter corruption, but only to an extent. The basic Indian psyche is so steeped in bribery and corruption that unless the young make a conscious decision, the transition into a corruption-free society will take a very long time. But the first step has been taken. Hail Anna!"
Manoj Bajpayee: "20 years down the line, we'll remember this day as the triumph of Anna and people's power. Cynics will hide in a corner and boast there were here."
Pritish Nandy: "The people will always win, however tough the battle may appear. Rulers have to bow to the wishes of the electorate or face rejection. There are no choices left in today's world. The smell of jasmine is there in the air everywhere. Of course it's a victory of the people. Anna used the only means he had, to risk his own life for the cause that meant so much to him. How effective the Lokpal Bill would be depends on how strongly we are all committed to changing India and slaying corruption in public life."
Govind Nihalani: "Yes, indeed it is a victory for the people of our country. It's a victory of the gentle voice of one elderly man that became a deafening roar of a billion Indians. I see it as historic step on the long road of systematic reforms needed in our society and government. I also feel that after making unforgivable mistakes in the beginning the government finally got its act together, displayed flexibility, heard the voice of people without compromising on the supremacy of the Constitution and the Parliament."
BOLLYWOOD NEWS
Catch us for latest Bollywood News, New Bollywood Movies update, Box office collection, New Movies Release , Bollywood News Hindi, Entertainment News, Bollywood News Today & upcoming movies 2020 and stay updated with latest hindi movies only on Bollywood Hungama.