Dear Ayushmann,
I feel like addressing you as Ayushmannji because your achievements, in the last few years, have made me an admirer of a multi-talented young man like you.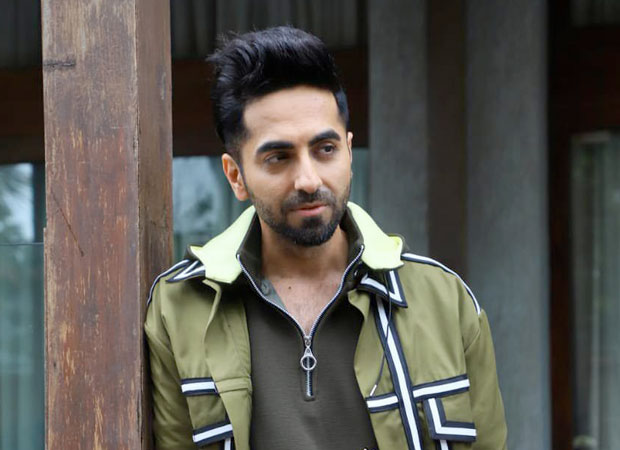 I belong to a generation when I interacted and was associated with names like Dev Anand, Dilip Kumar, Raj Kapoor, Raaj Kumar, Balraj Sahni, Vijay Anand, Laxmikant-Pyarelal, S.D Burman, R.D Burman, Mohammad Rafi, Kishore Kumar, K.A Abbas, Sahir Ludhianvi, Kaifi Azmi, Anand Bakshi,B.R Chopra, Yash Chopra, Asha Bhosle and above all the Nightingale of India, Bharat Ratna Lata Mangeshkar. It was a golden era in the true sense of every word. I was proud to belong and be a part of that generation and have memories of those times which can last me till the end of my time. I don't know why my quest for true talent somewhere stopped with Shah Rukh Khan and since then, I was looking for someone who could give the same feeling that generation gave me. And then one day, my quest came to an end with your name when I saw your work, kept seeing your work and will keep seeing your work as long as you keep doing your good work and I can have the privilege of seeing your work growing better and keep growing without caring for what the ultimate goal will be. Allow me, a product of that golden era to intrude into your career because I am genuinely grateful to you for keeping my faith in true talent alive. I say this with all the humility and honesty that I respect you for being the many splendoured face of talent that you are.
I first saw your work in Vicky Donor and kept wondering how a young man on the threshold of his career could dare to do a role like you did in the film. I admired your guts to accept and live up to the role you played in the film and gave not only Hindi Cinema but Indian Cinema a reason to be proud of. I had great hope in you and your talent and kept hoping to live a little longer to see what kind of wonders you could work in the time to come.
You more than lived up to my expectations when you dared to be different and original at a time when everything and everyone was looking like a world of robots and all the work they did without their minds or their hearts doing the work for what they were created by the almighty. You kept surprising me with the unusual and the entirely courageous acts you put in with your performances in films like, Dum Lagake Haisha, Shubh Mangal Savdhaan and then something entirely different like what you did in my one-time friend Sri Ram Raghavan's Andhadun for which you so very well deserved and won the National Award for the best actor. The award was an affirmation of what your talent was and what your talent would do in the time to come. You were an actor of a generation for whom I must confess I had lost hope and I am sorry to say had no respect for.
I have also been observing you in all the other work that you are doing on television and have gone back into your life to know more about your unusual work done in your early days. I must say that it takes great courage, guts, the confidence and the conviction to do what you have done and what you are doing now and what confidence you have to face the kind of challenges that only an actor with his own confidence can achieve in the trying times to come.
I was surprised at myself when I saw people applauding you for every performance you gave them the kind of enlightenment and entertainment which very few actors today have had the courage to do. It is for all these reasons that you have found admirers all over and I think you know that if there is one great man who sees a very bright future for you and shows it and says it, it is the actor and star of the millennium, Amitabh Bachchan. I am sincerely waiting to see what magic the combination of the miracle man and the wonder man of today and tomorrow, you, will work in a film so differently called Gulabo Sitabo.
I have also been an admirer of your singing prowess. Only last night, I saw a video in which every known young singer of today sang about the negative effects of the use of plastic and I must admit that I saw the video thrice to understand the importance the song was sending across, but more to see how you could use your voice for a cause that was so very important for life and the living today.
I am the last man to flatter you or anyone for that matter, but I cannot hide the truth that my eyes see, my ears hear, my heart beats for and my soul feels satisfied and soothed. You are 'something', you are 'special', you are 'gifted' and you are a 'treasure' for today, tomorrow and for all time.
On this day, all I can do for you is to say that I can only sing your genuine praises and hope to God that you live a long life to make a difference to life which is dying to see someone who can bring that difference. And I can assure life that I have found one life (you) who can and will make that difference it is looking forward to.
I feel elated to have lived long enough to see someone like you who has made a difference to millions of people--and to me.
Thank-you for being Ayushmann Khurrana and may you be you and not change even if you are offered the whole world.
Your admirer
Ali Peter John
Also Read: An open letter to Ayushmann Khurrana on his birthday: Ek hi dil hai, kitni baar jeetoge!
BOLLYWOOD NEWS
Catch us for latest Bollywood News, New Bollywood Movies update, Box office collection, New Movies Release , Bollywood News Hindi, Entertainment News, Bollywood News Today & upcoming movies 2020 and stay updated with latest hindi movies only on Bollywood Hungama.