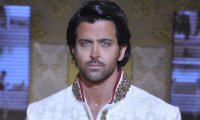 Hrithik Roshan speaks to Subhash K Jha on life and his upcoming films.


With Guzaarish, you've set impractically high standards for yourself. How do you intend to live up to those standards?
I am an actor. It's a job and also the love of my life. There're all kinds of journeys to be undertaken. There's room for both Dhoom and Guzaarish. I just follow my heart. I had earlier played an autistic character in my father's Koi...Mil Gaya. But it didn't affect me the way Guzaarish did. I can't explain why this is so. My next release is Zoya Akhtar's Zindagi Na Milegi Dobara, a completely different world from Guzaarish.


What kind of a world?

It's a world filled with joy and fun. At least we had loads of fun shooting the film. Let's hope that feeling comes across. Zoya Akhtar is the only director besides my father with whom I've worked more than once.



Zoya Akhtar is the only director besides my father with whom I've worked more than once

Never thought of that!

I really like Zoya. I like her perspective. She's my first female director, and she thinks out of the box. No herd mentality and very courageous. Zindagi Na Milegi Dobara is a boys' film and a road film. With Farhan and Zoya on location it, was a fun-fest. Farhan is the greatest mimic ever. He has a very sharp mind. He has also written the dialogues of Zindagi Na Milegi Dobara. So he was able to help me with my thought processes. Katrina Kaif is fantastic. Her energy and enthusiasm levels are superb. We all bonded beautifully, thank God for that!


You participated in the Tomatina festival?

Oh yes! It was like a Holi that they play in Spain with Tomatoes. It'll be the first time that this festival will be seen on the large screen.


Did the entire cast participate?

Well it's supposed to be the moment when the love between me and Katrina grows. So we're the central characters in the Tomatina.


Are you consciously seeking out roles that take you away from the expected?

If you look at my track record, that's how it seems. I think instinctively I go into a completely different movie experience each time.


Your next role is Agneepath, done to National award winning perfection by Mr. Bachchan.

A lot of people think I am foolish to attempt a role that's been done by Mr. Bachchan. But I am not here to fill the God's shoes. It's a script and character which have been considerably re-worked. How can I even dream of replicating what Mr. Bachchan has done? It's a completely different script from the original Agneepath. I reacted positively to it. I've started preparation.



It's a completely different script from the original Agneepath. I reacted positively to it. I've started preparation

What did you feel about the response to Guzaarish?

I'll be eternally indebted to Mr. Bhansali for giving me this role. We worked really hard on it. Mr. Bhansali had the courage to make a film about a man who cannot walk or move, in spite of a commercially unsuccessful film behind him. Some people may laugh at what we've done. I feel sorry for them. It's easy to follow the herd, put an item song and six-pack. But that man really wanted to build a film of enduring aesthetic value. The praise that I received for Guzaarish will motivate me for the next 5-10 years. The credit goes to Mr. Bhansali and God.


Your knees had almost given away. Are they back to normal?

Well, I've to maintain my regimen. It's a life-long process now. I've to do the physio-therapy for 45 minutes a day for my once-broken knees and shoulders. It's like brushing my teeth. So far I'm doing okay.


What went wrong with Kites?

It was a very simple issue. I thought it was time to break the language barrier in our cinema. But it was premature. I was wrong. I went with my gut feeling about the language and we failed. It was Shabana Azmi who made me realize my mistake. During the making of Roland Joffe's City Of Joy, she realized there is the language of the characters and the language of the film. I'd now rather make a film in Hindi and English.


How do you look back on Kites and Guzaarish?

It's very important to have such episodes in your life. The book of life cannot be interesting if there're no chapters in failure struggle and pain. I am very happy for all the experiences. It took me just five minutes to say yes to Guzaarish. I can bask in it for five years.


The year also had its quote of controversy and scandals for you...

I've a very simple way of dealing with such things. When you're a celebrity and you've a certain amount of fame, you've to just fight certain battles because you've no choice in the matter. All the attack in the media helped me to feel the pain of my character in Guzaarish even better. God was on my side. And my wife Sussanne believes in me.


Why are you so selective?

I am just a slave to my vision. If I feel I can make it happen only then will I do it. The conviction has to resonate inside me. The actor is the filmmaker's final link with the audience. So I can't be dishonest.



The praise that I received for Guzaarish will motivate me for the next 5-10 years

Would you be directing a film?

I'm pretty happy as an actor.


Your specially-abled friends saw Guzaarish. What did they think of it?

They really really enjoyed it. They changed my life. I've a relationship with them for life. I owe them a lot. They're happy about Guzaarish. They feel there's some awareness about them now. These are very bright minds. They were jubilant while watching Guzaarish. They give me so much love. A 30-second hug from them makes my life complete.


How have these new friends of yours inspired you?

You would think their lives are depressing. On the contrary they are so inspiring. It's when you visit this dark place that you find the light that brightens your life. If you hide from the dark you'd never find the light and discover the beauty of life. We spend out lives in mundane bickering. These guys helped me come to this beautiful place in life. All the pettiness is gone from my life. Now I want to give some of my joy back to them.
BOLLYWOOD NEWS
Catch us for latest Bollywood News, New Bollywood Movies update, Box office collection, New Movies Release , Bollywood News Hindi, Entertainment News, Bollywood News Today & upcoming movies 2020 and stay updated with latest hindi movies only on Bollywood Hungama.