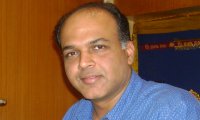 The half-Bengali side of Abhishek Bachchan's personality got him the role of the freedom fighter Surjya Sen in Ashutosh Gowariker's new film Khelein Hum Jee Jaan Sey. Abhishek also speaks a smattering of Bengali in the film.


Says the director, "Abhishek's Bengali-ness did help. I immediately saw him as Surjya Sen. Yes the Bangla side of Abhishek's personality definitely helped. I also wanted to work with him for quite some time…even from before his debut film Refugee. I had even narrated Lagaan to him. Every script has its own destiny. In Khelein Hum Jee Jaan Sey Abhishek was the perfect Surjya Sen. Though Abhishek had never done a period film he got into it effortlessly. He got into a dhoti as effortlessly as Deepika Padukone carries off her saree. They both look like they've worn it all their life."


The fact that Abhishek's prestigious Raavan has tanked does not dampen Ashutosh's spirits. "He's a terrific actor. But expectations from him are of a very different kind because of his lineage. Whatever work he does is taken for granted. Raavan makes no difference to me. After directing Baazi I've seen three years of no work. Success or failure doesn't affect my judgment. Even when I was doing What's Your Raashee Harman Baweja's Love Story 2050 didn't work. So what? While I was doing Jodhaa-Akbar, Dhoom 2 released and my pair (Hrithik-Aishwarya) became a hit. Who knows the ways of destiny?"


Gowariker doesn't agree that period films don't have a market. "Audiences are interested in something new. They don't go by the genre."


After the failure of What's Your Raashee, Gowariker has become more cautious. "Thankfully the failure of Raashee didn't affect my plans to make KHJJS. PVR Pictures backed me all the way. I was lucky that the project happened so quickly after Raashee."


The film also has Sikandar Kher, debutant Maninder Singh and Samrat Mukherjee (who was launched a few years ago by Pahlaj Nihalani). "Samrat was the first actor I cast even before Abhishek. Then I've a Feroz Wahid Khan who was launched by Dev Anand Saab in Love At Times Square. I don't care about success or failure while casting."


Ashutosh Gowariker was determined to film a forgotten chapter of the freedom movement. "We've always known about the sacrifices of Bhagat Singh, Sukhdev, etc. We know nothing about Surjya Sen and the Chittagong Uprising. They are no more than a line in our school books. I came across the book Do And Die by Manini Chatterjee. That's when I realized the importance of this uprising. It is an important slice of the Freedom movement, undertaken by teenagers, in our history of independence. When I started researching I realized we don't know much about it because Chittagong is now in Bangladesh, hence some kind of segregation might have happened. I felt an intense desire to bring this story to screen. Set in 1930, it's a slice of history. But the sub-genre of Khelein Hum Jee Jaan Sey is thriller. While my Lagaan was a period drama, this one is period thriller." And what about Romance? "Abhishek and Deepika don't have time to romance; they're working together for the country's freedom."


As for his next project, Ashutosh Gowariker is still searching for the actor to play Buddha. "I need the compassion of the monk and the elegance of the prince. It's a very rare combination. I also want the world to adopt my Buddha. From Korea to Japan to Tibet to India…every South-East country and even the West should feel it's their Buddha. So it has to be a face that's pure and life-defining. I'm still looking. But if I don't get my Buddha I'll drop the project."



Ashutosh has put his hunt for Buddha on the internet. "The maximum response has come from India, Middle East, Australia, UK and the US. But I'm not rushing it. We've paused pre-production. This is my only chance to make Buddha. I can't afford to mess it up. It's for posterity. I should be able to feel the grace and divinity of the actor every time he comes on the sets. I'd rather not make the movie than compromise. But I feel my Buddha is out there."


Ashutosh Gowariker has been traveling extensively to hunt locations for Buddha. "I've been to Himachal Pradesh, Rohtang Pass; all the way to Kaza…I tried to understand my Buddha. The challenge is, I'd be dealing with a God. I've to understand Buddha before making the film."


Ashutosh Gowariker is barely out of directing one film Khelein Hum Jee Jaan Sey and he's already in pursuit of a Buddha for his next venture.


Explains the director, "I always have overlapping stories in my mind. While I was doing Lagaan I already had Swades in mind. While doing Swades I was already thinking of Jodhaa-Akbar. While doing KHJJS I was researching Buddha. My producer Dr B.K. Modi wanted to make Buddha for quite some time. He approached me with the script by David S. Ward who had won the Oscar for The Sting, when I was doing Jodhaa Akbar."


Ashutosh welcomes the readymade script for Buddha. "I'm not a writer. And besides I've contributed to David Ward's script. The entire Indian- ness in the script was put by me like a creative blanket."


Ashutosh has seen the Western films on Buddha. "Ward's script is different. It's more about Prince Siddharth who chose the path of monk hood. It was Ward's script that made me interested in Buddha."


After KHJJS, Buddha would be a complete departure of tone and theme for the director. "I like the tool box to be different each time that I set out to build something. Only then can I evolve as a human being."
BOLLYWOOD NEWS
Catch us for latest Bollywood News, New Bollywood Movies update, Box office collection, New Movies Release , Bollywood News Hindi, Entertainment News, Bollywood News Today & upcoming movies 2020 and stay updated with latest hindi movies only on Bollywood Hungama.