The musical hit Dhadkan released exactly 20 years ago on this day and is remembered today fondly for its performance and of course songs. While the three main actors of the film – Akshay Kumar, Suniel Shetty and Shilpa Shetty – were praised for their performances, even Mahima Chaudhry stood out despite lesser screen time. Her performance was top-notch, the writers had written it very well and moreover, her part became even more memorable thanks to the song 'Aksar Is Duniya Mein', picturized on her. Meanwhile, Mahima Chaudhry's debut flick Pardes, directed by Subhash Ghai, completed 23 years on August 8. Again, this is a film that refuses to leave public memory because of its subject, Mahima's chemistry with lead actor Shah Rukh Khan and the evergreen songs.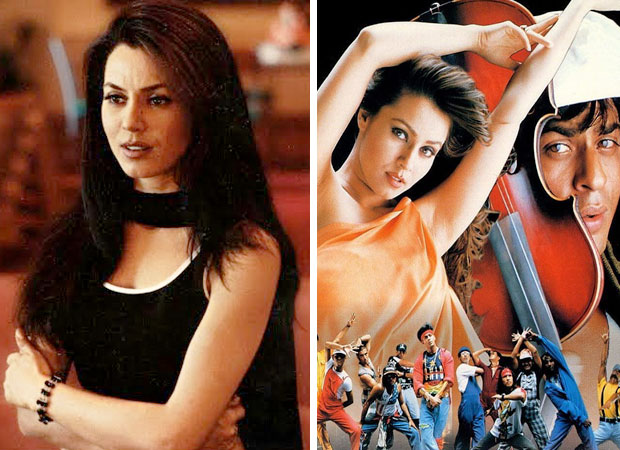 In an exclusive interview to Bollywood Hungama, Mahima Chaudhry goes down memory lane and reveals some totally unknown and not-so-known trivia about both the films and a lot more.
Dhadkan completes 20 years today. What are your first thoughts?
It doesn't seem that it's been that long! It feels as if it just came out yesterday.
How did you bag the film?
My manager had told me that director Dharmesh Darshan wants to speak to me. He came over and narrated Dhadkan's script. This is when his film Mela had released and it had not done well. He informed me that he had shot this film 2-3 years back and that he hasn't been able to release it. He also told me that the film stars Akshay Kumar, Suniel Shetty and Shilpa Shetty and that as per what they have shot, Suniel's character Dev dies in the end. But he wanted to change the ending and was keen to reshoot. He told me about his plans and that I'd have a song in my entry scene. So the idea was to give the film some freshness. I told him that I'd think about it but I was not in the mood to do it. I decided that the next day, while I am on my way to a shoot, I'll drop over to his place and inform him that I don't want to do the film. When I reached his place, he said 'Come, I want to show you the film'. I declined as I had to go for a shoot but he didn't agree. He began to show me the rushes. So I saw the film and felt very bad for the character of Dev, played by Suniel Shetty. My sentiments were with him as the girl had walked out on him. I asked Dharmesh ji how many days he'd want from me. To which he said that he doesn't need more than 7 days. I agreed and I didn't really expect much. But Dhadkan went on to become such a big hit. And just with that one song 'Aksar Is Duniya Mein', I went on a world tour, accompanied by Akshay and Suniel! I got nominated and I won an award for Best Supporting Actress. All the songs did very well.
You had maximum scenes with Suniel Shetty. How was it working with him?
He performed really well in Dhadkan. But he is the opposite of his character in real life. He's also quite naughty. I had bought a new car at that point. He gave me a scare by claiming that there's a snake inside my vehicle. So he's one of those pranksters!
In web series and even in some films nowadays, we often see a cliffhanger-sort of an end and audiences are left wondering what will happen next. Dhadkan's finale was also in the same league. Sheetal's father (Anupam Kher) appears unhappy over his daughter's decision to marry Dev. You wonder how that meeting between the two must have been. Did the team ever discuss the possibility of a sequel, considering its super success?
(Laughs) Yeah Dharmesh did leave the scope for a sequel. And if not a film, maybe he can think of a sequel on an OTT platform.
I hope if a sequel is made, it releases in cinemas. The first part was quite a simple and mainstream flick which worked pan-India. Even today, songs are being heard by its fans.
Yes, that's true. People still play its tracks.
Also, your debut flick Pardes completed 23 years on August 8…
Yes and I was tagged by so many of its fans on Instagram. Again, I can't believe that it's been so long. In fact, Pardes is aired on television every Independence Day and Republic Day thanks to the song 'I Love My India'. So next weekend, the channels will probably play it again, on August 15! It's a track which is very fresh in the minds of the people and it's a song on which students perform in schools. In fact, when these little kids meet me in malls or airports, they normally point at me and exclaim, "I Love My India". So that's my name for these kids!
Your name originally was Ritu and it was changed to Mahima by director Subhash Ghai. Were you okay with this idea?
Mr Ghai told me that he needs the correct spelling of my name as he wanted to inform the press about my casting. I asked, "So do you plan to change my name or want to stick with Ritu?" He was like "Yeah, let's change it!" Now I had heard that even greats like Marilyn Monroe and Dilip Kumar had changed their names for the screen and hence I agreed. However, I was already popular as a VJ on television and I was also a model for which, I had used my name as Ritu. Looking back, I often wonder what I was thinking! The move could have backfired but thankfully, it worked.
Earlier this year, veteran make-up artist Pandhari Juker passed away. Then, you had revealed that he did make-up for your screen test for Pardes and that you didn't even know then that you had been selected for the film…
Yes, he was the one who was doing my make-up. I was wondering why he is doing all this. I was puzzled since I, till then, was not sure whether I was capable of doing this film. That's when he told me, "They are doing a look test on you. You are already being selected. Warna woh log itna time thodi waste karenge tumhare upar!" It was later that Mr Ghai told me when the camera was rolling that I have bagged the part. He mentioned that the title of the film is Pardes. But at that time, I had read in the press that he's directing a film titled Shikhar next. I retorted, "What is this small time film that you are giving me called Pardes? I want to test for Shikhar." He replied, "But this is the film I am making." I still protested. Then he said, "I have casted Shah Rukh Khan for Pardes." I told him that I haven't read about it. All this commotion is on camera! Then I asked him if he's directing or somebody from outside or his assistant is helming the film. I still had my doubts and later, I realized! I was coming into the movies for the first time and hence, I was not ready to take any chances.
How was it working with Shah Rukh Khan?
It was very scary! Everyday, when he'd turn up on set, I used to shiver and used to fear that when we are performing, I'll forget my lines. So, Mr Ghai made us shoot for 15 days without Shah Rukh Khan as he realized that everybody was scared! By the time he arrived, we all were more comfortable. Then we both did scenes together. For a girl who has never acted before, to be paired opposite the person who is the darling of the masses and who is winning best actor awards almost every single year was petrifying! Even Amrish Puri was doing very well at that time. Then Alok Nath played my father and there was also Dina Pathak in the film. And all were very, very good.
Which is your favourite song from Dhadkan and Pardes?
In Dhadkan, of course, it's 'Aksar Is Duniya Mein'. It also had beautiful lyrics. In Pardes, I like all the songs. It's very difficult to choose one! I like 'I Love My India' because of its patriotic flavour and also because it has such a long shelf life. 'Meri Mehbooba' is also great and people associate me with it. Then, 'Do Dil Mil Rahe Hai' is one song which holds a lot of value for those who were dating at that time! A lot of people who got married between the years 1997 and 2000, their favourite song if often 'Do Dil Mil Rahe Hai'!
Pardes also gave a lot of popularity to Fatehpur Sikri…
Yes and also, Pardes released just a week before India's 50th Independence Day. The 'I Love My India' track bought a lot of elements of Indian-ness. Mr Ghai shot Taj Mahal and emphasized that it's a monument of love. And of course, he also shot in Fatehpur Sikri and Rishikesh. It added to the impact.
Has your daughter Ariana seen your films?
She hasn't seen any film of mine completely. In fact, her first realization of knowing that I am an actor is 7 years back when she was 5 and she danced to 'I Love My India' in school. She came home and told me that she danced on the song that I am a fan of. I told her that it's a song in which I performed in a movie! I then showed her the song. She said, "But we were not dancing like this. Only we girls are there in our performance!" (Laughs) I said that it's completely fine.
Are you still in touch with your co-stars?
I do a lot of events and shows and that's when I bump into a lot of people from the industry. I have met Suniel Shetty at the airports and he's also quite busy with his sporting events and other stuff. I have also met him at a few events. Then I keep meeting Jackie Shroff, Jimmy Sheirgill, Preity Zinta etc. There was a cricket match where I met Bobby Deol, Sohail Khan etc. So yeah, this is how I get to see and meet them as I haven't shot for a film in many years.
BOLLYWOOD NEWS
Catch us for latest Bollywood News, New Bollywood Movies update, Box office collection, New Movies Release , Bollywood News Hindi, Entertainment News, Bollywood News Today & upcoming movies 2020 and stay updated with latest hindi movies only on Bollywood Hungama.