The Saket Chaudhary directorial Hindi Medium which released in India a while back hit screens in China just 9 days ago. Since then, the Irrfan Khan – Saba Qamar starrer has been doing brisk business at the China box office. In fact, the collections of Hindi Medium initially surpassed the collections of previous releases like Bajrangi Bhaijaan and Dangal proving yet again that films with content work even if they do not feature big star names.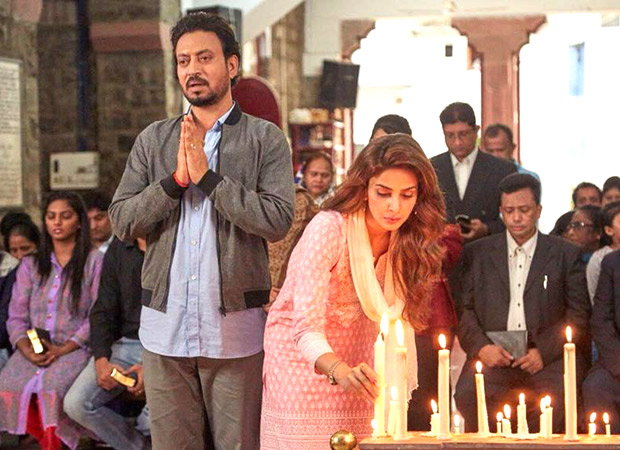 Now on its ninth day at the China box office Hindi Medium that still continues to hold the second spot on the daily highest grossers list has managed to draw in a further USD 1.09 million [Rs. 7.11 cr]. With this the total collections of Hindi Medium at the China box office now stand at USD 26.20 million [Rs. 171.04 cr].
As of now, looking at the current trends, Hindi Medium looks set to cross the Rs. 180 cr mark in the next couple of days. With advance predictions also stating that the film is likely to reach the Rs. 200 cr mark at the China box office over the weekend.
Hindi Medium China Box Office at a glance
Day 1 – USD 3.39 million [Rs. 22.05 cr] with 6,79,096 admissions
Day 2 – USD 6.28 million [Rs. 40.81 cr] with 12,77,590 admissions
Day 3 – USD 6.04 million [Rs. 39.21 cr] with 12,62,292 admissions
Day 4 – USD 3.82 million [Rs. 24.79 cr] with 7,95,450 admissions
Day 5 – USD 1.74 million [Rs. 11.29 cr] with 3,66,513 admissions
Day 6 – USD 1.29 million [Rs. 8.39 cr] with 2,71,539 admissions
Day 7 – USD 1.23 million [Rs. 8.04 cr] with 2,49,577 admissions
Day 8 – USD 1.16 million [Rs.7.57 cr] with 2,34,434 admissions
Day 9 – USD 1.09 million [Rs. 7.11 cr with 2,23,379 admissions
Total – USD 26.20 million [Rs. 171.04 cr]