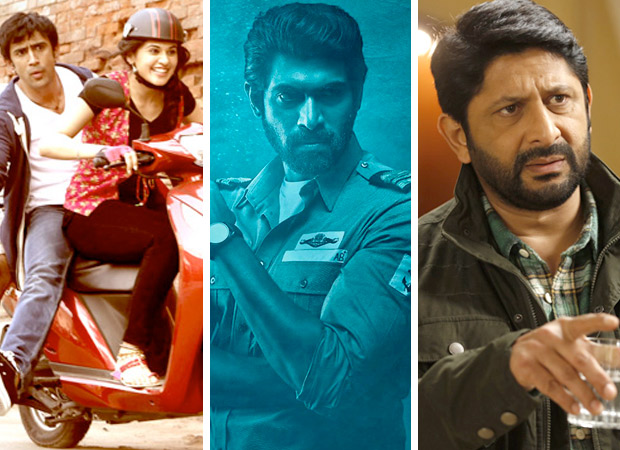 It is going to be word of mouth, and only word of mouth, that would hold paramount importance when it comes to the commercial aspects of the new releases this Friday - Running Shaadi, The Ghazi Attack and Iraada. Even though all three releases belong to diverse genre, which is a good thing, what's not good is the fact that they are all arriving in a heap. Moreover, there hasn't been much of a promotional push either, at least for a couple of these, which would have a telling from the opening numbers standpoint.
Let's talk about Running Shaadi first. Even though it is a delayed film (by a couple of years), it has seen some sort of promotion going for it.  The film's leading lady, Taapsee, is on a high post Pink and she is doing her own bit to ensure that the film is noticed. There are some innovative campaigns going too from the marketing standpoint. This should allow the opening day numbers to be in Rs. 2-3 crore range. 
The Ghazi Attack boasts of a good promo and made some noise when it was unveiled first. Surprisingly though, there wasn't much of a follow through post that. A trilingual in Hindi, Tamil and Telugu, it should open better in the regional languages, considering the fact that its leading actor Rana Daggubati has good popularity there. In Hindi though it would all boil down to the critical acclaim and audience word of mouth that comes in. This film too features Taapsee Pannu, though in a special appearance. Again, expect opening numbers to be in the range of Rs. 2 crore.
Third release of the week is Iraada. The film is practically arriving unannounced with hardly any promotion going for it. Its theatrical trailer shows promise of an intriguing tale in the offering. It also has a good cast in the form of Arshad Warsi and Naseeruddin Shah (returning after Ishqiya series and that too in a different set up). However, not much is known about what the film is all about. It can expect the opening of Rs. 1.5 crore at best and then hope for audience verdict to be largely positive so that it can see some growth over the weekend.