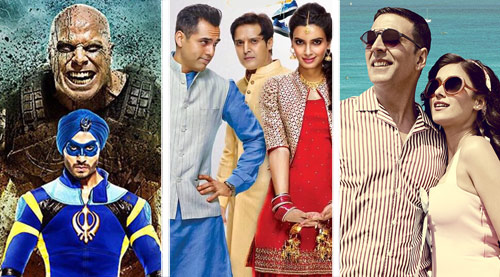 A Flying Jatt has collected Rs. 20.45 crore in its conventional three day weekend. Add to that the Day One total of Rs. 7.1 crore (on Thursday, Janamashtmi) and the film currently stands at Rs. 29.45 crore. While these numbers are better than what Tiger Shroff's debut release Heropanti had collected in its three day weekend [Rs. 21.33 crore], the young actor has earned a better standing for himself post Baaghi. This is the reason why there were better expectations from the film and it was released on a good number of screens too. The film has grown over the weekend and now it would need major pull on the weekdays to stay steady in theaters.
Happy Bhag Jayegi is finally sailing off well. Though a low number on the first Monday did hurt it, the Mudassar Aziz film has managed to hang on well basis the kind of merits that it boasted of. In its second weekend, the film has brought in Rs. 4.46 crore more. This has brought the collections to Rs. 22.11 crore. In the process, the Diana Penty starrer has gone past the lifetime total of Dolly Ki Doli [Rs. 21 crore] which had a similar premise (that of a runaway bride). The film's next target is Sonam Kapoor's other film Khoobsurat [Rs. 30 crore lifetime] and while that is difficult to achieve, Happy Bhag Jayegi would do well to come close.
Rustom is finding good attention from exhibitors in its third week as well, as a result of which it has a good number of shows allotted to it. The film managed to bring in Rs. 5.27 crore more in its third weekend and is still seeing that segment of audiences step in which is watching it for the first time. Typically, suspense films don't really have repeat audience and in case of the Akshay Kumar starrer too, it is the new audience base that is being catered to, something that has helped it reach the Rs. 122.28 crore mark. It would be interesting to see in how many days will the Airlift total of Rs. 129 crore get surpassed.
The weekend gone by was largely dull for Bollywood. The collective collections of all three films currently in the running was just around Rs. 30 crore. Now considering the fact that at least Rs. 40 crore daily capacity was available for these films, hence translating to Rs. 120 crore capacity over the weekend, the overall collections of Rs. 30 crore mean the average percentage occupancy was just 25%. Guess Bollywood would have to wait for a big ticket film to have mega bucks being accumulated all over again.