The DHAMAAL franchise might not be counted in the same league as GOLMAAL or HOUSEFULL films. But the fact is that both DHAMAAL [2007] and DOUBLE DHAMAAL [2011] have been successful ventures and have worked on television as well. Therefore, the recall value is quite strong. Hence, it's no surprise the third part of the franchise – TOTAL DHAMAAL – carries a lot of expectations. The makers have even upped the scale and madness by not only getting three prominent actors (Ajay Devgn, Madhuri Dixit, Anil Kapoor) in addition to the existing star cast (minus Ashish Chowdhry) but by also making it an adventure comedy, a rarely explored genre in Bollywood. So does TOTAL DHAMAAL manage to entertain and rock the show? Or does it disappoint? Let's analyse.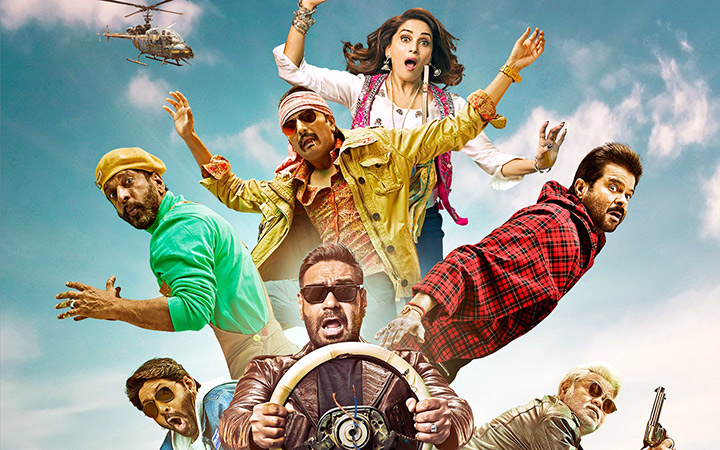 TOTAL DHAMAAL is the story of a bunch of greedy madcap characters on an adventure. Guddu (Ajay Devgn) is a small-time conman. He along with his partner Johnny (Sanjay Mishra) gets a tip that a large sum of money is being exchanged in a hotel room. They reach there only to realize that the one receiving the money is the police commissioner (Boman Irani). Nevertheless, Guddu and Johnny rob the money from the commissioner and escape. At this point, their driver Pintu (Manoj Pahwa) double crosses them and runs away with the money, amounting to Rs. 50 crores. Meanwhile, Avinash Patel (Anil Kapoor) and Bindu (Madhuri Dixit) are married for 17 years and have filed for divorce. Lallan (Riteish Deshmukh) and Jhingur (Pitobash Tripathy) are firemen who are fired from their job for taking bribe. And Aditya Srivastav (Arshad Warsi) and Manav Srivastav (Jaaved Jaaferi) are in need of a job. They are employed in an antiques arts gallery by its owner Altaaf (Sudesh Lehri). Unfortunately, Manav ends up breaking these antique materials worth crores. With no other option, they run away from the gallery and that too by stealing Altaaf's high-tech car. They along with Lallan-Jhingur and Avinash-Bindu are on the highway when they see a plane crashing. They go to the site and see Pintu who is inside the ill-fated flight. He's about to die and he blurts out to them that he has hidden the money he stole from Guddu at a zoo in Janakpur, located almost 450 kms away from the site. Before he confesses, Guddu reaches there and tells the others to back off since it's his money. But the others threaten to go to the cops. That's when Guddu devises a plan – whoever reaches Janakpur Zoo first will be the sole owner of those Rs. 50 crores. Thus begins the race of these guys towards Janakpur. What happens next forms the rest of the film.
Ved Prakash, Paritosh Painter and Bunty Rathore's story is lame as it's just borrowed from the first part. There's absolutely no novelty and it's completely predictable. Ved Prakash, Paritosh Painter and Bunty Rathore's screenplay thankfully is a bit better as the funny situations this time are different than last time. But at certain points, it's also a bit random. This is especially true in the second half. Ved Prakash, Paritosh Painter and Bunty Rathore's dialogues are one of the highpoints and add to the fun.
Indra Kumar's direction is a bit dated. He hasn't realised that times have changed. The plot and script already takes viewers intelligence for granted and his direction doesn't help much either.  The film gets stretched in the middle of the second half. Also certain communities are made fun of and it might not go down well with a section of audiences. On the positive side, there are numerous sub tracks as there are so many characters but he nicely shifts focus equally between them.
TOTAL DHAMAAL begins with a bang. The entry scenes of all characters are hilarious, especially that of Guddu. Lallan's entry scene would also raise loads of laughs. The manner in which all the principal characters bump into each other is also quite nicely done. But then, there's no story movement as the next 80-90 minutes are devoted to the characters trying to reach Janakpur Zoo and the various obstacles they encounter on the way. Some scenes here are funny and genuinely raise laughs like the madness in the railway tunnel, Avinash-Bindu's attempt to take a shortcut, the sequence involving the GPS (voiced funnily by Jackie Shroff) and Lallan's scary helicopter ride. Post interval though it begins to seem repetitive. Also, the second half is devoid of humour especially when compared to the first half. The skydiving and waterfall scenes just don't work. Notice how the makers have taken a jump in the narrative. They don't explain how Avinash-Bindu escape from the waterfall and how Lallan got hold of a motorbike. It seems like director Indra Kumar suddenly realised that he's invested too much time in doing 'Total Dhamaal' and hence quickly jumped to the climax. However he ought to have done it in a better way. The finale is also quite long drawn and again like DHAMAAL, it gets emotional. Thankfully the element of wild animals and the humour surrounding them give the climax a nice touch.
Ajay Devgn is hilarious and his expressions are spot on, thereby inducing maximum laughs. Anil Kapoor is loud but it works overall. Madhuri Dixit gets her comic timing just right. Her character also has a sensitive side - she is the one who urges the others to try to save Pintu and even the animals. However, Anil-Madhuri's tu-tu main-main gets on one's nerves after a point. Riteish Deshmukh sadly gets a raw deal and gets dominated, although he too gets his share of funny scenes. Arshad Warsi is sans complaints as always. Jaaved Jaaferi, one of the biggest strengths of the franchise, is quite good. Since there are too many actors, his screen time is a bit less as compared to the last two films. But his admirers will surely have no reason to complain. Esha Gupta (Prachi) has a very late entry but leaves a mark. Boman Irani is decent and his scenes with Ajay and Vijay Patkar (Inspector Patkar) are quite funny. From the supporting cast, Vijay Patkar, Sanjay Mishra, Manoj Pahwa, Pitobash Tripathy, Sudesh Lehri, Mahesh Manjrekar (Chinappa Swami) and Srikant Maski (Reddy) are notable. Johny Lever (Shubroto) however leaves the maximum impact out of these supporting actors. Special mention should also go Crystal the monkey (Zoo security official) as he's funny and cute and also to Jackie Shroff who is funny as the voice of the GPS. Sonakshi Sinha is okay in the 'Mungda' song.
Gourav-Roshin's music gets no scope and thankfully, no songs are added in the middle of the adventure. 'Paisa Yeh Paisa' is the most memorable from the lot. 'Mungda' is disappointing while 'Speaker Phat Jaaye' is played in the end credits. Kookie Gulati's song direction is visually great.
Sandeep Shirodkar's background score suits the genre of the film. Keiko Nakahara's cinematography is satisfactory. Durgaprasad Mahapatra's production design is a bit gaudy and poor in some scenes. R P Yadav's action is fine while NY VFXWaala's VFX is average. In the scenes of the animals, VFX is quite good but in some sequences, it's a letdown. Dharmendra Sharma's editing could have been crisper. At the same time, the way the focus shifts from one character to the other is praiseworthy.
On the whole, TOTAL DHAMAAL is a 'leave-your-brains-behind-at-home' entertainer with its share of funny moments. If you are not looking for wisdom and rationale in a light-hearted entertainer, then this movie is definitely for you. At the box office, it's only the masses who might give the film thumbs up and they'll majorly determine the fate of the film from Monday onwards.