SAHEB BIWI AUR GANSTER [2011] arrived sans any noise and it turned out to be a surprise success at the box office. Encouraged by the response, the makers came up with the sequel – SAHEB BIWI AUR GANGSTER RETURNS [2013]. The first part had a great combination of sex and thrill while the sequel hardly had any sizzling scenes. Now the makers are all set to unveil SAHEB BIWI AUR GANGSTER 3 and it marks the return of the sizzle in the franchise. What's more, this time, Sanjay Dutt plays the dashing gangster while Chitrangda Singh is also added to the cast. So does SAHEB BIWI AUR GANGSTER 3 manage to be as good as its predecessors? Or does it fail in its endeavour? Let's analyse.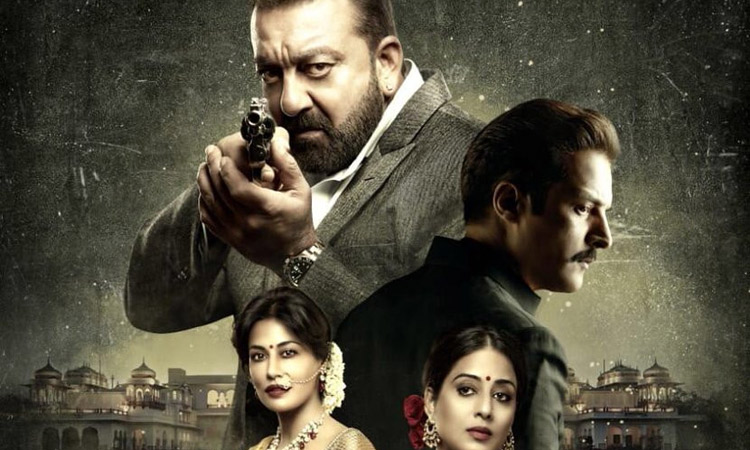 SAHEB BIWI AUR GANGSTER 3 begins where part 2 ended and twisted games that continue between the Saheb and the Biwi. Aditya Pratap Singh (Jimmy Sheirgill) is still in prison and is desperate to get out, settle scores and take back his lost power. His seductress wife Madhavi Devi (Mahie Gill) is now an MLA and using all the tricks of the trade to get what she wants. Aditya hatches a clever plan and comes out on bail. Madhavi realizes that with the Saheb a free bird, she would once again be compelled to remain caged behind closed doors. She searches her way out and in the process bumps into the Gangster, Udai Pratap Singh (Sanjay Dutt). Shunned by his family and scorned by his love, the beautiful Suhani (Chitrangda Singh), Udai agrees to help Madhavi Devi. What happens next forms the rest of the film.
Tigmanshu Dhulia and Sanjay Chouhan's story is weak and stands on a wafer thin plot. In fact one can say that there's literally no story in the film. There are far too many characters and too many plots running parallel. Tigmanshu Dhulia and Sanjay Chouhan's screenplay is quite disjointed with the narrative not flowing in an organic manner. Tigmanshu Dhulia and Sanjay Chouhan's dialogues thankfully save the day and spike interest in some scenes.
Tigmanshu Dhulia's direction is flawed and it's shocking that a person who exceptionally helmed films like HAASIL [2003], PAAN SINGH TOMAR [2012] and even the previous parts of SAHEB BIWI AUR GANGSTER is just not in form. There are multiple scenes which start and end abruptly. The VFX is tacky at places and in one shot, the colour correction changes mid way! For most part of the film, nothing much is happening. Only few scenes here and there work, along with the performances. The film's length is another issue. It's too long and with not much exciting stuff happening in the film, it tests your patience.
SAHEB BIWI AUR GANGSTER 3 arrives five years after the second part and the recall value isn't that strong. The makers should have realised this and could have given some recap. But they don't and as a result, audiences might get confused with some of the developments. On the other hand, the track of Sanjay Dutt is like a downer. His track is half baked. Audiences never get to know under what circumstances he had to leave India, separate from Chitrangda Singh and marry someone else. However some scenes stand out. The sequence where Mahie Gill picks up a hunk from a party and gets him to the haveli will bring the house down. Chitrangda's entry is power packed. A few sequences of Jimmy also work well, particularly his conversations with Mahie. When seen in isolation, these scenes look great but in totality, they get overshadowed by the many minuses.
Sanjay Dutt's presence was supposed to take the series to the next level. But sadly he looks disinterested and tired and fails to do justice. Thankfully he gets to mouth some clapworthy dialogues, which will impress single screen audiences. Jimmy Sheirgill is yet again in top form. The actor enjoys playing the Saheb and it shows. The film will disappoint but Jimmy won't! Mahie Gill is also exceptional and arguably creates the maximum impact. Watch out how her character cunningly gets her way out of any situation. Surely she deserves to be seen more and act in better films. Chitrangda Singh genuinely gives her best shot and her entry scene is kick-ass. But later on, she hardly has anything to do in the film. Deepak Tijori (Vijay Singh), Zakir Hussain (Bunny Uncle) and Kabir Bedi (Udai's father) are average. Deepraj Rana (Kanhaiya) plays the loyal assistant part well. Pamela Singh Bhutoria (Deepal) is quite promising. Nafisa Ali (Udai's mother) leaves a mark. Soha Ali Khan is okay.
The music is disappointing and songs are just forced, further adding to the film's length. 'Baba Theme' has a massy touch while 'Kesariya Jugni' suits the opening credits. 'Lag Ja Gale' has been promoted a lot but it's wasted. Dharma Vish's background score is quite exhilarating but badly chopped at places. Amlendu Chaudhary's cinematography is okay. Dhananjoy Mondal's production design and Tulika Dhulia's costumes are rich, authentic and quite appealing. Nishant Khan's action is nothing special. Pravin Angre's editing could have been slicker and at places, could have been smoother.
On the whole, SAHEB BIWI AUR GANGSTER 3 is a disappointing fare thanks to its long length, flawed script and haphazard direction. At the box office, these flaws and the lack of buzz will hamper its commercial prospects.