Mulk Review {3.5/5} & Review Rating
One of the most burning issues of the country and also the world, since a long time, is the perception of Muslims in society. In India, the extremely traumatic memories of Partition of 1947 compounded the Hindu-Muslim divide. As time passed, the differences reduced significantly but it still exists. Anubhav Sinha's MULK attempts to talk speak about this aspect and promises an intense, hard-hitting time to the viewers. So does Anubhav Sinha treat this sensitive topic well? Or does it fail to make any impact? Let's analyse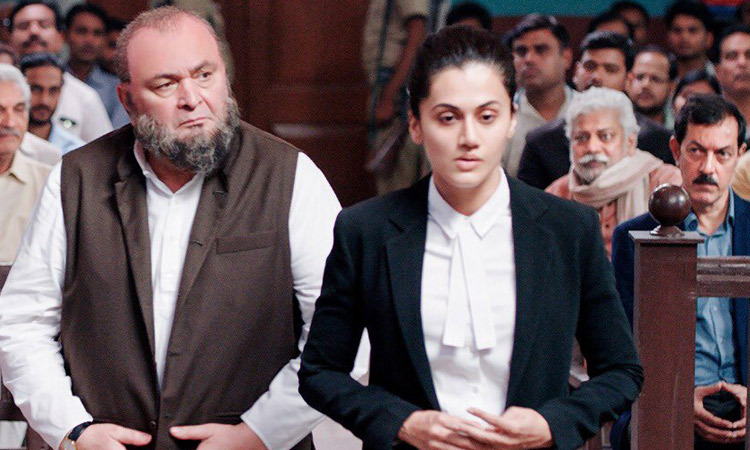 MULK is the story of a family facing extreme crisis when one of their own is accused of being a terrorist. Murad Ali Mohammed (Rishi Kapoor) is a respected lawyer in Varanasi and he lives there in an almost century old building with wife Badi Tabassum (Neena Gupta), brother Bilal (Manoj Pahwa), Bilal's wife Choti Tabassum (Prachee Shah Paandya), Bilal's daughter Aayat (Vartika Singh) and Bilal's son Shahid (Prateik Babbar). The Mohammeds are planning a grand party on the occasion of Murad Ali's 65th birthday. His daughter in law Aarti (Taapsee Pannu), married to his son Aftab (Indraneil Sengupta) comes from London and surprises them. On the same day as Murad Ali's birthday, Shahid leaves at night under the pretext of watching a cricket match at Kanpur. Unknown to the family, he has been brainwashed and he carries out a bomb blast in Allahabad, killing 16 people. Shahid is spotted in the CCTV footage and a hunt begins for him. He's finally found and is eliminated by officer Danish Javed (Rajat Kapoor). For the Mohammed family, the world comes crashing down. Bilal is accused of helping out Shahid with the terror attack and is arrested. What happens next forms the rest of the film.
Anubhav Sinha's story is excellent and the need of the hour. There are a lot of characters and each of them is well written. Anubhav Sinha's screenplay is highly effective as it keeps the audiences captivated from start to finish. He understands that he has a sensitive topic in hand and treats it very well. He takes up both sides of the issue and that's very praiseworthy. Anubhav Sinha's dialogues are hard hitting and acidic. The dialogues mouthed by Santosh (Ashutosh Rana) might squirm viewers but it was needed to make the impact.
Anubhav Sinha's direction is very good and he is in control of the written material. He has often been criticized for not executing his films well, be it DUS [2005], CASH [2007] or RA.ONE [2011]. But in MULK, he seems in seems in top form. Only blemish is that the film seems too long and it drops in between in the second half.
MULK impresses viewers from the introduction itself. After acquainting them with the Mohammed family and the characteristics of each of them, it slowly indicates that Shahid is not what he seems to be. The sequence where Shahid is encountered is quite thrilling. But the scene in the first half that stands out is when Murad Ali refuses to accept Shahid's mortal remains. It's moving to see how he and his family gets branded as terrorists by those who knew him since years. In the second half, the film gets better as the courtroom drama goes on a high. At some places however the pace drops. But the film picks up when Aarti interrogates Murad Ali and asks him some tough questions. Note that this sequence might remind viewers about PINK [2006] which had a similar sequence of Amitabh Bachchan forcing Taapsee Pannu to speak up to prove a point. The closing arguments of Aarti are also terrific and surprisingly, even the monologue of the judge (Kumud Mishra) is remarkable and would induce claps from audiences!
Rishi Kapoor delivers a bravura performance, and stands amongst his finest in his long, glorious career. Viewers are bound to move by his plight and helplessness and the way he was obligated to prove his nationalism simply because of his religion. His monologue in the pre climax is very memorable. Taapsee Pannu is quite nice in the first half and in the beginning of the second half, she's a silent spectator to the goings on. But as soon as she takes up the case, she surprises viewers with her glorious performance. It's thanks to her that the climax goes on dizzying heights.  Manoj Pahwa is the next best in line. He's always been a fine actor but sadly never got his due. With MULK, he's surely going to be talked about a lot! Prateik Babbar is terrific in a small role. Ashutosh Rana gets into the skin of the character and is quite good as the villainous, communal minded advocate. Rajat Kapoor looks every inch a no nonsense officer and performance wise, he's dependable. Kumud Mishra is subtle yet impressive. Neena Gupta and Prachee Shah Paandya are decent but get scope only in the first half. Vartika Singh, Ashrut Jain (Rashid) and Indraneil Sengupta are fine. Others do well.
Songs aren't required in this film. Only 'Thenge Se' stands out. Mangesh Dhadke's background score is dramatic and enhances tension. Ewan Mulligan's cinematography is fairly decent. Nikhil Kovale's art direction is quite earthy and real. Yasmin Rogers's make up and Preetisheel Singh's prosthetics are excellent, especially in case of Rishi Kapoor. Riyaz – Habib's action is straight out of life, in the lone action scene. Ballu Saluja's editing could have been crisper and better. Few scenes ended and began abruptly and this could have been avoided.
On the whole, MULK is a hard hitting and exhilarating saga that effectively talks about some of the burning issues of our country. At the box office, it has the potential to grow thanks to the positive word of mouth and thereby emerge as the dark horse of the year! Recommended!