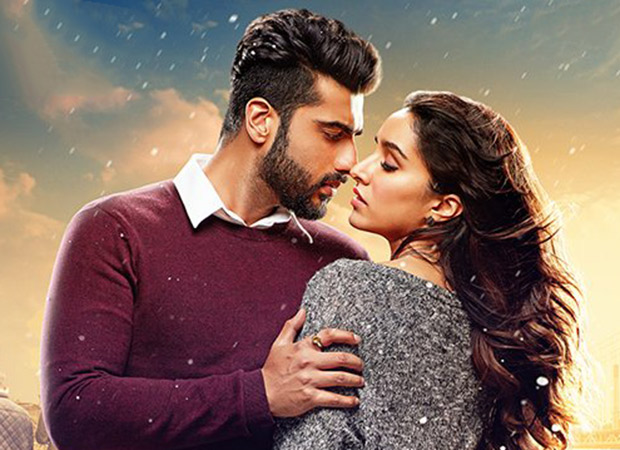 EXPECTATIONS
You wait to hear what exactly does the music of Half Girlfriend has to offer. Of course the film has Mohit Suri as the director who ensured memorable music for Aashiqui 2 and Ek Villain. However, a new era of music came into existence with these soundtracks and one can't expect a repeat of that each time around. Still, with three songs from the film already on air and sounding rather pleasant already, one waits to hear what the ensemble of composers, lyricists and singers bring on board for this Arjun Kapoor and Shraddha Kapoor starrer.
MUSIC
It is a very good start for the soundtrack as composer Tanishk Bagchi, who is turning out to be quite prolific over last few months, puts together 'Baarish'. His choice of singers is quite fresh too as Ash King is heard in an entirely new avtar with Shashaa Tirupati, who is again a good voice waiting to be explored all the more, come together for this melodic romantic number. Arafat Mehmood and Tanishk Bagchi come together as the lyricists for this beautiful song that deserves to find a place right at the beginning of the album.
Newcomer Farhan Saeed gets to compose a couple of songs in the form of 'Thodi Der' and 'Stay A Little Longer'. Both are love songs and if Shreya Ghoshal's rendition of 'Thodi Der' is anything to go by, it reminds one of 'Le Ja Le Ja Re' which was again rendered by Shreya along with Ustad Sultan Khan. A good soulful hear with an easy flow, this Kumaar written number sees Farhan pair up with Shreya as his co-singer. The song's English version 'Stay A Little Longer' is sung and written by Anushka Shahaney (with Ishita Moitra Udhwani for additional lyrics) and while it is fine too, one would rather prefer the Hindi version.
Another new team comes to the fore when composer-singer Rahul Mishra comes on board with lyricist Laado Suwalka for 'Tu Hi Hai'. Now this is a kind of number that is straight from the backyard of Ankit Tiwari and one doesn't mind hearing it all over again, considering the fact that the genre of sufi rock time and again entertains. A love track, this one should add on well to the narrative of Half Girlfriend.
The film's flagship number 'Phir Bhi Tumko Chaahunga' comes next and the tune gets prominence in as many as three slots in the soundtracks. A song which has been put together by composer Mithoon and lyricist Manoj Muntashir, it has an original, reprise and a love theme version. The one that comes first is the original version which is straight from the world of Aashiqui 2 and finds an audience for itself in a jiffy. With Mithoon, Arijit Singh and Shashaa Tirupati coming together for this one, it is a winner already.
On the other hand the reprise version, 'Pal Bhar' has a good follow through as well with the 'Love Theme' further ensuring that by the time you are through with the entire soundtrack of Half Girlfriend, you are definitely hooked on to 'Phir Bhi Tumko Chaahunga' for good.
If one thought that 'Stay A Little Longer' is the only English track in the album then there is more in the form of 'Lost Without You'. Yet again, it is a new team which is responsible for this song, what with composer-singer Ami Mishra bringing on board singer-lyricist Anushka Shahaney (further supported by Kunaal Vermaa for the lyrics) and putting together a soft pop song which has a pleasant sound to it. That said, one waits to see how the song manages to make an impression in the film's narrative since as a standalone number it doesn't quite promise a sound that would be long lasting.
There is fun in store before the soundtrack of Half Girlfriend concludes, what with composer Rishi Rich bringing on 'Mere Dil Mein'. There is a big team of lyricists associated with the song with R. Rekhi & Veronica Mehta taking care of the English part, Yash Anand & Yash Narvekar bringing on Hindi words and then Ishita Moitra Udhwani further adding more lyrics. While this could well be a record for lyricists associated for a song, the singers do a good job with Veronica Mehta and Yash Narvekar ensuring there is good peppy quotient to the overall flow of 'Mere Dil Mein', something that continues in the 'Dialogue Version' as well.
OVERALL
The music of Half Girlfriend is good and there is not a single wrong tune in there. A few songs at the beginning do have a sense of repetition but that could well be an endeavour to bring on a consistent sound. Though it would be unfair to compare every new soundtrack with that of Aashiqui 2 (as stated right at the beginning of this review), as a standalone soundtrack it is still better than most of the music that has been offered in 2017 so far.
OUR PICK(S)
'Phir Bhi Tumko Chahunga', 'Baarish', 'Mere Dil Mein', 'Thodi Der'