Fukrey Returns Review {2.5/5} & Review Rating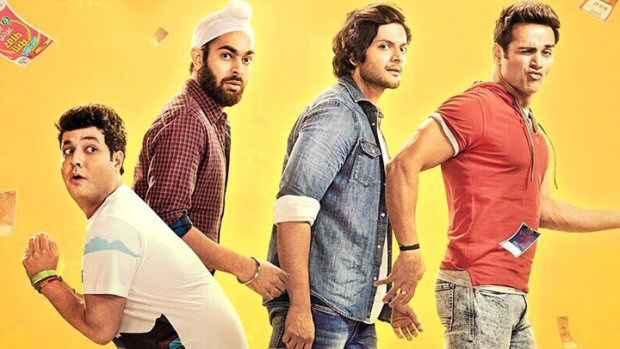 EXPECTATIONS
One expects quirky music from Fukrey Returns, considering the fact that this is the genre that the film belongs to. The earlier Fukrey too had some fun songs in there and especially interesting were the various music videos that were made around them. Now that the film's sequel is set for release, multiple composers, lyricists and singers have come together to create as many as eight songs.
MUSIC
Even the Fukrey team hasn't been able to resist the temptation of recreating a song from the era gone by and as a result 'O Meri Mehbooba' from Dharam Veer [1977] is heard in its new avtar 'Mehbooba'. While the Mohammed Rafi sung track has been popular even 40 years after it was heard first, Prem and Hardeep along with lyricist Kumaar also do well to ensure that the Laxmikant-Pyarelal and Anand Bakshi track isn't disfigured beyond recognition. The version sung by Neha Kakkar and Yasser Desai actually makes for a good hear with the fusion element actually turning out to be a good hear.
Composer Jasleen Royal comes up with a Punjabi track 'Peh Gaya Khalara' which is attached to its roots and has a 'dhol' as an accompanying partner right through. She pairs up with Divya Kumar, Akasa Singh and Akanksha Bhandari for this Aditya Sharma written number that does well as a situational piece and gets into the same mode as 'London Thumakda' [Queen] though with a relatively lesser spunk.
The quirky mood continues with Sumeet Bellary composed and Satya Khare written 'Tu Mera Bhai Nahi Hai'. Based on the popular slang used up North, this one has additional lyrics by Rohit Sharma and Arsalaan Akhoon with Gandhharv Sachdeav taking lead behind the mike. Raftaar chips in with rap portions for this situational track that just about passes muster and relies entirely on the manner in which it is picturised.
A relatively conventional track comes in next in the form of Sharib-Toshi composed and sung 'Ishq De Fanniyar' which is written by Kumaar and appears in a male and female version each. This one has a serene sound to it and reminds one of the kind of mood, stage and setting that 'Ambarsariya' had boasted of. If it is promoted well and the film turns out to be successful, the song - which later appears in a version by Jyotica Tangri - has in it to gain some sort of traction over a period of time.
Title song 'Fukrey Returns' is the next to arrive and this one is composed by Gulraj Singh who brings himself in as a singer along with Siddharth Mahadevan and Shannon Donald. Written by Kumaar, this one is pitched in as a funky track as well and should keep the mood of the film's narrative upbeat. Though there isn't much to look forward in this track lyrically, as a part of the background score it should fit in well.
Composer, lyricist, singer Shree D chips in next with 'Raina' where he has Ishq Bector as his musician partner. A song with a hint of pathos to it, 'Raina' is about letting go of the dark night and waiting for a better morning after. Yet again, this one has a situational base to it and is entirely restricted to the film's storytelling.
Sumeet Bellary concludes the soundtrack with 'Bura Na Mano Bholi Hai' which pretty much brings to fore the character of 'Bholi' [Richa Chadha] who has a pivotal role to play in the film. Written by Satya Khare, Mrighdeep Singh Lamba & Vipul Vig, this one takes on the quirky quotient further with singers Gandhharv Sachdeav & Shahid Mallya joining the fun.
OVERALL
Soundtrack of Fukrey Returns is primarily situational and could find better popularity when seen and heard with the film.
OUR PICK(S)
'Mehbooba', 'Peh Gaya Khalara', 'Ishq De Fanniyar'