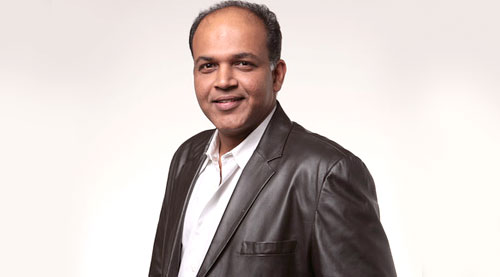 The very name of Ashutosh Gowariker resonates with terms like 'perfection' and 'grandeur'. These days, there's one more term which has got added to his glorious list of achievements and that is 'Everest', the TV show which he is producing. This show has not stopped trending ever since its grand launch. The multi-talented and multifaceted personality that Ashutosh is, he has to his credit iconic films like Lagaan, Swades and Jodhaa Akbar. Besides this, he also became a voting member for the Academy Awards in 2005.


Satish Sundaresan of Bollywood Hungama caught up with the trio of Ashutosh Gowariker and the show's directors Glen and Ankush for an interview.


With Everest, AGPPL (Ashutosh Gowariker Productions Pvt. Ltd.) has tried to tap a new space on TV. What's the feeling like?


Ashutosh: I am super excited. I had done television as an actor in the year 1998 with 'Kachhi Dhoop'. Then, I became a director. Trust me when I say that I never thought of coming back to TV as a producer. But I always had a story idea with which I wanted to explore the medium of TV. The resultant is Everest. Now that it's on air, I am feeling very excited and also very anxious at the same time.


Why did you name the show as 'Everest'?


Ashutosh: If you see, 'Everest' is a very big metaphor. For example, if anyone has got a huge task, he/ she will say that it's a Himalayan task or this is as tough as going for an Everest summit! Keeping that in mind, for Anjali (who is the show's protagonist), achieving her father's dream is her 'Everest'.


You had earlier mentioned that making 'Everest is your dream'? Why so?


Ashutosh: I had been living with this story since almost 3 years now. At the same time, I also wanted to do something regarding the girl child theme, an issue which really needs to be spoken about and shown to the masses to bring about the right set of awareness amongst one and all. Through 'Everest', I wanted to delve into certain thematic points about the girl child through an adventurous and entertaining way. My message through this show is that 'You can be as much proud of a girl as much as your son'.


Does 'Everest' classify to be a youth centric drama?


Ashutosh: Our target audience is quite broad. We wanted the youth as well as the grown-ups. The only difference in 'Everest' is it's never-before tapped themeof mountaineering aspect. It is through this theme, that we wanted to highlight the gender discrimination of the girl child.






Research says it is very difficult to break the clutter of the saas-bahus sagas on TV. Did you at any point feel that you are taking a risk with 'Everest'?


Glen: We were not considering the saas-bahu serials as any kind of challenge. We are not even taking the onus on us of changing the Indian television. TV today is a very popular medium which is at its peak now. All we wanted through 'Everest' is to tell a different kind of story through the medium of an unknown sport like mountaineering. If someone speaks about mountaineering, the only feeling that he/ she are faced with is that what they will achieve by 'conquering' the mountain. It's only a mountaineer who can understand the achievement that comes after conquering the mountain. It is he/ who gets total peace of mind and self-realization.


Ankush: A good story is a good story, irrespective of it being a TV story or a cinematic one. Whether you place it in a background of mountaineering or a 'haveli', the good story will always be seen and heard. Every story connects with the viewer, if the story has got a heart. And 'Everest' has just that!


Ashutosh, why and how you zero down on Glen and Ankush to direct 'Everest'?


Ashutosh: All the works which Glen and Ankush have done so far have been always very eye-catching and sincere. They have always been very modern in their approach. I had seen a film of theirs on cloning named Jaane Hoga Kya, a film which was ahead of its times. It really impressed me a lot. Additionally, I also know them for many years now. So, their ambition towards their work doubled up with the familiarity factor had me signing the duo.


What was your immediate reaction when Ashutosh offered you 'Everest'?


Glen/ Ankush: The moment when we were offered the show, we didn't even think for a minute, and instantly said, "Yes, when do you want us to start!"



Ashutosh, will 'Everest' follow the season-wise structure or will it get completed at one stretch?


Ashutosh: It's a finite thing, as we are not looking at 'Everest' as 'season wise' saga. We first want to see and gauge the audiencereaction and then decide ahead.


What's your Everest?


Ankush: When my two daughters will feel proud of my achievements that will be my Everest!


Glen: If I become successful with this show, it's nothing short of me having achieved my Everest!






Ashutosh, was there any reason for you to return to television?


Ashutosh: I did not look at it as coming back to television, except for the fact that this is my first production. When you're taking mountaineering as a genre in films, it becomes a rescue mission. It becomes a cliffhanger. You have to tell the story in 90 minutes or so. And if this thing happens, there can't be any development of the characters. Had it been a film, then, all that we would have got is bravado and machismo, which would have eventually killed the story. So my immediate thought was that, the very concept just had to be for television, where every character does justice. Each character has got their own inner Everest to climb against all the odds. At this juncture, let me tell you that, even though initially I started off thinking of 'Everest' from a film perspective, I realized that I won't be able to do justice to that. That's why I decided to make that into a TV serial.


How tough was it to shoot at the Mt. Everest?


Glen: It was really very tough up there. We had to match up with the climatic conditions. But, we managed to do so successfully.


How have the reactions to the serial so far been?


Ankush: The response has been extremely positive and overwhelming.


The process of bringing intelligent and engaging content has just begun in India. How long do you think will it take for Indian TV to change and go towards the direction in which American TV is going currently? Are the channels being cooperative enough in this direction?


Ashutosh: I can tell you that Star Plus is surely attempting a different content. One has to keep attempting something new because the audiences' taste keeps on changing.


Do you think new TV shows will bring a fresh breed of writers and directors, something that Bollywood has been struggling with for years now?


Ashutosh: Literature is definitely the way to go. When you are doing something in literature that means you are attempting something in arts as well. Times are changing. I think that we need to go back to our literature as there is so much of richness in there.
BOLLYWOOD NEWS
Catch us for latest Bollywood News, New Bollywood Movies update, Box office collection, New Movies Release , Bollywood News Hindi, Entertainment News, Bollywood News Today & upcoming movies 2020 and stay updated with latest hindi movies only on Bollywood Hungama.