Mumbai is called the financial capital of India and the Bombay Stock Exchange (BSE) is an important factor behind this tag. It has made and destroyed lives of many and comprises several interesting and even shocking episodes that refuse to leave public memory. One such episode is that of the Harshad Mehta scam. A small-time film, GAFLA [2006], was inspired from this incident but went unnoticed. This year, there has been a renewed interest in the life of this man. Earlier, his life was chronicled in a web series named THE BULL OF DALAL STREET, which streamed on Ullu app. An upcoming Abhishek Bachchan-film THE BIG BULL is inspired from Harshad Mehta scam. And last Friday saw the release of SCAM 1992 - THE HARSHAD MEHTA STORY, directed by Harshad Mehta. The trailer seems very impressive and the casting and the setting seems spot on. So does SCAM 1992 manage to thrill and engage viewers? Or does it fail to engage? Let's analyse.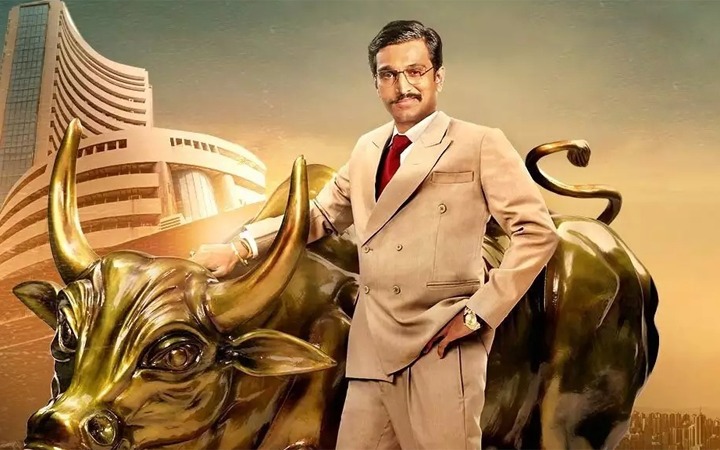 SCAM 1992 - THE HARSHAD MEHTA STORY is based on the life of Harshad Mehta and the scam that shook the nation. On a hot April 1992 day, an employee of State Bank Of India headquarters, Sharath Bellary (Sharib Hashmi) goes to the office of The Times Of India in Bombay. He meets the financial writer Sucheta Dalal (Shreya Dhanwanthary) and informs that a man named Harshad Shantilal Mehta (Pratik Gandhi) has committed a fraud to the tune of Rs. 500 crores at the SBI. What's more, the SBI management knows about it and are doing nothing about it. As Sucheta wonders if she can print about this scam, the story goes in a flashback mode, to 1979. This is the time when Harshad is living in a tiny home in South Mumbai with his family. He feels suffocated sharing his residence with so many family members and also due to his financial situation. He joins a stock broking company and becomes a 'jobber' or a middle-man in the stock market. Bhushan Bhatt (Chirag Vohra) becomes his mentor of sorts as the latter introduces him to the world of stock exchange. In no time, Harshad understands the tricks of the trade and becomes a pro in predicting the fate of stocks. He also learns how he can increase the value of certain stocks and make money. Soon, he loves the job and starts his own company called 'Grow More' along with his brother Ashwin Mehta (Hemant Kher) and Bhushan Bhatt. As he grows and becomes rich, the market too benefits. His investors start making money. Many brokers and investors hail him as a hero. In the process, he gets into the bad books of Manu Mundra (Satish Kaushik), nicknamed the 'Bear' and also 'Black Cobra' as he could bring down the stock market for his selfish gains. Harshad successfully tackles him and after the stock market, he sets his eyes on the more beneficial money market. However, he soon realizes that the money market is dominated by a cartel, largely consisting of Citibank, run by Tyagi (Nikhil Dwivedi). Harshad attempts to start a cartel of his own and bring nationalized banks under his fold. As he gets profit for the banks, Harshad starts to bypass rules to get his work done. The banks start trusting him and lend him money without any securities. The RBI governor Venkitarajan (Ananth Narayan Mahadevan) is aware of this malpractice but is helpless. All is going well for Harshad until on April 23, 1992, Sucheta Dalal writes an explosive article that exposes his wrongdoings to the public. What happens next forms the rest of the web series.
SCAM 1992 is based on the book 'The Scam: Who Won, Who Lost, Who Got Away', written by Sucheta Dalal and Debashish Basu. Sumit Purohit and Saurav Dey's story adaptation is superb, realistic and talks about an important chapter of post-independence India. Sumit Purohit and Saurav Dey's screenplay does justice to the plot in hand. The writers have tried their best to keep the narrative realistic as well as entertaining. And also simple – in this regard, they have done a balancing act. They have dumbed down as much as they can but they have not attempted to spoon-feed audiences about how the market works as that would have seemed unconvincing. Also, a few characters in the series are such who have no knowledge of the stock market and in their scenes, the writers get a chance to simplify the jargon. Yet, if you are ignorant about the stocks and shares, a few aspects are bound to go over your head. Vaibhav Vishal and Karan Vyas's dialogues are a bit filmy but works as Harshad's character considers himself as larger than life and hence, he's bound to indulge in a bit of a dialoguebaazi. For other characters, the one-liners are simple and also sharp, as and when required.
Hansal Mehta's direction (co-directed by Jai Mehta) is splendid. The filmmaker has given memorable films in the past like SHAHID [2013], ALIGARH [2016] etc but this ranks as his most accomplished work. Firstly, he understands the world like the back of his hand and depicts it beautifully and realistically. Secondly, unlike the trend today, he keeps the series free of unnecessary sex scenes. There are a lot of abuses in the dialogues but it's not done for the heck of it. Apart from the stock market bit, he also depicts the 80s and 90s Mumbai well. The use of Hindi songs especially at the end of the episode is witty. And most importantly, he succeeds in showing the real Harshad Mehta. Most people know him because of his controversy. Hansal delves deeper into his life and depicts how challenging his life was, especially after he get embroiled in numerous cases. It also raises important questions – was it justified to meet out such a strict punishment to Hansal while allowing others involved in the scam to go scot-free? Is Harshad to be blamed or the system? While the direction is great, it is without its share of blemishes. Hansal and his team of writers don't explain much about the political angle, especially the involvement of the Prime Minister. In fact, the entire track of how Hansal got involved with the PM, Swami ji (Kartik Krishnan) etc isn't explained in detail and is also summed up quite quickly. Also, the series begins with Sharath Bellary but no explanation is given as to who he was and whether he actually worked in State Bank Of India.
SCAM 1992 - THE HARSHAD MEHTA STORY begins on an intriguing note as Sharath Bellary makes his way to the Times Of India office and meets Sucheta. The flashback commences well and the manner in which Bhushan explains about the stock exchange's workings is engaging and helps those who have negligible knowledge about this business. Harshad's gradual growth as the 'Big Bull' and how he makes enemies in the process is convincing. The pace drops at places and the 10-part web series could have been shorter by an episode probably. Also, the first five episodes are wholly about stock trading. It's only from episode 6 that the focus shifts to Sucheta's track. The manner in which she convinces her bosses to go ahead with the story on Harshad Mehta is gripping. From here-on, the focus is balanced between Harshad, Sucheta, CBI officer Madhavan (Rajat Kapoor) etc. One expects fireworks once Sucheta's article becomes a talking point but again the narrative drops a bit. The makers didn't have much of a choice as their attempt was to give a realistic view of the saga and in real life, there's no dhamaka happening regularly. Nevertheless, the second half of the web series is much more captivating and it ends on a justified note.
SCAM 1992 - THE HARSHAD MEHTA STORY is embellished with some bravura performances. Pratik Gandhi, who was seen as the sidekick of the hero in MITRON [2018] and LOVEYATRI [2018], plays the lead part with aplomb. He owns the character and seems fully convincing. Despite being such a larger-than-life part, the actor doesn't go overboard and knows where to hold. Pratik Gandhi is a known name in Gujarati theatre and cinema circles and SCAM 1992 - THE HARSHAD MEHTA STORY is bound to take him places! Shreya Dhanwanthary, who was earlier seen in WHY CHEAT INDIA [2019] and the web series THE FAMILY MAN [2019] delivers her best work. This was a challenging part but she does total justice. Her track would surely be loved because rarely in Indian web or cinema, do we see such an accurate depiction of a journalist. Hollywood has done that in several films like SPOTLIGHT [2015], THE POST [2017] etc but to see something of this sort in India is commendable. Sharib Hashmi is good in the cameo. Chirag Vohra is lovely, especially in his entry scene and in his confrontation sequence in the end. Hemant Kher essays the part of the concerned and tensed brother perfectly. Satish Kaushik gets to essay a well-written role and he gives a fine performance as always. Nikhil Dwivedi is a surprise as he gives a genuinely great performance. Ananth Narayan Mahadevan is efficient and it's good to see him in such a lengthy part after ages. Rajat Kapoor has a late entry but leaves a mark. Anjali Barot (Jyoti Mehta; Harshad's wife) is fine, especially when she blasts Sucheta. Faisal Rashid (Debashis) and Viveck Vaswani (SBI chairman) are adorable. Jaimini Pathak (Sitaraman) is an actor to watch out for. Jai Upadhyay (Pranay Seth) is confident. Kavin Dave (Rakesh) and Paresh Ganatra (Maheshwari) are impressive. Raghav Raj Kakker (Sucheta's source, nicknamed Karamchand) surprises as he's quite a new actor and yet nails the part. Mithilesh Chaturvedi (Ram Jethmalani) is flawless. One of the best scenes is when he tells the press about the PM's involvement in the scam. The only time the actual footage was used was in this scene and the way the makers have interspersed it is seen to be believed. The other actors who do a good job are Kartik Krishnan, K K Raina (Manohar Pherwani), Mamik Singh (Citi Bank official), Lalit Parimoo (CBI director), Shadaab Khan (Ajay Kedia) and Ramakant Dayma (Shantilal Mehta; Harshad's father).
Achint Thakkar's music is fine and the opening theme is very catchy and one of the best for an Indian web series. Pratham Mehta's cinematography is first-rate and gives the web series a grand look. Tarpan Srivastava and Payal Ghose's production design is realistic and straight out of life. Sumit Purohit and Kunal Walve's editing is fair but a few parts of the series could have had a pacy narrative.
On the whole, SCAM 1992 - THE HARSHAD MEHTA STORY is a bit technical and a few aspects might go over your head if you are not aware of the world of the stock market. Yet, this series deserves a watch because of its first-rate writing, execution, performances and theme music. The roller-coaster life of Harshad Mehta and the surrounding characters is bound to engage and shock you. Highly recommended!
Rating: 4 stars
BOLLYWOOD NEWS - LIVE UPDATES
Catch us for latest Bollywood News, New Bollywood Movies update, Box office collection, New Movies Release , Bollywood News Hindi, Entertainment News, Bollywood Live News Today & upcoming movies 2021 and stay updated with latest hindi movies only on Bollywood Hungama.