THE RAILWAY MEN is the story of unsung heroes. On December 2, 1984, Imad Riaz (Babil Khan) is all set to start work with the railways. He reaches Bhopal Junction and impresses the station master, Iftekaar Siddiqui (Kay Kay Menon) with his sharp observations. Imad proceeds to Nishatpura yard to start work. Before joining work, he gives an anonymous interview to Jagmohan Kumawat (Sunny Hinduja), a fearless journalist, who is hell bent on exposing the Union Carbide factory. The factory has violated several norms and Kumawat wants to punish the relevant authorities. Imad had worked at the factory at one point and his close friend, Mohammed Ansari, had died after he was exposed to the deadly Methyl isocyanate (MIC). Imad has vowed to Mohammed's wife Shazia that he'll give her justice. She is coming to Bhopal with her children in the Gorakhpur Express the same night. Kumawat is also hand-in-gloves with Kamruddin (Dibyendu Bhattacharya), the manager at Union Carbide, who has promised to send the former a 1982 report that proves that Union Carbide has cut corners, thereby putting the whole of Bhopal at risk. Meanwhile, Iftekaar is worried as the communications system is down at the station. At night, he bumps into a mysterious RPF constable (Divyenndu), who is none other than a notorious bandit who loots passengers on the train. The bandit has learned that more than a crore rupees are stored in the locker in Iftekaar's cabin. He arrives at Bhopal to loot the moolah. Before he could do so, MIC starts leaking at the factory. The gas spreads around the city, leading to death. It creates chaos at Bhopal Jn. Iftekaar asks the survivors to proceed to the waiting room and shut its doors and windows. Sadly, the communication system is still down and he's unable to inform the nearby stations that the incoming trains should not be allowed at Bhopal. Thankfully, at Itarsi Junction, Rati Pandey (R Madhavan), GM, Central Railways, arrives and he realizes the gravity of the situation. Instead of doing nothing, he decides to help Bhopal passengers though it can lead to his death. What happens next forms the rest of the show.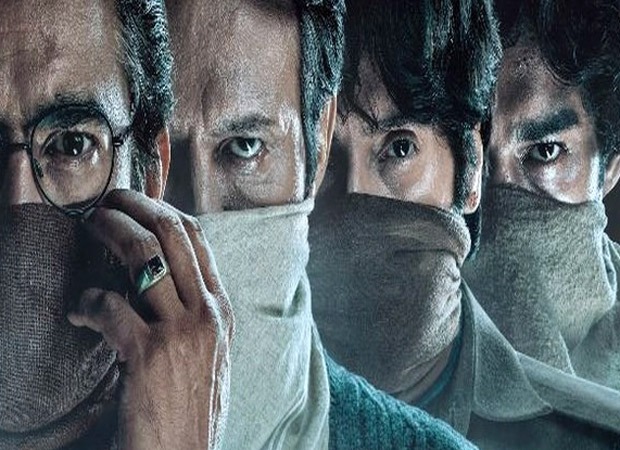 Web Series Review: The Railway Men
Aayush Gupta's story is incredible and based on real events. Aayush Gupta's screenplay is very gripping. It is detailed yet not boring and very simple to understand. Aayush Gupta and Shiv Rawail's dialogues are normal. A few funny dialogues crop up in the most serious and unexpected situations though.
Shiv Rawail's direction is exemplary and it's difficult to believe that it is helmed by a first-timer. There have been two films made on this ghastly episode – BHOPAL EXPRESS [1999] and BHOPAL: A PRAYER FOR RAIN [2014]. But THE RAILWAY MEN depicts the incident in full detail. He also uses graphics to explain the positions of the trains on the way to Bhopal and it looks appealing. It further helps viewers understand the problem at hand. Several scenes will leave viewers astonished, especially how so many lives could have been saved that fateful night. The shock value is in fact more because many of these events are not known to people at all. The series is just four episodes and hence, the makers don't drag it needlessly. Moreover, the use of real-life footage and incorporating the anti-Sikh riots angle (since the Bhopal Gas tragedy happened barely a month after Indira Gandhi's assassination) add to the impact.
On the flipside, the track of the swimmer is needlessly forced. A few scenes were massy in spirit but in terms of execution, they won't make viewers break into applause. The climax scene in the graveyard must have happened but looks a bit far-fetched.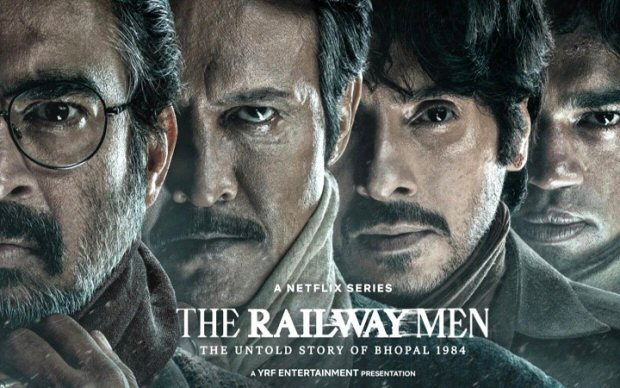 Speaking of performances, Kay Kay Menon rocks the show and comes out as the best performer of the series. He's incredible in the last episode. R Madhavan has a late entry but is impressive. One would wish that he had more screen time. Babil Khan is a revelation and an actor to watch out for. Divyenndu, too, puts his best foot forward. Juhi Chawla (Rajeshwari Janglay) is lovely in a special appearance. Sunny Hinduja and Dibyendu Bhattacharya leave a mark despite limited screen time. Philip Rosch (Madsen) hams. Connor Keene (Alex Braun; toxicologist) is much better. Thanu Khan (Markhand) and Aditya Shukla (Ratlu) are great as beggar kids. Shrikant Verma (Ishwar Kumar Prasad), Sunita Chand Rajwar (Vijaya) and Priya Yadav (Sohini; Vijaya's daughter) lend able support. Annapurna Soni (Shazia) doesn't get much scope. Bhumika Dube (Nafisa; Kamruddin's wife) is okay. Lokesh Mittal (Vinod; arrogant official at Itarsi Jn) and Rahul Tewari (Benedict) do well. Raghubir Yadav is heroic. Mandira Bedi (Rajbir Kaur) is fair. Adrija Sinha (Himani; swimmer) is wasted. Manish Wadhwa (Mirza) is impressive in a one-scene cameo.
THE RAILWAY MEN has just one song 'Nindiya' (Ankit Balhara-Sanchit Balhara) and it's touching. Sam Slater's background score is captivating and enhances tension. Rubais' cinematography is spectacular. Rajat Poddat's production design is well-researched and brings the bygone era alive. The same goes for Rushi Sharma and Manoshi Nath's costumes. Sunil Rodrigues' action is realistic. Filmgate AB's VFX looks a bit tacky. Yasha Jaidev Ramchandani's editing is sharp.
On the whole, THE RAILWAY MEN is a shocking and gripping web series and is laced with award-winning performances.
Rating – 3.5 stars
BOLLYWOOD NEWS - LIVE UPDATES
Catch us for latest Bollywood News, New Bollywood Movies update, Box office collection, New Movies Release , Bollywood News Hindi, Entertainment News, Bollywood Live News Today & Upcoming Movies 2023 and stay updated with latest hindi movies only on Bollywood Hungama.