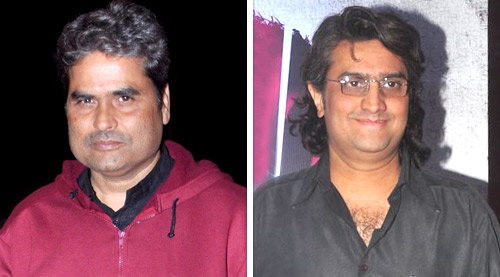 In an interview with Subhash K Jha, director Manish Gupta who made Rahasya, a film based in the Aarushi Talwar murder case, nails Vishal's lie about not seeking the Talwars' consent before producing Talvar.


Vishal Bhardwaj says he did not seek the Talwars' permission before producing Talvar?

Vishal Bharadwaj is lying. The Talwars have given him permission in exchange for an undisclosed amount of money. Also, Vishal has portrayed the Talvars as absolutely innocent in the film, which was the Talwar's primary condition while giving Vishal the rights to their story.


How do you know this?

Mrs. Vandana Talwar (sister-in-law to Dr. Rajesh Talwar) had given the same offer to my producers and me at our office in Malad (W), Mumbai, around May 2014 after we kept a special screening of our film Rahasya for her. We had been asked to do so by the Bombay High court following the Talwar's petition against our film.


What was Mrs Vandana Talwar's reaction to your film?

After viewing my film, Mrs. Vandana Talwar handed us two booklets written by her, that describe how the Talwars are completely innocent and how the police, the CBI and the judiciary botched up their case. I can show you those booklets. She said, "We want a film-maker or author to bring our true story to the world, to show the world that we are innocent and how we've been wrongly implicated. If you could incorporate these true details of our case in your film, we'd support your film."


What was your reaction to her offer?

I refused her offer.


Then?

Then she pressed hard for a stay order on my film in the honourable Bombay High Court. For eleven months, the Talwars fought this case against our film Rahasya employing the best lawyers in Mumbai. Who was funding them? I wondered. Our lawyers' bill had gone up to Rs. 45 Lakhs which was borne by my film's producer and distributor. The Talwars' lawyers' bill would have been close to Rs. 1.5 Cr. since their lawyers had been working very hard and round-the-clock on this case for eleven months.


So, who was paying their legal bills?

You tell me! A middle-class dentist couple who've been in prison and unemployed for six years… Could they afford to spend so much time, energy and money in fighting a case against a mere film? How did my film matter when they are facing a death sentence? Wouldn't their focus be on saving their own lives rather than pursue a film Rahasya that says it's fictitious?


Why were they so against your film?

The answer became clear, a few weeks later when Vishal Bharadwaj announced his film. He had assured his financiers very confidently that Rahasya posed no threat to his film since Rahasya would never release, due to the high court case pending against it.

The court case against our film and the top-notch lawyers who fought the case against us were financed by Vishal because he was the only one who stood to gain by our film not releasing. The uniqueness and freshness of his film would be affected if our film released first.


Your observations on Vishal Bhardwaj's involvement in suppressing your film are mere conjecture?

No, it is more than conjecture. After we won the case and my film Rahasya released, I had approached those top-notch lawyers who had fought against us and I grilled them on a personal level. They admitted without any qualms that Vishal had been funding them and stated that they had nothing personal against me or my film. They had been employed to do a job. And they'd be happy to do that for any client.


The honourable courts had ruled in favour of your film Rahasya?

The most interesting part is that our lawyers won the case largely because they exposed the true intentions of the Talwars and Vishal Bhardwaj by showing the judge news articles and clipping about the other film Talvar being made with the consent of the Talwar family. The judge understood their ploy. The judge was thoroughly convinced with the logic that our lawyer gave him and hence the judge gave a ruling in our favour.


Your observations on Vishal Bhardwaj could hurt his film?

Vishal is a great filmmaker and I respect him a lot. I did not expect a filmmaker of his caliber to resort to such deplorable tactics.
BOLLYWOOD NEWS
Catch us for latest Bollywood News, New Bollywood Movies update, Box office collection, New Movies Release , Bollywood News Hindi, Entertainment News, Bollywood News Today & upcoming movies 2020 and stay updated with latest hindi movies only on Bollywood Hungama.