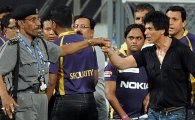 The altercation that took place between Shah Rukh Khan and the security guard and MCA officials last night after SRK's IPL team Kolkata Knight Riders defeated home team Mumbai Indians, started trending on twitter in no time. While some sympathized with the superstar the others just cracked jokes on the incident. Take a look at some of the tweets.
@PartyRocker_M: "I guess the guard at Wankhede saw 'Ra.One'.... And when he saw Shah Rukh Khan last night.... rest is history !!!"
@MrinalMathers: "What Srk did was totally right. I'm proud to call myself a SRK fan. #ISupportSRK !"
@TheUnRealTimes: "If Shah Rukh Khan really wanted to bash up the MCA officials he could just have shown them Ra.One."
@WordsOfWacko: "Shah Rukh Khan banned from entering the Wankhede Stadium in Mumbai. But no problems for him, he will watch the match in Dish TV. Kyunki SRK ke sar pe Dish Sawaar Hai :D"
@Tanumoyd: "SRK was d reasn 4 the trending terms lyk "Wankhede" nd "SlapGate". So dat shows d power. Even though he is in a good side nd alwys will be"
@_fakeiplplayer: "Next episode of Satyamev Jayatewill feature the security personnel assaulted by Shah Rukh Khan."
@ShivAroor: "You know what'll be cool? If Shah Rukh Khan buys the Wankhede Stadium and throws out these sanctimonious MCA trolls."
@QuanakJess710: "Now Shah Rukh Khan will just fly in into the Wankhede stadium in his G.One suit."
@BullOperator: "Losers want a reason to hate the King, if his team is @ No. 1 post, they insult him.. Sore loosers! #srk #ipl"
@mojorojo: "Text from girlfriend: "Hee! Shah Rukh banned from Wankhede." Text two minutes later: "Please stop thinking of a joke to tweet."
@thatweirdguy: "Shahrukh got a little tipsy & the the security guard at Wankhede Stadium resembled Shirish Kunder. Rest is History..... Kudos #SRK! B-) ?"
@TheBarfigirl: "So Shah Rukh Khan is banned in wankhede.Very good.He's crossed Salman Khan in these kind of activities!"
@Eccentricandhow: "Shah Rukh Khan denies using the 'MC' word for the Wankhede guards. He says he was only calling out to them, "MC...A ke guards ji..." #Srk
@Arjun024: "May be when he was inebriated, Shah Rukh Khan imagined himself to be in "Don's Wear"; the mood was infact "Don't Swear"."
@shadymumbai: "@CricMS: Shah Rukh Khan can now enter United States of America, but not Wankhede Stadium...."
@_fakeiplplayer: "News emerges that Shah Rukh Khan didn't actually do any MC-BC. He was just saying MCA and BCCI."
Celebrity Tweets
@sujoy_g: "read about the SRK incident. I think @iamsrk was very decent about the whole thing. I'd have ripped their heads off if it was my daughter."
@anjanasukhani: "Can the media stop pickin on SRK.....he's a gentleman....unless provoked badly nobody reacts....dnt judge n create imaginary stories"
@sanjaymanjrekar: "Life time ban on entering wankhede for what SRK did there ??? Take it easy MCA !"
@cricketwallah: "Uproar over Shah Rukh's brawl with Ravi Sawant & Nitin Dala continues to rage in Mumbai Cricket Assoc corridors.Most officials intent on ban.. SRK defends his actions in a press conference. Says kids along with him were manhandled by MCA officials who owe him an apology... mumbai Cricket Association managing committee meets tmrw morning at 11 to discuss Shah Rukh Khan matter and ban or not.. Dont know of the pros & cons of Shah Rukh's brawl since I was not there but the incident certainly mars the image of IPL and Indian cricket"
@shiekhspear: "Somebody physically pushed Suhana for playing in the area! And they d?dnt even apolog?se after misbehaving! Any parent would have done what @iamsrk did! Why wouldnt he be angry? #istandbysrk …If a parent stands up for his child...how does it become hooliganism? Can the press explain what's all this negative reportage on @iamsrk ?"
@deannepanday: "My son was there with Srk & other kids,@iamsrk did the right thing by protecting our babies,why doesn't the media/officers see that,so angry.. Srk was looking after so many kids..damn these people who pick on him so much… I would have done the same,just that I a no body so they would let it go.."