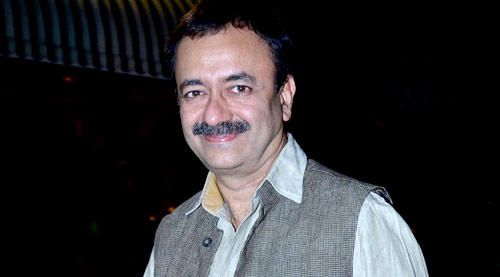 "I love the first poster. When you'll see the film you'll realize the importance of the poster. To me it's not a nude poster at all," said master director Rajkumar

Hirani in a Bollywood Hungama exclusive video interview with Faridoon Shahryar. Hirani is confident that PK will get a U certificate. He was visibly moved as he spoke

about Sanjay Dutt and also shared some interesting insights about Dutt's biopic which will star Ranbir Kapoor in the lead role. Mr Hirani also spoke about why he doesn't get affected

by the Box Office pressures besides sharing some funny incidents during the making of PK. Today also happens to be Raju Hirani's birthday. He is leaving for Goa tonight since he

will be part of a tribute to Richard Attenborough at IFFI tomorrow November 21.

You started the 200 Crore club with 3 Idiots and now more films have come up. Today the opening weekend numbers are being manipulated; overall collections are jacked

up than the actual collections. Then there'll be pressure from you to better Dhoom 3 collections with PK. How do you look at all this?

I'm saying with all honesty. First of all we are not in the same race. Everybody can excel. Every film is different. Somebody might do a few crores more; some film can do a few crores

less. It's not a reflection of the quality of the film. Quality of a film can be judged only ten years down the line, that after ten years whether people remember your film or not. I don't

know how much business did Pyaasa, Mughal E Azam, Lagaan or Jab We Met did. I would still want to go back and watch these films. How everything is equated with

money is very funny. We should break this pattern.

The response to the first poster of PK was unprecedented. There were people who loved it while there were others who cried foul alleging nudity.
I love the first poster. When you'll see the film you'll realize the importance of the poster. To me it's not a nude poster at all. For me it's a very very interesting looking poster which

completely signifies the film. I was amused when people said Nanga hai Nanga hai. Are you seeing through the transistor? In akhaadas, people wear langot, you see more in that. See at

our Sadhus in Kumbh mela. We are a country of Kamasutra, tomorrow you'll say burn Khajurao. It's your dirty mind. There's nothing. Change your thinking. There's no vulgar moment

either. A woman in Sari, fully clad, can look more vulgar if she wants to, than a man who's completely naked. There's nothing wrong in nudity.

Are you aiming for a U certificate from the Censor Board for PK?
It's a completely U film. There's no reason to give it anything else.

The idea of the song 'Love Is A Waste Of Time' from PK is very interesting. How did you guys crack it?
I'll tell you a very interesting story which nobody knows. I wanted to tell Amitabh personally but he still doesn't know. Swanand was caught up and we had to record this song. I

thought of calling Amitabh Bhattacharya. There was a number Amitabh (Lyricist) in my phone. I called. It wasn't Amitabh Bhattacharya but Amitabh Varma. I started talking and he got

very excited. During the conversation I realized it's not Amitabh Bhattacharya but Amitabh Varma. We fixed up time to meet next day. Then I called Amitabh Bhattacharya, he came to

meet but he was caught up with a few other things. The same evening Amitabh Varma came to meet me. I thought let's take a chance. I briefed him. Two days later he came and

started with the line poore pichattar baar mirrorva dekhen...I liked it. This guy magically delivered. He still doesn't know he came by default.
Aamir Khan is tremendously excited about PK. He
has also said that this one role is equivalent to all the roles he has played so far in his career. He hasn't repeated a director in a long time either.
Aamir has done a fantastic job. It's a character which is completely a baby, very innocent, very childlike. All that fits Aamir because of his baby face, height, fresh looks, ears (which are
already out), physically he was completely fit. He took up the challenge of Bhojpuri. He took lessons in Bhojpuri and he put in hell lot of efforts to become the way he has become. He
doesn't blink in the film. It was very tough for him to perform.
While editing PK, how was your state of mind when you saw the portions featuring Sanjay Dutt considering he went through turmoil?
Sanjay has been in every film of mine barring 3 Idiots. He is a complete joy to work with. He makes everyone happy. When we were shooting we didn't know that this will
happen to him.
I believe Sanjay writes letters to you from the jail and it gets you very emotional?

He keeps writing letters. I've seen a change in the pattern of his letters. I've seen an acceptance. He has accepted that I have to live here and I might live happily. He jokes around. Earlier
there was sadness, now he writes wonderful letters. There's a Mahatma Gandhi cell since Gandhi ji had been to Yerawada Jail. Sanjay said, Bapu ab to jaane do mujhe, bahut ho
gaya. There's humour coming back. He is a survivor.
You are making a biopic on Sanjay Dutt with Ranbir Kapoor in lead and you've apparently met his family over a span of 25 days and also spoke to Sanjay's close friend Paresh.

It all started when Sanju was out on parole. He opened up. I realized I knew so little about him. There's a huge part of his life that he doesn't talk about. At one stage I realized there's a
story in his life. Abhijaat (Joshi) and me met his family for several days, met his sisters, Kumar Gaurav and a close friend Paresh who lives in US. I cross checked all the stories. Paresh
gave very interesting insights. I think there's a great story. I bounced it to Ranbir and he got excited. At this stage we are still writing.
Will the Sanjay Dutt biopic be the next film you'll be working on as a director?
Looks like.
One of your fans, Sushil Suthar from Delhi has asked you to share any funny incident during the making of PK
There's a fat barber that you must have seen in the promo of PK. You may have seen the making video of the scene involving this guy. But what is not part of the making, I'll tell
you. The scene required that the pyjama is caught in the bum. We needed a fat guy so that the bum is big too. When we were shooting, the line was thin; the pyjama was not going in.
We used the hanger but nothing was happening. A costume person told me that the actor is very nervous, you are there, Aamir is there, he is very nervous, he has really tightened up.
You need to loosen him up. We took him aside, talked to him, became friends with him, then he 'loosened up'.
BOLLYWOOD NEWS
Catch us for latest Bollywood News, New Bollywood Movies update, Box office collection, New Movies Release , Bollywood News Hindi, Entertainment News, Bollywood News Today & upcoming movies 2020 and stay updated with latest hindi movies only on Bollywood Hungama.