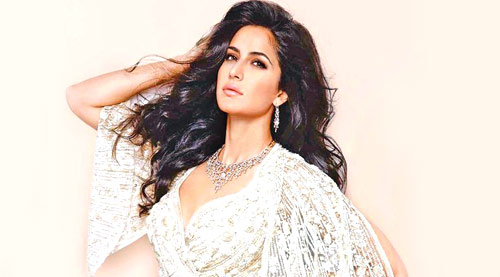 A flurry of debates, are going on about the tug-of-love-and-war between media and celebrities. Be it Salman Khan and Shraddha Kapoor's issues with Photographers or Deepika Padukone taking a stand against objectionable pictures posted online, the views and counter viewpoints keep on pouring in both from celebrities, their marketing machinery and from within the media as well. Katrina Kaif has had her share of issues with media but it seems she has done a lot of thinking and has reached a balanced view point and approach towards the media. In a Bollywood Hungama exclusive video interview Katrina makes it clear, "There is no need to provoke people. You are doing your job, I am doing my job. I think I've always been very respectful of what the media adds to me." She has a balanced view point in her approach towards the Photographers. She also adds, "It is important that your work is in focus. If it is not, then you're more of a Spectacle than an actor."



In the industry that you work in, you are constantly under scanner and all sorts of news reports keep on coming up. What do you think is the importance of sense of humour for any actor?

It is very important as long as the line is not crossed where you actually feel the need to defend yourself. For me that's very rarely. It has happened once or twice or thrice (once in Delhi) where someone had said a question in such a nasty way that it provoked me and I actually walked off the stage. There is no need to provoke people. You are doing your job, I am doing my job. I think I've always been very respectful of what the media adds to me. I think the media has been respectful of that. We have had a good equation. Every successful relationship is about respecting each other and respecting what the other person does. My view point is that if you don't like me for some reason, or if you're not having a nice opinion about me then just stay away from me. I don't come from the school of thought that being nasty or being unkind is ever necessary just to create journalism or news worthy story. I think there are other ways to do it.



Primarily what I was asking was the sense of humour in your personal life, when you hear something about yourself and things are tough…

Oh sorry, I've been on the wrong track (Laughs)



You have a very good sense of humour. I read an interview of yours where you said that "people think I'm shy and don't open up that much". You have an amazing sense of humour, whoever has known you for some time would vouch for that. You are a Cancerian, and Cancerians are supposed to have a very good sense of humour.

That's good. I am going to tell someone that (Laughs). I keep hearing that I don't have a good sense of humour. I think I am very funny. With the personal life aspect, if you see from the time when people became famous actors, from the time when we were watching films on screen, an actor's personal life off screen, there will always be speculation. If you take it personally, then that's foolish. If you're trying to maintain a certain boundary, I think that's perfectly fine. For the most parts, media does respect that. There aren't too many people who pry and start digging. It's a nice decent balance that I have. It is important that your work is in focus. If it is not, then you're more of a Spectacle than an actor. That balance should be there for your own dignity, for what you're trying to create. If the balance goes off, and it's more about what you're doing off screen then you should start questioning, what am I doing wrong. You are an actor, what you're doing in films especially films which are so larger than life, then you need to think, what am I doing wrong! Your work should be spoken about.



I have spoken to several celebrities and they say that the fact that I'm being spoken about then I must be doing something right…

I do agree with that thought also but as long as there's a balance. If three articles mention your work and two mention the parties that you went to or something speculative then that's fine.



Or when you're being pursued when you're off to a party and being followed?

That's ok. A photographer isn't going to come behind me taking pictures for the love of you. I love them and they love me. They are doing a job and they are being paid for it. I also try and give them that respect since they are earning their living. As long as they understand that there will be some moments that you can't give a picture. You've come from the gym or maybe not in the right frame of mind.



Without make up?

That's ok. Many times I roll down my window and click pictures for them. But there are some moments maybe they are not right. As long as you can try, it is their living. You should respect that.
BOLLYWOOD NEWS
Catch us for latest Bollywood News, New Bollywood Movies update, Box office collection, New Movies Release , Bollywood News Hindi, Entertainment News, Bollywood News Today & upcoming movies 2020 and stay updated with latest hindi movies only on Bollywood Hungama.