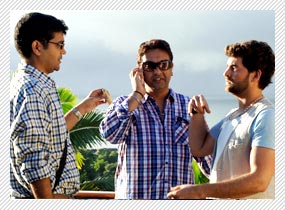 Interestingly, the narrative of the first Bollywood horror flick of 2013 does not revolve around haunted mansions or ghosts, but rather around 'A Killer Connection'. Coming from the stables of Eros international and Next Gen films, '3G - A Killer Connection' highlights a unique plot showcasing how technology can lead to turmoil and consume our lives. The film is written and directed by duo debutant directors Shantanu Ray and Sheershak Anand, who also wrote the thrilling, Table No. 21. Talking about the project Shantanu says, "We wanted to make an independent film initially and shoot it using Go-Pros and Cannon 5D, but we went ahead and made it a commercial film thanks to Viki Rajani's advice. It took us two years for making the entire of the movie." Bollywood Hungama's Philip Bode catches up with the Shantanu and Sheershak, duo debutant directors to talk about how cellular phones can terrorize people, filming in Fiji, continuity issues and the overall experiences with making 3G - A killer connection.
"The first cell phone was actually made in 1949"
Ninety percent of all the stories come from factual incidents, Sheershak and I like collecting articles that interest us. There was an article published on the Times of India that talked about a haunted Nigerian number, and how people would die when contacted by the mysterious source. We found this interesting and started researching on cell phones in which we found some interesting facts like, the first cell phone was actually made in 1949, and commercially car cell phones were installed in the 60s etc. Sometimes a ring tone can be a source of fear; by receiving frantic calls from your boss if you skip work, or a suspecting girlfriend or wife, a cell phone can be a source of terror. We have seen fear being instilled with haunted mansions, flying ghosts, but have never a horror film inspired by a cell phone in Bollywood. We picked up on this element and conceived the idea behind 3G -A Killer Connection a years and a half ago.
"We had Neil in mind while writing the film"
As first time directors, it becomes difficult to convince top actors to act in your movie; Neil was willing to work with us as we had worked with him on Aa Dekhen Zara. We had Neil in mind while writing the film and coincidently Neil was eager to do a horror film. I thought the timing was perfect. We wanted someone who could pull off two sides of a character simultaneously, and Neil was very good with adding shades of grey. In all of his successful films, he has played slightly grey characters. For Sonal's character Sheena, we had about ninety auditions, in which Sonal turned out to be the best.
"Fiji is unexplored cinematically so far"
The drama of the film is always intensified when you can show, how fear lurks around, when you are away from your comfort zone with no one to help you. It becomes even deeper when you know you are stuck in a stunning place like Fiji. The Fijian government offers great rebate for filming, and for films like Table No. 21 and 3G-A Killer Connection a rebate is very important. In addition, Fiji is unexplored cinematically so far.
"We had a multi-cam shoot in India that took us two days to prepare"
Most of the action scenes were hand-to-hand combat and we went with our gut instincts and planned it on set, as we did not have an action director in Fiji. Most of the action sequences we shot using a hand held camera. We had a multi-cam shoot in India that took us 2 days to prepare and it involved a Phantom camera on set for a car crash sequence. The scene has garnered a lot of praise. The problem in India is that, we have equipment that is outdated and barely and safety measures in place, I think we both agree to that.
"People don't realize that it is a highly specialized field"
Every film has continuity issues and that includes 3G as well, to be honest. You need a dedicated person who can look after this crucial aspect of continuity. While shooting, there is immense pressure for a director, and there are other aspects to take care of. People don't realize that it is a highly specialized field, and you need some one with a trained eye who has a knack for continuity. I think it is very important to invest in such people as they turn out to become very important on a film set. On the big screen nothing goes unnoticed, and you can cringe if something is amiss.
"Good VFX is like a tattoo"
The problem with post-production in India is no matter how hard you work on pre-production, it somehow never ends up as you pictured. Good visual effects take time and there are very few VFX companies that do good work. In India, we have a standard way of working backwards from the release date, in which you end up not delivering on time and everything looks rushed. So good VFX is like a tattoo, it costs time and money and if it is not working, you are either compromising on the money or the time factor. Initially we visualized a lot of VFX for the film and listed out the probable companies we could have worked with and settled with Prime Focus.
"I believe one shouldn't be over indulgent with editing"
Sometimes an editor can put a film together in such a way that you may have not pictured, I like to give that levy to the editor. It is interesting to see how someone else sees what you have in mind and make something different altogether, following the narrative. I believe one shouldn't be over indulgent with editing, I have heard of some directors who have been at it for 2 years and so on. You can lose perspective if you fixate on something for so long, I cannot make judgments to say if it is right or wrong. For 3G, we had Sanjay Sharma on board where-in we did the editing in chunks to see if it was working. I personally have no patience for editing, Sheershak who is an editor as well knows better.
BOLLYWOOD NEWS
Catch us for latest Bollywood News, New Bollywood Movies update, Box office collection, New Movies Release , Bollywood News Hindi, Entertainment News, Bollywood News Today & upcoming movies 2020 and stay updated with latest hindi movies only on Bollywood Hungama.