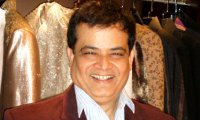 They say that 'Clothes maketh a man'. But, have you ever wondered about 'Who' maketh the clothes! Well, Bollywood Hungama got in touch with the man who goes by the name of Naresh Rohira and he makes clothes for none other than The King himself! You guessed it right... Naresh Rohira is the man who is responsible for all of Shah Rukh Khan's wardrobes. Satish Sundaresan of Bollywood Hungama caught up with this man. Here are the excerpts:
Naresh, to start with, can you tell us how this journey started for you?
We (my brother Kanhaiyalal Rohira and me) have always been in the line of costume designing since 1970s. Those days, we used to run a store in Khar called 'New Stylo', (which is now shut down). My brother, then, used to design clothes for topmost film stars like Dharmendra, Vinod Khanna, the late Amjad Khan and many others. At that time, it was not just the stars; it was also the films that he rendered his services too. I used to see my brother working, and the very sight used to inspire me a lot. Even though I never had any formal training in this field, I decided to take the plunge in the same field. Then, way back in 1987, I started my store. Post that, my brother also joined me.
If one has to describe you and your profession, how does one do so?
Frankly speaking, the terms 'Fashion Designer' and 'Costume Designer' have cropped up only recently. Those days, it was the 'darzee' (tailor) who used to be in charge of the dresses of the stars. For me, it was a total hands-on training since the word go. I used to physically sit and work with the 'master' and the workers. Over the years, what I have learnt is that, it's very easy to think and draw, but when it comes to practical execution, it totally tough.
Can you recall the first time Shah Rukh Khan visited your shop?
How can I ever forget that! That was the time which changed my destiny forever. Till today, the memory of his first visit is fresh in my mind. He had come for Hema Malini's Dil Aashna Hai. I made him very comfortable that time. But, what was so striking about SRK was his causal sense of dressing. He had dressed in jeans with his check shirt half tucked in and half hanging out, which, a lot of people say is his trademark style. I took his measurement while he was sitting and reading a newspaper and smoking. And while he was about to leave, all that he said that 'I am very happy with your work. From today onwards, you will be doing all of my work!'
Here, I really want to tell the readers as to what the industry has taught me is that 'Never EVER underestimate anybody... today you could be a newcomer/ struggler, and tomorrow you might just be the next superstar!' So, from that day onwards, I am still with him…I am whatever I am, because of him. I can proudly say that, whatever he wears now, have been mostly done by me, including his wedding suit!

I can proudly say that, whatever he wears now, have been mostly done by me, including his wedding suit

Everybody knows SRK the Superstar, the businessman and many other sides of him. But you are one of the lucky ones who know him from close quarters. So, tell us how is personally…
He is one of the best people you can work with. He is such a big star, but without any starry attitudes. Since I have been very close to him, I can tell you that he is one of the most loyal guys in the industry. If you see his staff, they have been with him for years. I know that there have been people who have tried telling him that 'please stitch clothes from us', to which he says that 'This man (Naresh) is already doing it for me'. All of this speaks volumes about his loyalty! That's why I always say 'its not about my loyalty towards him… it's about his loyalty towards me'.
In that case, tell us what forms his personal favorite wardrobe?
It's a black suit, which I feel I must have made over a thousand in numbers for him! In addition to that, it's his trademark white shirt and blue jeans. In the same breath, let me also add that he is not a fussy or finicky guy. I have seen celebs in Bollywood. Just that one hit film... and they make others feel that they have arrived. But, that's just not the way SRK is. He is modesty personified. Just that he is very specific about few colours.
What about SRK and his liking for tuxedos...
He is a guy who simply loves tuxedos. Out of the 15 suits that I used to make for him, 14 were tuxedos. Initially, he used to love tuxedos and 'kamar bandhs'. I also feel that nobody in the industry can wear a tie like him.
Does the King Khan ever tend to repeat his dresses?
Sometimes yes… Let me also tell you that he is not fussy about his dresses. But, if he likes a particular suit for some reason or the other, he may repeat the same. He has got so many suits…otherwise; I have not seen him repeating the dresses. Supposing if he has to reach a shoot at 8'o clock and he reaches home at 7.30, then, maybe, he will pick up whatever comes his way, but an apt one at that!
Is it true that you have a special room in your showroom that stocks clothes and caters exclusively to SRK?
(Surprised) How did you learn about that? Yes, that's true… I have made a special room in my shop that stocks clothes and caters exclusively to Shah Rukh. The reason is that one never knows which character he will be playing next.
I have made a special room in my shop that stocks clothes and caters exclusively to Shah Rukh

Naresh, has there been any instances wherein SRK got angry or upset with you/ your creations?
I have to tell this rather funny but memorable incident. What happened was that, I got a call from SRK's man Friday, during one of the shoots. SRK saw me and asked 'Have you sent this pair of shoes?' I replied, 'Yes Sir'. He said, 'No problems Naresh… just because, you have sent these shoes, I will wear them. Only that I will land up looking like (the late) Ajit. I couldn't gather what he was referring to. Only then, I realized that the shoes that I had sent to him were measuring 8 and 9 sizes, by mistake. Wasting no time, I quickly arranged the right size! That's why we now send him three pairs so that he should not face a problem on the sets.
Do you cater only to SRK or you have other celebrity clients as well?
I am working with lot of designers. But on a personal and direct level, it's only to SRK. I have celebs like Hrithik, Riteish Deshmukh, Boman Irani and many others on my client list.
Well, that brings us to the big question... are you accessible to the common man?
The answer is yes. I am undoubtedly accessible to every common man. And that too, it's an advice that's SRK gave me. He simply said, 'I am with you. Don't worry. Just that you should cater to everybody.'
BOLLYWOOD NEWS
Catch us for latest Bollywood News, New Bollywood Movies update, Box office collection, New Movies Release , Bollywood News Hindi, Entertainment News, Bollywood News Today & upcoming movies 2020 and stay updated with latest hindi movies only on Bollywood Hungama.