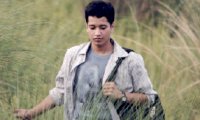 It's that time of the year when a new work of cinema by a new director grabs your attention by their ba.ls.
Udaan is a ballsy debut by Vikramaditya Motwane who once assisted the angst-laden Sanjay Leela Bhansali and then his angst-cousin Anurag Kashyap. You can see the lasting impression of both the senior creators in the way Motwane designs the uneasy and violent relationship between the 17-year old Rohan (Rajat Barmecha) and his tyrannical father (Ronit Roy) who's almost villainous in his despotism.
When Udaan is not busy trying to be a regular nudge-nudge-wink-wink coming-of-age film (Billy Elliot-goes-to-Jamshedpur) it gives us some great moments of cinema , done in shades that leave the camera lens far behind to romance the very core of middleclass life (no doubt corroded and outdated) in the soporific 'steel town' .
The film starts with a mildly amusing boys-disastrous-night-out-from-boarding- school sequence and then quickly gets down to the serious business on hand of telling us that Rohan's father has not met his son for eight years. Why? We never really get to know. And this remains the otherwise-exemplary work's one biggest flaw. Though played with energetic antipathy by Ronit Roy, the father's unreasonable autocracy makes the man appear as no more than a subtle caricature of lousy parenting.
The delicate moments emerge in the tale of self-realization through Rohan's inner moral churning and of course through the young actor Rajat Barmecha's instinctive understanding of his character's turmoil. Barmecha's expressions of anguish rage helplessness and finally retaliation and protest are so smoothly conveyed, you almost feel he is playing a character he knows first-hand.
Barmecha gives the narrative a compelling consistency. Director Motwane does the rest. His eye for visual and emotional detail is never over-punctuated. A certain delicacy even when tackling a subject as thorny as the father-child domestic violence runs through the narrative, rendering the characterizations and their motivations not only lucid but eminently palatable and engaging.
It's interesting to see how Motwane employs the tradition misunderstood-protagonist-against-a-heartless-word formula to the coming-of-age saga. Barmecha's poet-hero is a clever subverted carryover of Guru Dutt in Pyasa.
In Pyasa Dutt stood up to an insensitive world. Here it is the boorish father who won't let his son be a poet. This rare and precious film about straitjacketed claustrophobic middleclass values derives its strength from the unpunctuated uncluttered dramatic force that emerges from the main relationships.
By the time Rohan walks out on his loutish father with his little stepbrother we are no longer looking at Dilip Kumar and Amitabh Bachchan's uneasy father-son rapport in Ramesh Sippy's Shakti. We are on to something far more disturbing and contemporary.
Each time the despotic father in Udaan raises a hand to toast terror he raises uncomfortable questions on child abuse and its parameters within the Great Indian Middleclass Family.
In Hrishikesh Mukherjee's Anupama the disgruntled father Tarun Bose would not look at his traumatized daughter Sharmila Tagore because he lost his beloved wife during child birth.
In Udaan the father holds the son culpable for crimes that we can only decode in the detailed episodes showing the son's rebellious streak.
If God lies in the details, so does the devil.
BOLLYWOOD NEWS
Catch us for latest Bollywood News, New Bollywood Movies update, Box office collection, New Movies Release , Bollywood News Hindi, Entertainment News, Bollywood News Today & upcoming movies 2020 and stay updated with latest hindi movies only on Bollywood Hungama.