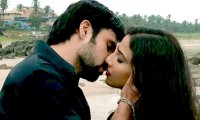 >
Make it large! Like a tumbler of foamy well-brewed beer Vidya Balan in The Dirty Picture brings to life the kind of actresses who didn't quite have a pub in kind when they spoke of 'Making it large' in her presence.


Laaj is a primary casualty and sharm is thrown out of the window as Vidya's Silk, more Smita Patil than Silk Smitha for the gutsy transparency Vidya imbues in her part, goes for the kill, playing from under- to over the hill with a skill that is wickedly intangible though solidly nailed to a palate of brilliancy.


Let's just say, there was no one quite like Silk Smitha, on whose life this film may or not be based. However, there can be no dispute on the fact that no one but Vidya Balan could have pulled off the role of Silk. It's a gutsy performance filled with sound fury passion and yes, cleavage. Oodles of cleavage hanging out of every frame, inviting us to a world of venal voyeurism. Come, look. And yes, make it large.


Movies located within the film industry tend to take the 'light' part of the 3 directorial commandments, 'Lights, Camera Action' too lightly. Guru Dutt's Kaagaz Ke Phool and Meraj's long-forgotten Sitara are the two films we recall where the protagonist undertook the journey from rustic anonymity to celluloid fame with the darker signposts of the journey on display.


Indeed the lines that Gulzar wrote for the heartbroken star in Sitara: Yeh saaye hain yeh duniya hai parchaiyon ki, Bhari bheed mein khaali tanhaiyon ki... could well apply to our Silk.


Tragically the dreadful isolation and loneliness of the small-town Chennai girl who went on to become the hottest item-girl decades before the term 'item girl' was coined, gets lost in oodles of tantalizing cross-references to stars and sex...not necessarily in that order.




Some of the lines that dialogue-writer Rajat Aroraa makes Vidya Balan throw at her adversaries (not all men, we might add) are deliciously ambivalent. But you know all the while that the words displaying an unabashed sexuality, are meant to titillate and scandalize. Silk is that kind of a woman. She leaves a trail of noisy scandals and controversies behind wherever she goes.


The writing in The Dirty Picture is so clear on the wall that you wish a more delicate tone had been adopted at least once in while, to make it stand tall. Delicacy creeps in unexpectedly when Silk's worst adversary falls for her. He is a pompous self-important loser of an offbeat director named Abraham (Emraan Hashmi, sullen and effective) who changes, unconvincingly, into an overnight director-wannabe playing the lead in a triple-role film, after he falls asleep watching one of his own bland films, falls in love with Silk...


The end-scenes between Balan and Hashmi are done with a gentleness found to be missing from the rest of this persuasive picture-show where 'dirty' is a password to a cornocupia of elaborate kitsch depicting the world of Jeetendra, Bappi Lahiri and K Bappaiah that existed in the 1970s. Though no one said 'Ooh la la' in those days of pots and pants, we'll let that go.


The period details in The Dirty Picture are interesting but not compelling enough to make us feel we are transported back to the 1970s. What carries the film forward is Silk's ambitions.Played at an unbelievable shrill octave, Silk's moaning-glory as voiced by Vidya Balan fills the frames with a vibrant voluptuousness. Vidya is specially brilliant in the early scenes when he plays the village ingenue who discovers she has a foolproof means of making men eat out of her...er, hands.


With a relish that leaves us enchanted Vidya sinks her teeth into Silk's sexual abandon. The actress revels unapologetically in Silk's corny wet-dream aspirations. Some of the scenes written to accentuate Silk's outlandish eroticism are plainly ludicrous. At a bash hosted by matinee-idol Suryakanth (Naseeruddin Shah, an enchanting epitome of the over-the-hill superstar with his mischievous glint, salacious smirks and wigged self-deception) and his writer-brother whatever-Kanth (Tusshar, lost and vulnerable) Silk breaks into a gyratory muqabla with the new item-girl in tinsel town.




We gawk in disbelief. That is what director Milan Luthra wants us to do. Subtlety be damned. Ditto morality. Aided by the brilliant if somewhat over-clever dialogues Vidya turns the whole morality question on its head. Her bravura performance would have worked much better with a bit of TLC applied to the aggressively-written script where characters who scream for attention through their potboiler-flavoured pedigree.


There are cloudbursts of brilliance in the narration that eclipse the glaring sins of overstatement. Vidya's solitary experience in a seedy movie theatre where men storm in to watch her item song and then storm out, and the delight that her eyes express at that moment, make you forget all of the film's weaknesses.


Sure, Silk is a fatally-flawed character who's driven to self-destruction. The film captures evocative montages of the protagonist's troubled turbulent and titillating life. Luckily Vidya Balan's performance comes from her heart. The cleavage is decidedly not the most expressive component of the performance. For that alone we need to salute this brave film about a gutsy sex-bomb who didn't mind if family audiences kept away as long men went back home to enhance their family after watching her.


Fully wet, of course.