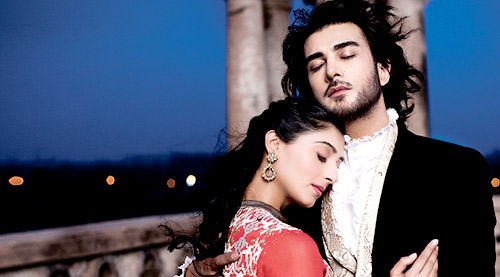 It's the nature of the feast...and I do mean, feast. Sumptuously spread out into two hours of drama about love, courtship, separation, conflict, deception and damnation during the year 1877 (why 1877, you may well ask), 20 years after India patriots first woke up to the need for freedom.


Jaanisaar is the kind of visual spectacle that could transport you into another century, provided you are only looking at the lights, costumes and adaas. There is an old world elegance to how Imran Abbas' eyes light up whenever he encounters the beautiful poetic Pernia Qureshi... Or, so it must have seemed to the very romantic and wise Muzaffar Ali, who in all romantic wisdom, also agreed to cast himself in a pivotal role. In this way, he not only saves money he also gets to mouth the best lines money can't buy.


Clever! Wish one could be just as effusive in praising other aspects of the films.


Pernia, pehle aap? To cast someone with zero acting experience in a role that requires the heroine to subsume the charm elegance radiance, poetry and tragic grandeur of an era steeped in intuitive lyricism, is a bit like building the Taj Mahal with plaster of Paris. Or the Eiffel Tower with papier-mache.


Pernia dances well. But she delivers Muzaffar Saab's thundering lines with all the power and glory of schoolgirl trying to impress her parents in the front row with her rendition of Umrao Jaan's ada's collected works at a kindergarten event.


The film's ambitious scope demanded a Deepika Padukone, if only wishes could be Sanjay Leela Bhansali.


Pernia can seek comfort in her co-star's plight. Imran Abbas looks like an eye candy that's been left out too long in the sun. All gooey and messy, he makes utter qeema (mincemeat) out of the film's sharply elegant lines that convey a feel and flavor of nostalgia without seeming dated. Imran delivers them like a groggy paperboy delivering only the Sunday section of the paper to the neighbourhood because he doesn't follow the rest of the news.


There is a nagging and sinking feeling of incompleteness about the process of putting the drama from paper to celluloid, as though the actors got into the wrong location in the right costumes. The songs composed by the director and Ustad Shafqat Ali Khan and choreography by Birju Maharaj feel like experiences that we would like to cherish. But the plot containing Muzaffar Ali's irreproachable aesthetics is replete with irksome loopholes and blind alleys leading to nowhere.


Jaanisaar makes for a frustrating watch. You want to like its visual assets. But the absence of an inner life strips the surface beauty of all relevance.


The narrative whips up the tumult of a time and period when the country was trying to wear its British demeanour without forfeiting the sheer Indianness of its heritage. There is a dismaying lackluster quality in the storytelling. It's like combing, grooming, oiling and beautifying a wig in place of real tresses.


In the director's best-known feature films, namely Gaman, Umrao Jaan and Anjuman, we got a feel and flavor of diverse cultures, with fluency being the guiding force in the narrative. In Jaanisaar, the actors wear the era like elaborate and authentic costumes at a charity ball in aid of the grandchildren of soldiers who were martyred in the fight against the British Raj.


Truly, if the architects of a free India in those days had known that the fall-out of the British Raj would be a languid lazy film of this nature they might have decided to spend time forming a kabaddi team rather than becoming freedom fighters.


While the music, costumes, cinematography (capturing in exquisite shades the nawabi culture of a civilization that thought it owned all the copyrights of tahzeeb) are all of a very high order, the narration is chaotic and pedantic, unable to hold our attention for more than a few minutes at a time.


The performances are draped in brocade. Pernia Qureshi is Rekha from Umrao Jaan without the latter's thehrao, grace and seductive charm. Her co-star from Pakistan is easy on the eyes, as long as his lips don't open up for speech therapy. Imran Abbas made a disastrous Bollywood debut in Creature. It'd be safe to wonder if he has gone from horror to another kind of horror altogether.


The central relationship between the Britain-bred Indian prince and the courtly dancer seems to be not going anywhere where we would like to see it, and them, go.


Don't try to figure out what 'Jaanisaar' means. By the time you do, the film would be history. In ways the film's characters could never be.


Dear Mr. Muzaffar Ali... Was that really you in Umrao Jaan? To paraphrase the classic song just a bit...'Yeh kya jageh hai doston, yeh kaun sa mazaaq hai?'
BOLLYWOOD NEWS
Catch us for latest Bollywood News, New Bollywood Movies update, Box office collection, New Movies Release , Bollywood News Hindi, Entertainment News, Bollywood News Today & upcoming movies 2020 and stay updated with latest hindi movies only on Bollywood Hungama.