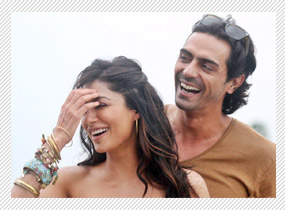 Khamoshiyan awaaz hain labzon mein bass inkaar hai.....Sameer Anjaan's evocative lyric and Shamir Tandon's compelling composition follows you out of this searing scathing relentless probing drama on work-ethics in corporate places.


This is one occasion when you don't mind being stalked.


There are no item songs in Inkaar. The female form is here objectified not through celebratory songs but in the gender perceptions that often distinguish the male viewpoint from the female. The songs and music (largely by the talented Shantanu Moitra) seem to mock the sexual frisson between the two protagonists as they circle each other in a moral pugilism that can break both or one of them.


It's not easy being ambitious and true to the conscience. Towards the end of this riveting drama of the loins and the nerves Chitrangda confronts Arjun in a washroom where the light flickers menacingly on her ravaged face.


"Can people like you and I who want more from life than love ever be happy?" she wonders in a choked voice.


Is Rahul Varma really guilty of sexual harassment? Or is the ambitious social climber Maya Luthria imagining things for her own convenience? Did she lead him on until it suited her ambitions and then cry 'harassment' when she had made her way to the top of the ladder and didn't want anyone peering up her skirt?


That versatile and vigorous storyteller Sudhir Mishra, doing yet another thematic flip-flop after the edgy crime drama Yeh Saali Zindagi, provides no easy solutions to the question of the male gaze and the female perception. Inkaar makes you stop and think about that diaphanous divide between consensual flirting and sexual harassment. As a corporate honcho who sat riveted to the film with me said, "I call my secretary 'Sweetie'. Suppose tomorrow she turns around and accuses me of sexual harassment?"


But this is not a version of Barry Levinson's Disclosure. Sudhir Mishra's treatise on the gender equation in an ambitious environment is far more dense and complex than a simple buffet of tongue-in-cheek innuendos interspersed with moral homilies. And yes, Arjun Rampal and Chitrangda are far more skilled actors than Michael Douglas and Demi Moore. It would be no exaggeration to say that the film wouldn't have worked with any other actors.


Arjun, in fact, grows better with each film, so much so that nowadays a film featuring him is an assurance of innovative aesthetics. Here he sinks into the part of the part-mentor part-tormentor with impassioned familiarity. Yup, Arjun knows the world of the cut-throat corporate competitiveness where every promotion for an individual could be a moral and ethical demotion. As played by Arjun, Rahul Varma comes across as both, sensitive and arrogant, considerate and sexist. He's a bit of a mystery, really.


Chitrangda is, in one word, a revelation. In sequences that appear in no chronological order, she nails her character of the ambitious small-towner who doesn't mind her senior's 'mentoring' until it suits her. Her character Maya could easily be perceived as a go-getting bitch. And that is how she appears when we first meet her in the boardroom where the inquiry commission headed by an uncharacteristically listless Deepti Naval, brainstorms over Maya's allegations against Rahul. Chitrangda enters the characters snarled ambivalent inner world creating with sketchy vividness, a character who is ruthlessly ambitious and yet not loathsome in her overweening ambitions.


Strangely, there is very little of Maya's personal life, a lot more of Rahul's backdrop with his pushy father (Kanwaljeet) .The one sequence where Maya visits her mother is cursory. You wish there was more of that iconic actress Rehana Sultan who plays Chitrangda's mother.


A large part of the narrative is restricted to the boardroom where the inquiry unfolds over two days. To his credit Sudhir Mishra never lets the proceedings get claustrophobic or stagey. The dexterous editing by Archit Rastogi creates a liberating space within the suffocating theme of a relationship challenged and squeezed by mutual ambitions.


Mishra's world never crumbles under the weight of the immorality that inundates his characters' existence. As in Hazaar Khawishein Aisi, considered by many to be his most accomplished work, there is a moral redemption for protagonists at the end. Perhaps the end-game in Inkaar is a bit of a cop-out considering how self-serving the protagonists were shown to be in their ambitiousness. But the unflinching integrity that underlines the moral twist to the fable of the fallen twosome is unimpeachable.


Sudhir Mishra knows the minds and hearts of his characters. He never manipulates them or sits judgment over them. On the contrary the protagonists evolve through a continuous process of shrinking and dilating aspirations that take them to the brink of damnation before they're pulled back just in time.


A mention of the supporting cast is imperative. The actors who play the protagonists' corporate colleagues, especially Ashish Kapur, Mohan Kapur and Vipin Sharma, add a luster of wicked irony to the goings-on.


"You surely can't expect Maya to lie down and take it...pun intended," guffaws Mohan Kapur at one stage of the deadlocked duel between mentor and shishya.


We cannot indeed. The coming-of-age of the working-class heroine who can be ambitious without the fear of being branded a bitch reaches a culmination in Inkaar. Chitrangda's molten eyes express the uncertainties of a woman crawling to the top of the corporate ladder. You can't judge or hate her for her ambitious just because she wears the skirt and wears it with such telling allure.


The dynamics of office politics have never been more dynamic. Inkaar is one helluva jolt in January.
BOLLYWOOD NEWS
Catch us for latest Bollywood News, New Bollywood Movies update, Box office collection, New Movies Release , Bollywood News Hindi, Entertainment News, Bollywood News Today & upcoming movies 2020 and stay updated with latest hindi movies only on Bollywood Hungama.