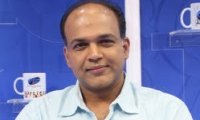 Yesterday, in the first part of this exclusive two part interview with Joginder Tuteja, Ashutosh Gowariker spoke about how he went through a transition as a director during the making of What's Your Raashee? . He also came clean on the reason behind his films being more than three hours long and how What's Your Raashee? isn't as easy and fun as it appears. Today he gets talking about the casting of Priyanka Chopra and Harman Baweja in the film, pressure (or the lack of it) around him after the failure of Love Story 2050 and the chances of him coming back with Aamir Khan, Shah Rukh Khan or Hrithik Roshan again.


Coming to the USP of the film, was it a given from the very beginning that in What's Your Raashee?, there would be one leading lady for all the 12 roles? Or did you still ponder over different options?

From the word 'Go' it was clear that one girl would play 12 parts. Our lead protagonist Yogesh Patel (played by Harman Baweja) had to select one girl out of 12. If we would have chosen 12 different girls, beauty would have been the prime consideration. Here at least audience is assured that Harman would eventually get Priyanka Chopra. So now they can sit back and enjoy the scenes with all the girls and their 'raashees' and their characters!

If we would have chosen 12 different girls, beauty would have been the prime consideration




Once it was decided that it would be Priyanka only who would enact all the 12 roles, did you actually have to go back to the drawing board and start sketching and detailing their finer details and graphs all over again?

Here I am thankful to Mr. Madhu Rye, writer of 'Kimball Ravenswood' for coming up with a concept like this and presenting such fine details in the novel itself. The written matter was very strong and we had to just get a few layers on that. Yes, there was a difference though because the novel talks about 12 different girls while in the film I had to get one actor playing all these girls. Moreover, each of them had to belong to 18-24 years age group and come from different backgrounds. Our team had to work hard on bringing in the difference by making changes in wardrobes, costumes, hairstyle, mannerisms and then leave it all on the performing power of Priyanka. Of course we had several reading sessions and look tests so as to ensure that Priyanka indeed comes across as 12 different girls.


How about Harman Baweja? You roped him in before Love Story 2050 released. How did you have so much confidence in his abilities even without seeing what he had done?
A lot of people have asked me this. See, the fact is that there were 2-3 things that struck me about Harman. I was looking around for a leading man for What's Your Raashee? when I heard about Love Story 2050. When I saw the rushes after requesting Harry (Baweja), I was immediately attracted to his innocence and endearing quality. To top that I also learnt that he spent a lot of time abroad studying cinema. He did everything to earn the craft and be skillful rather than coming with the attitude that 'I am the son of a filmmaker so I automatically qualify as a hero'. He is so passionate and dedicated for acting and performing rather than just becoming a star. I liked that a lot. Moreover, he is a very good dancer. His tuning and timing was good with Priyanka and I thought that he would be quite good. The good part about him was that even after Love Story 2050, he didn't appear to be under any pressure.

When I saw the rushes of Love Story 2050, I was immediately attracted to Harman's innocence and endearing quality




You seem to be showing quite some confidence in your actors...

See, roping in an actor are just some commercial decisions that you have to calmly take before making a movie. When Jodhaa Akbar was being worked upon, Hrithik's Krissh and Dhoom 2 hadn't released. It was being said that Hrithik couldn't get a hit without his father. Now all that was of course a myth! Still, when I announced Jodhaa Akbar with Hrithik, there was an immediate reaction that how could Hrithik be Akbar!


You must have been terribly disappointed?

On the contrary I welcomed such feedback. This is how you realise that how audience is reacting and thinking about a particular actor. I had a confidence in him that he was the true Akbar. He is someone who is naturally a prince; whether it's his approach or his walk. It's just that when there are adverse reactions to someone's casting, you have to give that little 25%. We said to each other that we are going to make it happen and work towards that. Same happened with Aishwarya Rai going all out for being Jodhaa.


From Aamir to Shah Rukh to Hrithik, you have worked with the best of the best....

With both Aamir and Shah Rukh, I have been a co-actor once so it's quite some relaxed atmosphere. It was different though in case of Hrithik since we never knew each other before talks began for Jodhaa Akbar. But then with him you can share a lot of wisdom about cinema since he has seen it all so up close with Rakeshji. There are a lot of diverse views that can be expressed. Something similar was the case with Harman too since he is again from the industry. He is highly aware about how movies are made.

Harman is from the industry so he is highly aware about how movies are made




Ever thought of making a movie with them again?

Yes, I would love to work with these people again. So yes, in a way I am fortunate to have had an association with these actors. (Smiles) Strange thing is that each of these actors has green lit some very different movies. The decision to rope any one of them again would be driven by the script. I always want the script to allow me and make that decision. If that script is right and the character is aiming towards a particular actor, then I go for that actor.
BOLLYWOOD NEWS
Catch us for latest Bollywood News, New Bollywood Movies update, Box office collection, New Movies Release , Bollywood News Hindi, Entertainment News, Bollywood News Today & upcoming movies 2020 and stay updated with latest hindi movies only on Bollywood Hungama.