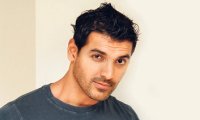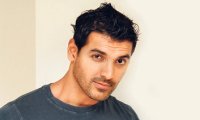 While Vivek Oberoi is maintaining a silence on the Ram Gopal Varma-Sanjay Dutt feud, one actor who has become the focus
of attention is John Abraham. Though he has nothing to do with RGV, he has a lot to do with Dutt, reason being that John is working with Dutt's friend
turned foe Sanjay Gupta on Shootout At Wadala. Though there had been murmurs that it wouldn't be easy for Gupta to get a solid cast in place
for his comeback film, with Balaji behind, Gupta succeeded in putting together a formidable ensemble. Further, John insists that he never faced any
resistance from Dutt.
"John doesn't belong to any camp and has always believed in picking up the films that excite him the most. John was clear about doing Shootout At
Wadala from the very inception," says a close associate of the actor.
Incidentally, Anil Kapoor and John were the first to come on board even when its writing was going through various drafts. John and Gupta have
worked together in Zinda several years back.
"Incidentally and amusingly, Dutt was John's nemesis in Zinda. Though the two continue to share great relationship with each other till date,
there weren't any talks between them about Shootout At Wadala. John's romantic interest in the film is played by Kangna Ranaut, who also had
a bad experience with the Dutt camp. However, Dutt is busy with his own work and John, too, is making his own choices. All the conspiracy theories
were in the minds of gossip-mongers. Dutt never stopped John from doing the film or working with Kangna," the associate continues.
Remarks John,"I love Sanjay Dutt to death. He is a darling and is always there for me. He is a great human being." He adds, "I am very close to
Gupta as well. To be honest, neither has spoken negatively about the other and I have a great equation with both. There was no question of any
battle-lines being drawn and I am doing Shootout At Wadala at my own free will."
One now waits to see the results once the film is out on 18th January next year.