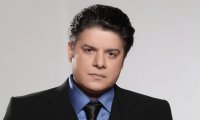 When it comes to making films, Sajid Khan has always claimed that his endeavour is to make people laugh. However, he found himself on the other side of the fence and ended up shedding a few tears once he started calling the shots for Housefull 2. The man responsible for that? Veteran actor Mithun Chakraborty.


"It was a highly emotional moment for Sajid to direct Mithunda", says a unit member, "He had been bracing himself all along to be mentally prepared when it came to directing the veteran actor. Sajid has always been in complete awe of the actor who has been around for over three decades. He really respects him a lot and hence once Mithunda gave his first shot for the film and it was okayed in the first take, Sajid had tears in his eyes."


This pretty much surprised other cast members who witnessed the incident. For someone who has traditionally never got carried away by stars and has always been quite open about treating everyone at par and considering his actors as more of friends than colleagues, Sajid's emotional outburst on the sets and that too publicly was surprising for one and all.


"It was only after Mithunda came and hugged Sajid that he managed to compose himself", the unit member continues, "Riteish Deshmukh was present on the sets as well and since he has worked with him earlier in Heyy Babyy as well as Housefull, he could understand that Sajid was genuinely touched. A quick break was announced soon after and shooting resumed only after Sajid was back to normal."


Though there are other veterans like Rishi Kapoor and Randhir Kapoor making an important appearance as well in Housefull 2, Mithun's inclusion in the film makes it the first ever instance of the trio coming together. With Akshay Kumar, John Abraham, Riteish Deshmukh and Shreyas Talpade as the main leads in the film, Sajid indeed has his house full twice over!


When contacted, Sajid was initially apprehensive about sharing any details about the incident by stating it as way too personal. However, on being prodded further, he opened up and said, "Mithunda is someone who I always wanted to present on screen by wearing the hat of a fan instead of a director. He has been a part of my growing up years. I always used to tell him that I would approach him only when I would be able to present him in a different light. It was a big high for me to direct him. Obviously it was a very emotional moment and I couldn't hold my tears. I was surprised myself since this is a first for me too."