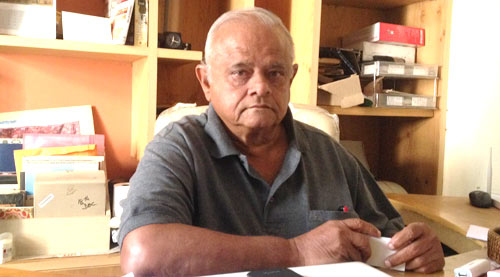 His filmography is incredible: Robin Bhatt began writing by default in 1990 (Aashiqui) and this is his 25th year in films in that capacity. Check his work and we find Dil Hai Ke Manta Nahin, Sadak, Hum Hain Rahi Pyaar Ke, Gumrah and more for half-brother Mahesh Bhatt and also a great ensemble of blockbusters and smaller memorable movies - this list includes Baazigar, Raja Hindustani, Karan Arjun, Hum Dono (1995), Ajnabee (2001), Golmaal Returns, Koi...Mil Gaya, Krrish and more.


The veteran all-rounder (he has been an assistant director, production manager and executive producer, and also an actor in films like Golmaal Returns) is a prolific member of the 100 crore club as well - thanks to his long association with frontrunners Ajay Devgn, Rohit Shetty and Rakesh Roshan. Golmaal 3, Krrish 3, Chennai Express, Bol Bachchan, Singham and Singham Returns are all part of his long and glorious innings as story and screenplay writer and script consultant or supervisor.


In a nutshell, then, Robin is au courant even 25 years after he started out, a distinction shared by less than ten writers in Hindi cinema. But meet him and we encounter a gentleman sans airs, with a ready smile and warmth even as he is just about to embark on another busy day.


You were already in the film industry for almost two decades before you began writing.

I joined director Shibu Mitra on Aakhri Goli around 1973 as apprentice and production assistant. After that I assisted several others like Narendra Bedi and Prabhat Roy and worked for Reena Roy's producer sister Barkhaa Roy, during which I even worked with I.V. Sasi from the South in Karishmaa. Bedi was the best, for he always encouraged his assistants to take part in story sessions and the creative aspects, and always said that writers could become good directors.


So what made you wait so long to write?

I was never a writer, but so many of my non-film friends often stated that I was a good narrator. When Mahesh (Bhatt) and Mukesh (Bhatt) formed Vishesh Films in 1987, I joined them as an Executive Producer on Kabzaa, Jurm and Daddy. And then Gulshan Kumar of T-Series offered Mahesh a musical film based on songs he had recorded.


At that stage, nothing much was happening on my brothers' front and I egged Mahesh to rise to the challenge though he would say that his branding was of a realistic and intense filmmaker. So when he agreed to direct the film, he told me to write it since it was I who had forced him to take it up!


You formed a writing team with Akash Khurana and Javed Siddiqui in so many films, but were also known as "Videocassette Writers" because you adapted so many foreign films.

Well, Akash was an actor, an MBA and a great friend with vast knowledge while I was just a graduate, so I got him on board in Aashiqui itself. Mahesh also gave lots of inputs. Gulshan Kumar liked the script so much that he recorded more songs! And the film was a hit.
There were many films in which Sujit Sen also came in with us, and Javed Siddiqui often wrote the dialogues. And yes, we did take inspiration in so many cases.


How did you approach these kind of films, whether it was Dil Hai Ke Manta Nahin from It Happened One Night, Gumrah from Bangkok Hilton, Baazigar from A Kiss Before Dying, Hum Hain Rahi Pyaar Ke from The Houseboat or even Raja Hindustani from the old Hindi film Jab Jab Phool Khile?

In every remake, the core idea is the spine, and the spine should never be changed, and the challenge is not to spoil the story in your version! One should not also try and improve upon a masterpiece, so the biggest points are what to pick up, what to change and what to discard for the Indian audience. Take Gumrah, in which a dark subject of a girl framed by her lover and in death row was converted into an entertaining film. By the way, I have never seen a better producer than Yash Johar-saab. And in Raja Hindustani, we changed the setting, plot and characters completely.


Then there was Sadak, which was the love story of a taxi driver with some elements from De Niro's Taxi Driver, and Abbas-Mustan's Baazigar, which they offered to me, and which I took up only on condition that I base my script on the book that I had read, A Kiss Before Dying, rather than the film they made. I had found the book much better!


Baazigari was a path-breaking revenge story of a black character without any whitewashing, and a turning point for me and everyone associated with it, like producers Venus, Abbas-Mustan, Shah Rukh Khan, Kajol, Shilpa Shetty and Anu Malik, and including me, many of us won awards. Besides, this was my first major hit outside Vishesh and I was no longer branded as an in-house writer.


How did Shah Rukh take up the film? We heard that many top heroes had turned down the film.

Every possible hero had rejected it! In those days, Akash, Sujit and I used to work from a room in Villa Hotel in Mumbai's suburb of Khar, and in the next room Aziz Mirza was scripting Raju Ban Gaya Gentleman and Shah Rukh Khan and all of us had become friends. I told him about the story and he agreed to do it, telling the Jains of Venus that his only precondition was that it should be made exactly the way I had written it! Even then, we could see that he was something special, and very adventurous as well!


How does it feel to have worked now with all the Khans, Hrithik Roshan, Ajay Devgn, top filmmakers and the best of setups? How would you describe the secret of your success for so long?

I think the key is to change with not just time but also evolving technology. A writer is the first to see any social change, because what we write today is for a movie that will release six months to a year later. Actually, things are better today with actors focusing on one film at a time - in the past, movies would take 18 months or more to reach the theatres, by which time so much would change.


Today, we can move parallel with changing times and society, and technology now has a major role in what we are writing. As assistant, I remember writer Dhruv Chaterjee writing a sequence and Bedi asking him whether he knew how expensive it would be to shoot it! Today, because of VFX and a greater emphasis on the visual part, we can think of anything.


Does that make writing easier?

No, because with less words spoken, we have to make a bigger impact. But it's simpler also in small ways because when we can show, for example, falling snow outside, we do not have to state it in the lines, with a character stating, "Baahar barf gir rahi hai!"


What is your take on remakes and sequels abounding?

This is a worldwide phenomenon. In India, corporates back easy money and buy and sell a brand, not the script. We do not have many passionate filmmakers who never repeated subjects, like a B.R. Chopra or Bimal Roy.


I am only happy that side by side, we do get films like Munna Bhai MBBS and Dil Chahta Hai.


What is your basic sensibility - mainstream or niche?

It will always be mainstream, but in diverse genres. I am working on Ajay Devgn's directorial film Shivaay and writing one more film of his. Sanjay Gupta, for whom I wrote Aatish 20 years ago, is working with me on both his films, one of which, Jazbaa, stars Aishwarya Rai Bachchan. I am also trying out television now, and Udaan is already being aired. It is adapted from a film that Mahesh and I were to make for the big screen, and the theme is of a girl child mortgaged when in her mother's womb!


How do you look at writing for television, which is considered a writer's medium?

It's a new field, a game of cricket on a different pitch, with a different bat and ball, that's all.
BOLLYWOOD NEWS
Catch us for latest Bollywood News, New Bollywood Movies update, Box office collection, New Movies Release , Bollywood News Hindi, Entertainment News, Bollywood News Today & upcoming movies 2020 and stay updated with latest hindi movies only on Bollywood Hungama.