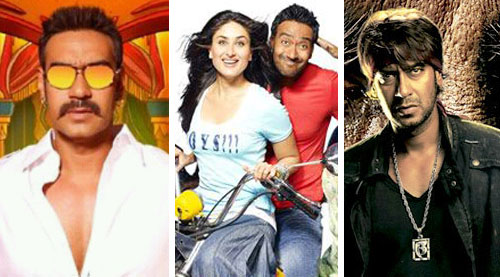 Hero, the remake of the 1983 blockbuster of the same name, has just opened—the pre-release buzz was not nice, and neither are the reviews.

The question asked is: why was this remake made at all?


So what is a remake? Is it just a film based on the same story as an earlier one? Or something that takes only the basic core and fashions a new film around it,

contemporizing it and adding and subtracting elements as per inspiration, but more commonly, trends?


Should we call a remake a remake only if it has the same name along with the identical plot? Like Don or the recent Hero? Or also take those films that

borrow a strong basic idea, like Bol Bachchan taking a leaf out of Gol Maal, or Ram Gopal Varma Ki Aag being taken from Sholay?


Down the decades, so many films have taken part- or whole inspiration from classics, like Dil Tera Aashiq from Professor, Shreemaan Aashique from

Shagird, Dulhan Banoo Main Teri from Ram Teri Ganga Maili, Yeh Majhdhaar from Sangam, Hum Tumpe Marte Hain from Dev Anand's Hum Dono,

Karma from Sholay and Uttar Dakshin from Trishul. The cleverly done Karma escaped notice, the rest flopped and were forgotten!



Or should we only term a film a remake when official rights are taken from the producers? Perhaps it's a mix of all these.



And should we include Devdas, Parineeta, Heer Ranjha, Umrao Jaan et al that are interpretations from varied filmmakers of literary works or real-life

chronicles? We think not! Why? This is one category we will not consider as remakes, for they are all based on the original sources and not on the older films.




However, most remakes—of any hue—are obviously indicative of two simultaneous qualities in a filmmaker: the desire for maximum gains from a minimum effort—in short, a

craving for Mammon as well as creative penury. Unlike sequels where the craving for big money is accompanied by the need to rack the brains for the perfect plotline,

remakes generally show a lack of perception, are always compared to the originals, and have less intrinsic merits.


The sad part is that most young filmmakers consider their version to be their personal tribute and lack the talent and judgment to pick the best from the older movie

and jettison the not-so-good. The new parts added also often do not make sense. In short, the changes either dilute the impact, or ruin the spirit and intensity and

get us nothing in return. The overwhelming majority of the new films flop, and the music in the new movies suck, for there was barely an older film in which the songs

were not cult numbers.


Here are remakes that we think should not have been made at all, in alphabetical order.



Dastaan (1972)


The legendary B.R. Chopra thought it would be a good idea to revisit his 1951 debut directorial with Ashok Kumar. He signed Dilip Kumar in the good/bad dual role,

then-topper Sharmila Tagore and Bindu as his leads, and mounted a big-canvas thriller that, however, flopped despite its interesting premise. The film got scathing

reviews for being a letdown after all the hype.





Agneepath (2012)


The film did bountiful business, compared to the original Mukul S. Anand film that disappointed at the BO. Hrithik Roshan's star presence, the song 'Chikni

Chameli' and the shrewd publicity and release did the trick. So why do we say that this remake still should not have been remade?


For one, it was a broad version of the original and did not strictly justify the title (Path of Fire) in the climax, and two, it just got lucky at the box-office, just

as the former, unluckily, got mauled because of its too-dark tenor, Bachchan's gruff initial timbre and the way trends were going then in favour of bright, song-and-

dance studded love stories and entertainers. Remember that the 1990 film is a cult classic now, and that many said that Hrithik Roshan was a complete misfit in his

role?


Main Prem Ki Deewani Hoon (2003)


While Sooraj Barjatya had succeeded in remaking the small Nadiya Ke Paar as Hum Aapke Hain Koun!..., he could not redo the magic with his banner's 1976 hit

Chitchor. This was the most un-Rajshri-like fare from the wholesome family entertainment specialists, satisfying neither the young generation with its fake

attempt at modernity, nor the rest of the audience. It pulverized the emotional and humorous quotient of the original and was a major setback for Hrithik Roshan and

composer Anu Malik in particular.


Jeena Sirf Merre Liye (2002)


Vashu Bhagnani actually took the rights to remake the classic 1946 triangular musical romance Anmol Ghadi starring three singing stars-Surendra, Noor Jehan and Suraiya-with Tusshar Kapoor, Kareena Kapoor Khan and Reema Lamba, a new find who later became known as Mallika Sherawat! With Nadeem-Shravan's uninspired score not being an iota of

Naushad's hit melodies, the film was a lost cause at the conception level itself, with its dated concept.


Karzzzz (2008)


What made Subhash Ghai agree to let his classic be remade with Himesh Reshammiya as Rishi Kapoor? As composer, Himesh did a decent job in some songs by modern 'hit'

standards, but the casting bloopers and the substandard, emotion-less script and direction added to the lack of the brilliant music that was so vital to the story of a

pop singer! And yes, the ridiculous numerology did not help, except for putting the audience into sleepy ('Zzzz') mode!


Khoobsurat (2014)


The story was ingeniously changed, but there was scant attention to vital areas like connectivity with the audience. The gimmicky music with some unwholesome lyrics, a

lack of a strong cast, and plastic emotions undid this one, vis-a-vis the original Khusboorat's (note the change in spelling here!) identity as a warm, family

entertainer for masses as well as classes.


Ram Gopal Varma Ki Aag (2007)


Ram Gopal Varma tried to take official rights and call it Ram Gopal Varma Ki Sholay. When that did not happen, he simply called it Ram Gopal Varma Ki Aag

and courted legal action. And this film can win the 'worst remake' title for all time hands down with its sickening violence, dialogues, music and its atrocious

casting, included a misguided Amitabh Bachchan playing a depraved version (!!) of Gabbar Singh as he chops victims' fingers like meat!



Victoria No. 203 (2007)


Late filmmaker Brij's son Kamal Sadanah decided to cash in on his father's biggest hit with this humble remake that all have forgotten. That says all about this one.




Zanjeer (2013)


The late Prakash Mehra's sons tried to do a Kamal Sadanah in a big-budget way, but those assigned the job were just not up to it. And while Ram Charan was sincere, and

so was Sanjay Dutt, it was a tough call to aspire to Amitabh Bachchan's and Pran's histrionic stature. A disastrous script with the wrong changes, poor music and the

legal damages to Salim-Javed, the original writers, all ended up in a catastrophic venture!
BOLLYWOOD NEWS
Catch us for latest Bollywood News, New Bollywood Movies update, Box office collection, New Movies Release , Bollywood News Hindi, Entertainment News, Bollywood News Today & upcoming movies 2020 and stay updated with latest hindi movies only on Bollywood Hungama.