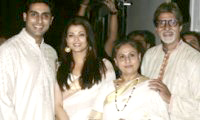 Great, so my heartiest best wishes go out to Bachchans for a new addition in the family. It was much awaited, had led to quite a few media speculations for last few years and created all the euphoria that was much anticipated. The question though is - 'Can we all move on now and put a FULL STOP to all the speculations, rumours and may I add, the jokes that are continuing to flood the world of internet, most notably the social networking sites'? Really, for all of us members belonging to the fraternity, guess it's time to focus on something else that indeed is waiting to catch attention of entertainment starved 'junta'. Will it really happen soon? Will there be a choice made to decide the right kind of 'entertainment'? Let's 'reflect'.
Reflections: Your entertainment is your choice
What was so entertaining about the whole affair?
If not for Bachchans really coming forward and requesting media to show some restrain in reporting Aishwarya's delivery, one wonders how far would most of us have really gone ahead in an overzealous endeavour to report anything and everything associated with it. The key word here was 'entertainment'. Yes, agreed that millions around the globe were cued in to the special occasion, rightly so since it marked the arrival of next generation of Bachchans. In fact months ago when the news had tricked in (during the shoot of Heroine) that Aishwarya was expecting, media was abuzz with special coverage of the announcement.
All of that was still acceptable but when a lesser known starlet accused Bachchans of craving for a boy (and also 'biologically' ensuring that it indeed happens), one knew that this won't be one ordinary 'delivery' for sure. Of course in the name of entertainment, many ended up crossing limits, hence ensuring that the family had to be careful about what was in the offering a few months down the line.
Did people out there really feel entertained? I doubt. At the end of the day, it was one daily dose which only ended up being not just repetitive but also way too intrusive, both for the Bachchan family as well as the 'aam junta'. Perhaps a large section of media felt that this was indeed the selling point but let me add a point here - 'The TRP or the trending or the website hits saw an increase because we were not 'willing' to give 'junta' anything else which was far more entertaining'.
The point being made was - 'yahi bikta hai boss' - but then the fact remains that there couldn't have been more ill-placed statement.
The other 'issues'
Of course just as it happens in accordance to the true 'action' v/s 'reaction' law, once media started celebrating the new arrival of a girl child in Bachchan household, there was usual backlash from the very same followers of this 'event'. 'Aren't thousands dying of hunger across the globe?', 'Aren't there lakhs of underprivileged kids all over?', 'What's the big deal and the brouhaha?' etc. etc.
Yes, my friend, that's the whole point and by talking about this, you are only adding to an already saturated news piece. No one came out and forced one to follow the news piece and even if that indeed happened, there was always a choice to say 'no' and be ignorant towards the entire affair. Of course there are bigger issues to be addressed and no one is oblivious to this fact. However, why to link the two things? A kid has arrived at someone's household. Just as you do it for a neighbour or some other unknown entity, the choice is yours to congratulate or ignore. Neither would the well wishes make any difference and nor would any curses harm anyone. It is entirely upon Bachchans on what they wish to make out of it.
For me and you, it would stay on as a mere opinion and as it happens with scores of them, they just remain that way - 'an opinion'. That's it!
Restrain doesn't seem to work all over though
There are still many out there who are not yet done though. This means that even though Bachchans have their own people to do the job when it comes to naming the child, studying her horoscope, making predictions etc. etc., some are happy to take up an unsolicited job. This means that despite a 'restrain order' being passed, there are some who are already deciding what would work best for the child when it comes to her profession and other well being. Bulletins are out, 'pandits' world over are working on 'kundlis' and 'raashis' while the word is already out on how she would do in future.
Of course along with all of this, there are regular round of jokes floating around as well. Some are in good spirit where Rajinikanth's followers are naming her as his leading lady 20 years down the line. On the other hand, a few are plain below-the-belt which only ends up leaving a bad taste in the mouth. Meanwhile even though Bachchans are hunting for the right name, there are countless suggestions coming in from all quarters. While some of these hint of genuine care, a few are plain nasty that only give a good idea about the sick mentality and immature conduct of some out there.
Meanwhile accusations aren't any far behind
While one does hope that it is the last that we are seeing and reading about an 'event' which is pretty much being termed as a 'milestone' (one wonders why?) of 2011, there are voices which have raised a different question. The theory making the round is that yet again, all this hype and hoopla is a result of a well planned PR exercise at work which has ensured that this turns out to be a much talked about affair. Everything related to the breaking news around Aishwarya being pregnant to her baby shower to the get together of her near and dear ones to her visits to the hospitals to her false alarms to an eventual delivery and the home coming has been attributed to the PRs who made sure that everything about the child and her family was much talked about for months at stretch.
Was that really the case or not? One won't know and to state the fact, there is no need to know that as well. Reason being that at the end of it all, it all boils down to you, me and rest of the media. It is up to these elements to decide whether they wish to be carried away in all the hype or hoopla or not? Regardless of this being a self generated PR exercise or media's overzealous approach; ultimately it is the audience which can be the deciding factor here.
If we like reading about it, let's stop complaining. And if don't, just move on to something else. It may be interesting or perhaps not-so-interesting but we would have made our choice at the least. Ultimately it all boils down to what 'we' believe in some real entertainment and news.
So what would you choose when an 'event' like this take place again?
BOLLYWOOD NEWS - LIVE UPDATES
Catch us for latest Bollywood News, New Bollywood Movies update, Box office collection, New Movies Release , Bollywood News Hindi, Entertainment News, Bollywood Live News Today & upcoming movies 2022 and stay updated with latest hindi movies only on Bollywood Hungama.