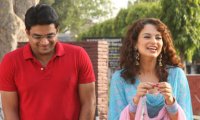 Not a single movie release for an entire month? Now how does that sound for a regular moviegoer, let aside a hardcore movie buff who wants to have his quota of at least one walk into the auditorium every week? Really bad, isn't it? However the worst nightmare of such movie buff is indeed coming true with Bollywood refusing to bring out any new film whatsoever this entire March. Sad, but true. Reason cited is based on a single point agenda - No taking 'panga' when World Cup cricket is on. Result? The situation is worse than ever with an absolute 'akaal' in the world of films. No new film, no foot fall, sheer boredom for most and a real long wait before something exciting comes in again. In this week's 'Reflections', here is a blow-by-blow account of a frustrated soul who is really missing out on all the action on the big screen.


Reflections: Worst phase for Bollywood ever?
....because history proves it?


Speak to any film maker and he says that films fail when the cricket season is on. 'History proves that' is a ready made answer. But come on, let's go back and check if indeed there was ever a 'well made' film that failed at the box office because cricket was on? Of course dozens of films may have failed in the past and would fail in future as well if they are badly made. Now whether they release during World Cup cricket, IPL, 'shraddh', school/college exams or any other event that is traditionally supposed to keep people indoors, they would fail for sure. Nothing can really save a bad film from falling and if at all they are arriving during any of the 'events' as mentioned above, that's because these were the only empty slots made available to them.


But where were the good films then?


This is what leads to the Catch 22 situation. Films fail at the box office and the panic button is pressed. 'Arrey, isliye cricket season mein films nahi release karni chahiye thi' - is a readymade answer. But ask those film makers who were sitting on a good product and still chose not to bring their film during the cricket season? Why are they not trying to go against the tide and actually coming out in open? If they are confident about their product, won't it make better sense for them to actually make use of the comfortable slots available for them when they can rather enjoy a solo week for themselves instead of battling it out with a clashing release?


The weekend game


On being questioned on the lines as above, some makers are honest enough in admitting - 'Par aajkal saara business weekend ka hi reh gaya hai'. This translates into the fact that if the weekend business is lost due to one crucial cricket match, it is doom time for the film. Well, now isn't it being really under confident about the prospects of your own film? Won't the audience actually want to watch a film if it is really well made? Of course, one can't deny the fact that foot falls would indeed be divided, but then they would take place for sure. As an audience, I may choose to ignore a film on particular evening because an interesting match is on but I will make sure that I would catch it later in the day or perhaps the next day if it is good enough.


Let's not go too far away


Let's pick a shining example from the current times rather than making hypothetical assumptions. Isn't Tanu Weds Manu doing well for itself even on the weekdays? Did it finish its entire business on the first weekend itself? And mind you, it isn't one of those 3 crores budgeted film which is declared a hit after making 6 crores, hence making many claim that it succeeded mainly because the investment was low here. The way it is going today, Tanu Weds Manu is all set to cross the total of big films like Patiala House, No One Killed Jessica, Dil Toh Bachcha Hai Ji and 7 Khoon Maaf and earn a place next only to Yamla Pagla Deewana this year. Bottom line is - it is earning moolah and that's because it is being liked by the audience day after day and not just over the weekend.


There are examples from the past as well


Wasn't Emraan Hashmi's Jannat released during the IPL? Didn't Kunal Khemu starrer 99 turn into a surprise success on it's release amidst not just the IPL but also the producers v/s multiplexes stand off? And we of course know about films like Namastey London and Biwi No. 1 that stay on to be case studies in good films turning out to be successful despite arriving in the middle of important cricket tournaments. On the other hand does one remember a good film that failed at the box office because it released during the cricket season? Well, there may have been a few but then they were mainly small films that were inadequately promoted, released half heartedly and would anyways have struggled theatrically even if they would have enjoyed a solo release on say Eid or Diwali. And talking about Eid and Diwali, haven't we seen so-called blockbusters in the making going 'fusss' despite enjoying the best of the setup, theaters, timing and promotion? They failed because they were bad. Period.


Let's learn from something positive


Just like the myth surrounding cricket, there was also a jinx surrounding film releases in the first week of the year. For over a decade there hadn't been a single film that had done well on its early arrival. But as discussed and debated on numerous instances even earlier on, these films never deserved to succeed in any case. Yet again, it was a Catch 22 situation that was developing here - good films stayed away, bad films came and disappeared. And then it took one No One Killed Jessica to change it all, hence proving to be a slap on the face of the detractors who felt that it was a wrong move to go against the tide.


So whose cat gets belled after all?


While there would be several other reasoning that may be shared by the wheelers and dealers of Bollywood around a terrible draught which is being witnessed today, the fact remains that it is only going to worsen things over next few weeks. Picture this, there are at least 20 films lined up for release right through the month of April. Were they all potential hits in the making in any case? Naah, but the crowd definitely means that at least a couple of deserving films will definitely loose out in the crowd. Well, hold on if you felt that the worse would then be over. No ways because come May and the IPL is all set to scare Bollywood yet again, what with only three medium budgeted commercial films (Vikram Bhatt's Haunted, Ekta Kapoor's Raginni MMS and Sooraj Barjatya's Love U... Mr. Kalakaar!) daring to arrive that season.


While one can be rest assured that it would be too late for any of the existing films (which are ready for release) to see a change in strategy for them, one sincerely hopes that there would be some rethinking given and situation improves for better from 2012 at least.
BOLLYWOOD NEWS - LIVE UPDATES
Catch us for latest Bollywood News, New Bollywood Movies update, Box office collection, New Movies Release , Bollywood News Hindi, Entertainment News, Bollywood Live News Today & Upcoming Movies 2023 and stay updated with latest hindi movies only on Bollywood Hungama.