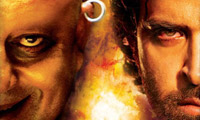 Earlier it was Shah Rukh Khan's Don and now it is Hrithik Roshan's Agneepath. The common factor between the two films stays on to be Amitabh Bachchan who is the only one to have come out unscathed despite others getting their fair share of bruises. Despite a constant call of 'Let's not compare the two films and the actors' from the makers, the obvious has always happened. As an outcome of a business decision, both these films have turned out to be successful but when it comes to the audience acceptance of these 'classics' (though there is a debate surging around this tagging as well), the response is mixed. No wonder, the debate has begun all over again - 'Whether films should be remade at all?' Let's take it forward in this week's 'Reflections'.


Let's admit it, comparisons can't be ignored

Karan Johar and Hrithik Roshan went to town declaring how their film was a homage to Mukul S. Anand & Amitabh Bachchan and there was no way they could have dreamt of replicating something that had attained 'cult' status. However, as it turned out, this emerged as the prime peg of the film's entire promotional campaign as at least seven out of ten questions popped to the Agneepath team were still focused on the 1990 version of the film. It was pretty much a vicious circle on display. The more they talked about 'don't compare us', the more they were questioned around the comparisons. There was a 'Chikni Chameli' thrown in for good measure as well but still till the day of release and pretty much over the weekend as well, it was all about whether Hrithik Roshan and the film had succeeded in standing up to the high expectations or not.


The ploy actually worked

In a way this very 'comparison' at play worked for Karan and Co. from business standpoint at the least. Such was the hype created around the film and the sheer comparison with the Bachchan starrer that audience drove in hordes to check out what the fuss was all about. Good, bad or ugly was a call that could have been taken once the opening weekend would have passed by but from sheer economics standpoint; the game was won by the makers here. By titling the film as Agneepath instead of something like a Badle Ki Aag or Inteqam Ki Jwaala or Mujhe Insaaf Chahiye, the team was successful in selling it to audience in such a manner that by the time comparisons would now end up deciding the eventual run of the film, investors would have enough moolah in their bag to breathe easily.




The obvious has happened though

As expected, now that the initial euphoria has started settling down, Agneepath is talking its own language. It is clear that except for Vijay Deenanath Chauhan, Kaancha and Maandwa, nothing about the film is remotely similar to the Bachchan starrer. This also means that the response is largely mixed, both from those who have seen the Big B version and the others for whom this is a standalone product. Of course frequent re-runs of the film on satellite channels as well as easy availability of the film's DVD means that those belonging to the latter category are quite sparse. However for that majority which remembers the film's dialogues to the T, there is varied line of thoughts being shared. For the ones who swear by the Bachchan classic, it has been nothing less than a sacrilege for Agneepath to have been made. On the other hand those who are open to different interpretations, the newer version works just fine. Of course there is one common factor at play - Hardly any souls have come back and said that the remake has bettered the original. And this, my friends, is the crux of the matter here!


Where does that leave the director though?

This is where I wonder what first time director Karan Malhotra would be thinking of at this very moment. At one end he now holds the record of being the first ever director in the history of modern Bollywood to have delivered a film that creates records on it's opening day. On the other hand, even he would know that Rs.22 crores that have come on the very first day can be pretty much attributed to Karan Johar and Hrithik Roshan. However the waiting game doesn't end there. He knows that real strength of his abilities would start talking for itself from today onwards as word of mouth would now come into play instead with the initial euphoria settling down. Still, even he would acknowledge the fact that from a filmmaker's point of view, he would still have to do something entirely new in his second outing to get better credits for his work. After all, at the end of it all, Agneepath would still go down as a remake despite an almost new setting and for him to give audience a chance to judge him for what he truly is capable of doing, it would be his next film that would do all the outing.


Due to this predicament, not many remakes are being attempted



After Don, not many filmmakers decided to take the remake route other than picking up films from down South. That was still okay since not many are expected to have seen the source of a Ready or a Wanted or a Bodyguard or an Ekk Deewana Tha or a Rowdy Rathore. However, when it comes to remakes of Hindi films, I do wonder if many in the business would be willing to take a plunge. Yes, there is a Bol Bachchan happening but one can trust Rohit Shetty to deliver goods, especially since he knows a thing or two about comedies and also promises to change the very structure of Amol Palekar's Golmaal (on which the film is based). On the other hand one wonders where exactly is Satte Pe Satta going because the announcement seems to have been made ages back and still there is no sign of any movement whatsoever. David Dhawan is remaking Chashme Baddoor but he benefits from the fact that the film isn't as known amongst today's generation audience as a Don or an Agneepath. However beyond these films, there aren't many brave souls who are willingly entering this territory. And that by the way seems to be a sane call as well.


Is remake a sheer business decision?

If a remake isn't better than the original, can audience really be expected to throng theatres on a regular basis year after year? When Shahrukh Khan did Don, there were mixed opinions again but many agreed in unison that the twist in the climax was good enough to justify the remake (and in the process pave way for the sequel). On the other hand Hrithik's version, though staying faithful to the basic conflict, hasn't quite given audience something new to chew (except for Rishi Kapoor's terrific act in a newly written character) which would make them even think of stating that this one is 'better' than the original. This means that even though Karan Johar has been earnest enough in declaring that the film is a gift to his dad who didn't quite get his due for the earlier Agneepath, it works well in a slightly twisted manner. That's because while audience is now pretty much acknowledging that Yash Johar had indeed made a good product in Agneepath, his son has ensured that from commercial standpoint he has managed to hit the bull's eye with newer version. That, in my opinion, has pretty much turned out to be a win-win situation because presumably even Karan wouldn't have been too happy had the verdict being the other way round.