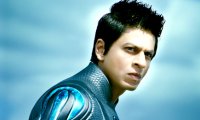 Two more days to go for the release of Ra.One and to say that the film would be pretty much an event on its arrival would be making an understatement for sure. It is quite visible that the film is all over. Well, literally. There is no space, no spectrum, no soul that Ra.One hasn't touched so far. While the job is pretty much done when it comes to making this big announcement - 'This Diwali arrives Ra.One' - there is this usual ongoing debate around - 'Has Shah Rukh Khan overdone his entire campaign?', 'Could he have played it with less force and still managed similar results?', 'Does audience really require persuasion of this kind and whether at least some bit of it was rather unnecessary?'


This pretty much paves way for this week's 'Reflections' as well.


Let's go back into the past


It was year 2006 and Shah Rukh Khan hadn't really seen a serious success for almost two years now. His last big hit was Veer Zaara (2004), Swades (2004) as well as Paheli (2005) were flops while Kabhi Alvida Naa Kehna (2006) had seen quite some flak coming its way. Don - The Chase Begins Again was a critical film for him for reasons more than one. First and foremost he was in dire need of a major box office success. Secondly, he had to shrug away comparisons with Amitabh Bachchan's original Don. Thirdly, there was a combined challenge from Akshay Kumar and Salman Khan with Jaan-E-Mann refusing to budge from its stand of arriving on Diwali.


Shah Rukh knew that this was the time to reiterate who was King Khan. This was also the first ever instance of a superstar travelling across the country for multi-city tours in order to create awareness around his film. When he started off his marketing and promotional campaign, it was labelled as being unsustainable. Just like it is happening today in case of Ra.One, Shah Rukh's mode of creating hype for Don was said to be unnecessary and wastage of precious time, effort and energy. However, for Shah Rukh it was a matter of not just competing with the aforementioned factors, it was also about prestige.


Result? Shah Rukh Khan was all over the place. He was also one of the first ones to actually hold a preview screening for 'aam junta' in major cities. This, when the film was a suspense thriller and actually twisted the entire climax of the film. The gamble was played even though it was quite obvious that the move could have bounced either ways. However, dice was rolled in Shah Rukh's favour and the film took one of the best openings ever, while also managing a (then) princely total of over Rs. 50 crores just from India.


Mission was accomplished and Shah Rukh sat comfortably on the throne of King Khan. All voices around 'overdone' and 'unnecessary' died down and a new chapter was written in the book of Bollywood's mega campaigns.


The instances when he chose to lie low



Ever since Don, Shah Rukh has seen only four films to his name which is less than 25% of what Salman Khan, Akshay Kumar and Ajay Devgn have managed over the years gone by. Only Aamir Khan and Hrithik Roshan have done similar number of films with former maintaining a 100% record and Hrithik hovering around the 50% mark. Nevertheless, while each of the aforementioned actors have adopted their own strategies when it comes to pitching their films, Shah Rukh Khan has allowed his films and their respective set ups to do all the talking.


This is the major reason why when it came to films like Chak De India (2007) and Rab Ne Bana Di Jodi (2008), he chose to curb the kind of enthusiasm he had demonstrated for Don and instead allowed Yash Raj Films, makers of both the outings, to drive their plans instead.


For Shah Rukh too it was a comfortable terrain to be a part of. Chak De India was the kind of film that was always designed as a 'word of mouth' affair while Rab Ne Bana Di Jodi wasn't supposed to rest on the laurels of just a terrific opening. In case of Chak De India which didn't even have a leading lady opposite Shah Rukh Khan despite 20 odd girls filling the frames right through it's running length, Shah Rukh was well aware that he was sitting pretty on one such performance that would be award worthy for sure and most likely get rewards as well once the word of mouth sets on.


On the other hand, Aditya Chopra wanted to keep things low for Rab Ne Bana Di Jodi where surprisingly newcomer Anushka Sharma hogged quite some light for herself. Moreover, with Shah Rukh being seen in a hitherto unseen look, there was no massive zing-bang that could anyways have been planned around the actor. Even as one would have suspected that the film's campaign would intensity around the timing of release, the tragic incident of 26/11 took place just a fortnight before the arrival of Rab Ne Bana Di Jodi. Shah Rukh and Co. chose to go further quiet but the film still went on to be a super-duper hit. There was no other competition either with Ghajini arriving only a fortnight later, hence allowing Shah Rukh all the space to keep the film high post its release.


Competition peps him though



However the common saying in the B-town is - 'If you really want to see the real (and brutal) side of Shah Rukh, just set him up for a challenge'. This is the lethal mistake that was made by the makers of Saawariya when they took on Shah Rukh's Om Shanti Om on Diwali 2007. Makers of both the films had all the good reasons to feel confident of their products though. Shah Rukh and Farah Khan had worked earlier in Main Hoon Naa and their second effort was always touted to be a much bigger affair. On the other hand, Kapoor kids (Ranbir and Sonam) were making their debut with Sanjay Leela Bhansali who was riding high on the success of Devdas and Hum Dil De Chuke Sanam.


All of this was good on paper though because once Shah Rukh realised that Bhansali wasn't budging from his stance of arriving on the same day as him, he embarked on a mission of a different kind. This was one full year after Don and yet again it was time for Shah Rukh to announce - 'Don't mess with me'. The one line agenda for his team was not just to 'do enough that would make Om Shanti Om bigger than Saawariya. It was 'Destroy Saawariya'. Tremors of this declaration can be pretty much felt till date because Shah Rukh started the kind of campaign that only he had initiated a year ago with Don.


Yet again he was all over and the voices around 'overdone' and 'unnecessary' started making the rounds. For weeks in succession, Shah Rukh was seen, heard and talked about at every possible forum and juncture, hence pretty much making it a one sided affair when Om Shanti Om and Saawariya clashed with each other. Results were there to be seen but the message was clear - 'If Shah Rukh decides to back his film to the fullest, he actually travels the farthest distance'.


Ra.One requires such travel


It is this requirement of travelling the farthest distance that Shah Rukh was well aware of not just yesterday, a few days back or till a few months ago. One can pretty much attribute his desire to cross all frontiers when it comes to marketing and promotional effort way back in early 2010 when 3 Idiots turned into a Rs. 200 crore film. For Shah Rukh, it was no more about competing with the likes of a Ghajini that had done Rs.100 crores. In any case the bar had to set up much higher with Salman Khan getting as many as three Rs.100 crore affairs in a row (Dabangg, Ready, Bodyguard) and Ajay Devgn too joining the club with Singham.



Simply put, Shah Rukh had to cross the Rs.200 crore mark here and the strategy was being put together at a frantic pace. The film's poster was released early this year, the first set of teasers were revealed during the World Cup itself while there were more tidbits around visuals and the VFX being thrown around at regular intervals. However by the time the film's music launch took place, it was crystal clear that Shah Rukh Khan had taken the film personally and there won't be any backing off from this point on.


The point was simple - Shah Rukh had been pushed to corner with quite a few factors challenging him from all sides. Competition was around:


a) Getting one blockbuster after another


b) He hadn't had a release for over a year and a half (his last film was My Name Is Khan - 2010)


c) Expenses on Ra.One had crossed Rs.150 crore mark, there was no definite plan for the film's release for a long period of time


d) The director (Anubhav Sinha) hadn't made a film of this scale ever before


e) The genre (superhero) by itself was an un-chartered territory


f) There were challenges galore with thousands of technicians working on the film across different parts of the world and…


g) (Last but not the least) there was usual push/pull in force by the detractors who were closely watching each and every move of his.


Shah Rukh had only once choice - For at least six weeks before the release, there would be only film that would hog all the limelight - Ra.One!


And hence began an over drive......



While many would have felt that Shah Rukh would halt for a while and just allow media to do all the talking once the music launch was held in front of 200 plus media people who had been invited from all parts of the country, the man had different plans from exactly this point. The kind of extensive campaign seen ever since then has involved unveiling of merchandising that explored the kind of tie ups that were otherwise reserved only for Hollywood counterparts. One press conference a day has been the order of the day. Multi city tours are the way of life than an exception. Close friends claim that the only time Shah Rukh sleeps is when he steps into his personal jet as during the nights he is in regular touch with his team members to ensure that all is on track w.r.t. release plans.


This means that while a few ignorant souls may call it all as 'overdone' and 'unnecessary' yet again, the fact remains that this is the need of the hour for Shah Rukh. He has done it earlier for Don and Om Shanti Om and there was no reason why he wouldn't have jumped many more steps when it came to a film which is touted to be the 'biggest ever in the history of Indian cinema'.


Is it going to stop any time? The answer is a firm 'No' as such campaigns would only intensify in years to come as well. With a rampant enhancement of commercialisation in the world of Hindi films and huge money and prestige at stake, one can well foresee much bigger campaigns in years to come.


Are we the only ones doing that? No, not at all. After all, when the makers of Avatar can travel with their 15 minutes preview reels all over the globe and show their film to select audience in order to create great buzz and excitement, all Shah Rukh has done is catered to his own 'desi' audience! Tomorrow if a 'desi' film indeed decides to go global, expect something far bigger in concept, scale and grandeur in years to come.


Ra.One is just a beginning!
BOLLYWOOD NEWS
Catch us for latest Bollywood News, New Bollywood Movies update, Box office collection, New Movies Release , Bollywood News Hindi, Entertainment News, Bollywood News Today & upcoming movies 2020 and stay updated with latest hindi movies only on Bollywood Hungama.