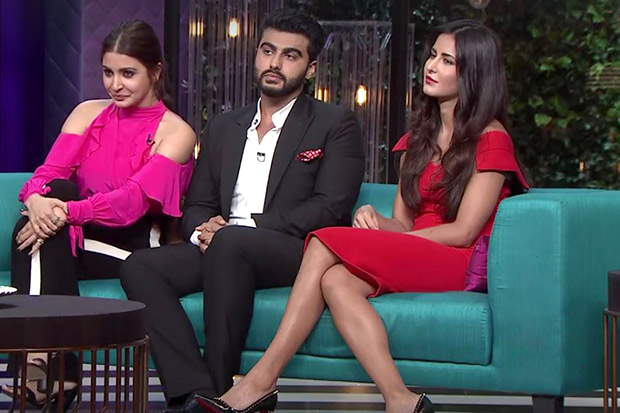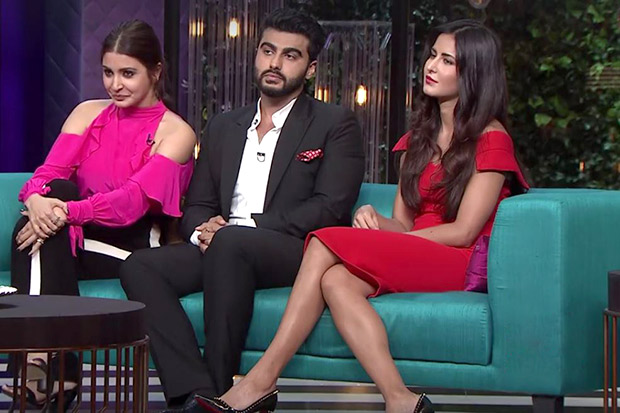 We had reported earlier that Jab Tak Hai Jaan co-stars Anushka Sharma and Katrina Kaif all set to sip coffee together on Koffee With Karan. The upcoming episode will feature the two actresses bring the house down.
The promo from the upcoming episode is out and it is full of madness. It starts with some vital information when Katrina Kaif reveals that Arjun Kapoor and Varun Dhawan were in a club called 'I hate Katrina club'.  TV sitcom Friends Déjà vu anyone? Another interesting talk was about how Arjun Kapoor is madly in love with Anushka Sharma which Anushka clearly doesn't approve of. Then, Arjun makes a special appearance which leaves her in laughter.
Karan asked Katrina if Salman was a dish, then what would he be. To this, Katrina replied that it is tricky. Anushka, on the other, heard chikki and started laughing. Arjun Kapoor made an appearance for the third time on this season and the women could not stop making fun of him. Katrina Kaif also ends up calling Arjun Kapoor 'charity' which leaves everyone guffawed. Katrina and Anushka were so hilarious and crazy that Karan had to stop them and said that he is having a meltdown for the first time on his show.
The new episode is a Christmas special.