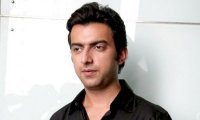 Ok, guess who? The sight so often seen - chewing nails, perspiration on the forehead, anxiety issues, too many smoked cigarettes in that ash tray, and the most obvious - deadlines not met, the final edit syndrome, the colour corrections, the last minute promotional activities and no time to shave that growing beard. All this and I walk in the private cabin of Sahil Sangha - He came across as the man who doesn't give a damn to any of the above, except, that he was smoking a ciggie when I met him and he did have that grown beard. But his first gaze at me and a firm handshake said it all. He came across as a grand collaborator taking inspiration from his entire team to create one singular vision called Love Breakups Zindagi. His talk reminded me that he clarified the intensity of the screen writer's words, seeing the different colours around his small room, especially the colourful coasters and the posters, reminded me of the visual language one creates with the cinematographer. Seeing the trailer of LBZ reminded me of how he must've helped each actor find a true emotional connect to their characters, how he must've designed each shot so that everything in the frame added to the immediacy of the story telling and how he must've made sure that every creative aspect works together to elevate craft to the level of the art. The echoes between the soul of the film and the man himself are the reason why the film is already being spoken of as one of 2012's freshest movie. In Part 1 of this special tete-a-tete, UK's Harrow Observer columnist and Bollywood Hungama's London Correspondent brings you a voice that's standard private-school posh, with no concessions to street-smart, exceptionally polite, softly spoken, not given to excess or exaggeration. He gives an impression of self-control, and there is certain watchfulness about him, which you might assume in a director. Yes, a director named Sahil Sangha A.K.A the ears, eyes and voice of Love Breakups Zindagi. It's a Bollywood Hungama exclusive!


"The song 'Love Love Love' has a very subtle reggae influence"
Love Love Love has a very subtle reggae influence. I want to be on the beach with a beer and not have 'in the recording studio' vibe to it (smiles). We've used our reference song called 'Baby I Loved Your Way' and I'm going to tell you a very personal story of 'Baby I Love Your Way' when I was in Class 9. I was in Delhi. This unbelievably cute girl joins the school. Everyone has a crush on her. Those days we weren't allowed 'late nights'. So we used to do these 'day disco parties' where the room was blacked out. The party began with a friend of mine who back then wanted to be a DJ. And as soon as that girl walks in, he puts on the perfect song 'Baby I Love Your Way'.


"People will sense the flavour of the movie like they did with ZNMD"

I'm very happy to know that the general feedback I'm getting from audience is that Love Breakups Zindagi is fresh. I'm flattered and humble that you too think the same. But honestly speaking, whichever Friday we come on is going to be a risk. Gone are those Fridays where you have a solo release unless you are a massive movie. I don't expect people to be intimidated by LBZ but it should be more inviting an experience than that. The space and the language of LBZ caters to a certain kind of audience. There will be a sizeable amount of people who will want to go and see LBZ on the first day first show. There's a room for everyone and you have to try and position yourself best within that. People will sense the flavour of the movie like they did with ZNMD.


"There will be a lot of 'You' and 'Everyone' in my film. That's why the tag line - Is This Your Story?"
Yes, I have been through Love, Breakups and I am living my life on my own terms now. I think everyone does and everyone should. When you are writing a subject like this and you've had your own experiences then you have definitely more to draw from. LBZ is heavily inspired from real time experiences, not just mine, but my extended family, friends and people whom I have observed over the years, which is why we have a tag line - Is This Your Story? There is a lot of 'You' in my film. Audiences have already started to relate to LBZ and I guess that's why it's fresh and has got that zing.


"Dia quoted - I can never imagine the face of that idiot who ever said that opposite attract. That was the germ of LBZ"
Coming back the germ of the idea, it was actually Dia's. Zayed and I can't take too much credit for that. Dia quoted a one liner - I can never imagine the face of that idiot who ever said that opposite attract. In today's day and age, relationships, fortunately or unfortunately bear the brunt of a lot of external pressures. Within all of this, if we don't have the same set of core values, it will be difficult to sustain a relationship in the long run. That's what I believe in.


"Anyone who says that no one calculates a screenplay is talking rubbish"

There is a significant amount of joy that we've experienced in one lifetime. There's tragedy and sorrow too. Now what's important is that at the end of every experience, you can look back and smile at it. The smile can stand for myriad of emotions. It's important to have a sense of humour as to what happens to you and not take things too personally. Now if that is interpreted as a conscious decision to make the film lighter and humorous than yes, we have. Anyone who says that no one calculates a screenplay is talking rubbish. Yes, there is a mix of emotions but that is life. But the trick is how you maintain that fine balance between humour and emotions. At my core, I don't want to make films that are preachy. People don't have patience for lectures right now. People want to enjoy an experience that's real and sustainable. The charm of breaking up with your loved one lies in the fact how you describe that in front of your friends. That's what people want to see and not some depressed bugger sitting in one corner mourning his loss.


"My writing is heavily inspired by shows like Friends, Two And A Half Men or Frasier"

My writing is heavily inspired by shows like Friends, Two And A Half Men or Frasier. Yes, those are heavy duty influences. But to bring them into the pallet of a Hindi movie is a tricky part. But I've had great help. I'm surrounded by people who get that space, be it Zayed, Dia, Cyrus, Pallavi, Umang, Tisca, etc. I am not asking them to play characters. I am asking them to be themselves and that's the fun bit. When you breathe a natural energy into your roles is the day when you create crazy sit-coms like the above. That's the space audiences enjoy. Audiences want to laugh the way you laugh. I have to thank Barry John because we did the acting workshop to break that ice between the new comers and the established stars but more so to make everything look real on screen, and he was influential in every which way.
BOLLYWOOD NEWS
Catch us for latest Bollywood News, New Bollywood Movies update, Box office collection, New Movies Release , Bollywood News Hindi, Entertainment News, Bollywood News Today & upcoming movies 2020 and stay updated with latest hindi movies only on Bollywood Hungama.