In earlier times, if a catastrophic incident took place, there used to be massive outrages against the government. The media, the civil society, the activists – all used to come together to condemn the ruling party for their failure in administration and in maintaining law and order.
But now things have changed. Thou shall not target the government. If you do, a section of netizens will focus all its energy in ridiculing you and exposing your 'hypocrisy', while the issue that led to all the brouhaha kind of gets forgotten. Take the case of the gang rape of an 8 year old girl in Kathua, Jammu and Kashmir. The details of the gory rape and murder are heart wrenching and it's no surprise that it has boiled the blood of the entire country. What's even more shocking is that it took place in a temple and that it was a religiously motivated crime, done to instill fears in a particular community. Lastly, a 'tiranga morcha' was organized by a right-wing group called Hindu Ekta Manch in support of the accused and even MLAs of the ruling party took place in this shameless procession.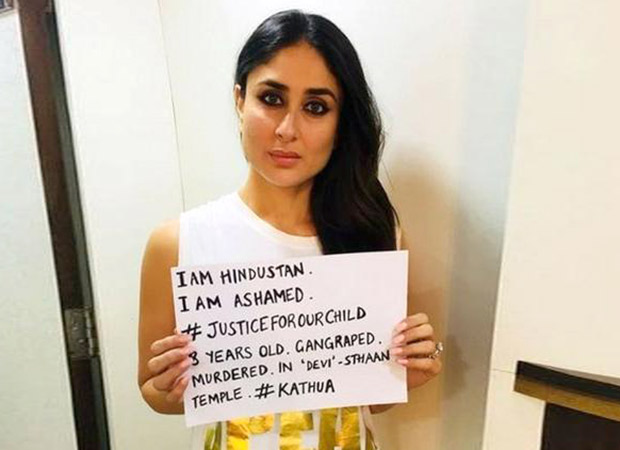 Naturally, the outrage was a given from all sections of society, including our Bollywood celebrities. Prominent celebrities like Hrithik Roshan, Kareena Kapoor, Anushka Sharma, Priyanka Chopra, Sonam Kapoor, Preity Zinta etc expressed shock and anger over this shameless incident. Given the nature of the crime, the reactions were also quite extreme and it was not limited to mere tweets. A movement began online wherein Bollywood actresses took their picture featuring them holding a placard in their hand that read 'I am Hindustan. I am Ashamed. #JusticeForOurChild 8 years old. Gangraped. Murdered. In 'Devi'-sthaan temple. #Kathua'
As expected, those netizens who consider themselves the protectors of Hindu identity and admirers of the ruling BJP government got rattled. These are also the ones who have a grouse against Bollywood for 'dishonouring' Queen Padmavati in Sanjay Leela Bhansali's Padmaavat, 'mocking' gods in Rajkumar Hirani's PK etc. They had reservations with the word 'Hindustan' and 'Devi-sthaan' in the placard. They have come up with a theory that only the murder of the girl took place and no rape ever happened; forget the rape happening in the temple. They also denounce the theory that it was a religiously motivated crime. Mind you, they have no concrete evidence that supports their bizarre theory. They feel that all these Bollywood celebrities have come together due to (false) reports that a group of Hindus raped and killed a Muslim child. If it was the other way round, these Bollywood celebs would have never come out to show their protest is what these people feel. To prove their point, they are busy finding out such incidents that occurred and are pasting links all over Twitter and Facebook.
It's amusing and even sad to read such reactions. These people have forgotten that after the Nirbhaya rape incident, these same Bollywood celebrities had expressed a similar kind of disgust and anger. Nobody had asked about the religion of Nirbhaya then. The nature of the crime was such that just like the Kathua rape case, the Nirbhaya rape case also made people squirm. Months before the Nirbhaya incident, a young girl working in Farhan Akhtar's office was brutally murdered by the watchman of her building. And no, she wasn't a Muslim and the killer wasn't a Hindu – it was the other way round (sorry to bring this up but in the context of this article, it was important). This incident prompted Farhan to start an organization called MARD (Men Against Rape and Discrimination). The Nirbhaya incident motivated him further to launch MARD.
The sad part is that despite the increased awareness, women are as unsafe as before and rapes continue to happen on a daily basis in India. There have been rapes that were as shocking as or arguably more shocking than Nirbhaya and victims or survivors were from both the religions. But for various reasons, these rapes didn't become the talking point. The nature of the crime in Kathua was such and moreover, the fact that tricolor was used to shield the accused, that too by members of the ruling government. Hence, there's nothing fishy that the anger is so profound. Unfortunately, a section of people are refusing to understand the point. They blame Bollywood for communalizing the Kathua rape case when the fact is that the very nature of the crime was communal. Bollywood celebrities are merely highlighting this aspect. What's wrong in that? Moreover, go through the timelines of these people blaming Bollywood and you'll realize that they are busy in whataboutery. But hardly any of these people are showing outrage for the Kathua rape victim. Just because it has been communalized, would you not want the accused to be punished? Would you not hope the poor 8 year girl gets swift justice? Sadly, they refuse to understand and as said before, they are refusing to even accept that the rape took place.
Where are we heading? Where's our humanity gone? Let's put aside our religious biases and differences. Let's not spread unverified information. Let's look at this incident with an open mind and try to find out where the authorities have gone wrong and what could be done to reduce incidents of rapes and communal killings. It's obvious that such steps will help the country a lot rather than infighting and trolling. The choice is yours.
Also Read: Veere Di Wedding: Kareena Kapoor casts a spell as an ultimate BLACK MAGIC woman (check out pics)
BOLLYWOOD NEWS
Catch us for latest Bollywood News, Bollywood Movies update, Box office collection, New Movies Release & upcoming movies info only on Bollywood Hungama.