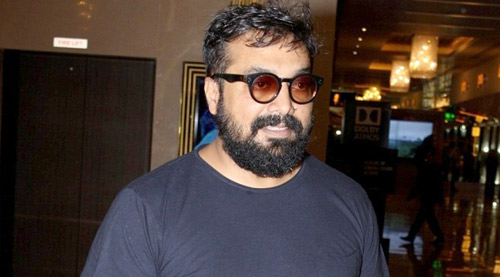 Main akela hi chala tha jaanib-e-manzil magar
Log saath aate gaye, aur kaarvan banta gaya
Dear Anurag,
I write this letter to you on a day when Bombay High Court may announce its verdict on the Udta Punjab's tussle with cuts prescribed by CBFC (read Mr. Pahlaj Nihalani since several board members have openly revolted against him). The manner in which the Bombay High Court judges rebuked some of the proposed cuts yesterday, it seems that you guys may have a favourable judgement. It will be a historic judgment since it will be a shot in the arm for many creative people who are feeling stifled in India today. You are the architect of this movement and a battle that you waged since the beginning of your career has now become a full-fledged war. The war is not won yet. There's many a slip between the cup and the lip.
Many have questioned your dynamite tweets where you blasted Mr. Nihalani and compared him with the dictatorial North Korea. It was very apparent that you weren't merely comparing Mr. Nihalani with the draconian regime. You targeted the 'mindset' that is out to cage any sort of free thinking or dissent. Yes you did take a risk. You put yourself in the open as the hungry social media sharks and vested political interests tore you apart. You strongly gave it back to them and even openly expressed your disappointment with the Information and Broadcasting ministry. Your much-talked-about tweets were an act of desperation of a creative person who happens to have invested a lot of money to make a film and has been pushed against the wall. The sort of rare support that you've received from within the film industry in the last couple of days proves that the massive risk that you took was justified. Bigger the risk, bigger the gain!
I read in a tabloid, that "why does it always has to be a 'meri ladaai' for Anurag Kashyap in everything?". I recalled how you told me post my interview with you and Kalki for That Girl In The Yellow Boots, "Abhi bahut ladaai baakhi hai". I was a bit perplexed that why does he have to be thinking of fighting in real and reel life all the time. Now, having known you for so many years, I realize that you don't really go out searching for a fight. The fight comes searching for you since it knows that this guy is the perfect match, the perfect fit, someone who'll ensure a 'Good Fight'. You are the sort of person who'll be most happy escaping into deep sea diving rather than giving a patient ear to a zillion independent filmmakers who consider you as their God, a saviour who may show a rare compassion that the pretentious film industry rarely boasts of.
When I met you on the sets of Bombay Velvet in Sri Lanka, I told you about how the bra sequence in the washroom in Queen (released only a few days back) had been blurred and till the time you don't blur it, there's nothing objectionable in the scene. You were livid with a few of the production members (including director Vikas Bahl) that why were you not informed about the blurring of the bra scene and why did they not fight it out with the Censor Board. You've always had issues with Censorship since you faced harrowing situations in Paanch, Black Friday, Ugly, Bombay Velvet etc. Somehow it is a personal war for you. You refused to release Ugly as you opposed the smoking disclaimer. Precious time was wasted. Somehow you didn't get the wholehearted support from within the film industry then. You were on your own even though there were many murmurs denouncing the no smoking disclaimer and the weird short films that play before each movie in cinema halls. I've always asked you that why is it that it is only Anurag Kashyap and Mahesh Bhatt from within the film industry who have the courage to raise their voices against the suppression of freedom of expression. Why is there such a lack of unity within the film industry, which is the reason why the industry is taken lightly by the successive governments. I am so glad that it is you who have been instrumental in igniting a lot of dormant volcanoes. I am glad to see you marching towards an imminent victory after many defeats.
I read an open letter yesterday which stated that filmmakers who are fighting for freedom of expression should also think about possible repercussions that the theatre owners and distributors may go through in the case of any sort of protest. It is a valid point of view. Rakeysh Omprakash Mehra in an interview told me a few months back that while he totally denounces censorship of any kind, he also advocated 'self-censorship' that the filmmakers must exercise. As for the protests that the theatre owners experience at times, say in the case of PK, well as Raju Hirani told me that it was observed that "there were protests happening only when news channel cameras or still cameras were around. In the absence of media coverage, the protests didn't happen," Mr Hirani said. It has been proven time and again that some desperate groups cause problems during a film release only for publicity. It is the responsibility of the government to curb such mischief makers with iron fists. The amount of money that the film industry pays in the form of entertainment tax is unprecedented. The least that the industry deserves is proper police protection in the case of a 'motivated' protest. I hope this is another issue that you shall raise Anurag because Udta Punjab will need this when it releases shortly.
Finally, I'd like to say that you are a unique paradox. You are instantly likable but then somehow you don't do anything extra to be likable. Your stark honesty is very endearing and heartwarming but it also puts off people. All I can say is that always be yourself (not that you'd be any other way anyways). And yes, please do escape for a deep sea diving expedition once you've scored momentous victories in the immediate future.
Best Regards
Faridoon
BOLLYWOOD NEWS
Catch us for latest Bollywood News, New Bollywood Movies update, Box office collection, New Movies Release , Bollywood News Hindi, Entertainment News, Bollywood News Today & upcoming movies 2020 and stay updated with latest hindi movies only on Bollywood Hungama.