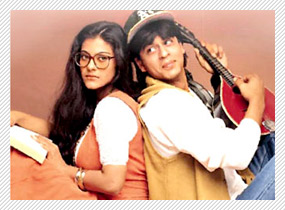 Over the last six decades, it is indeed a fascinating exercise to see which films proved the topmost box-office hits in each year from 1950 till the present. Their successes proved eye-openers not just for film buffs, industry and trade but frequently for their makers themselves, proving that hits happen and cannot be designed! In Part 5 of this 7-part series, we examine the films that have topped the box-office each year from 1990 to 1999.


Numero Unos: A Survey Of The Top Hit Films – Part 5
The Top Guns

It was a clear-cut triumph for Yash Chopra's 1995 Dilwale Dulhania Le Jayenge directed by his son and directorial first-timer Aditya Chopra, in this decade. The closest film that came to it was the 1994 Hum Aapke Hain Koun…! directed by Sooraj R.Barjatya. The other eight toppers were

1990: Dil, a love story directed by Indra Kumar

1991: Saajan, a love triangle directed by Lawrence D'Souza

1992: Beta, a family drama directed by Indra Kumar

1993: Aankhen, a crime caper directed by David Dhawan

1996: Raja Hindustani, a love story directed by Dharmesh Darshan

1997: Border, a partly dramatized real war story directed by J.P.Dutta

1998: Kuch Kuch Hota Hai, a love story marking the debut of Karan Johar and

1999: Biwi No.1, a rom-com-cum-melodrama on infidelity directed by David Dhawan.


The derivative angle, however, increased a bit, and we are not talking just about the South remakes Dil, Beta and Biwi No.1. Aankhen mingled elements of Mehmood's Do Phool, Hum Aapke Hain Koun (HAHK) was a skilful reinvention of the banner Rajshri Productions' '80s flop Nadiya Ke Paar and Raja Hindustani was a rehash of Jab Jab Phool Khile. Border, refreshingly, was a dramatized version of the battle for Longowal during the 1965 Indo-Pak war, and it became the first-ever Indian war film to mention Pakistan as the enemy. It is still considered the best Indian war film ever along with Chetan Anand's 1965 Haqeeqat.


Whizkid directors

With the media proliferating and various major changes happening, the decade became known as that of the whizkid directors - let us not forget that only 10 days of the 50-week run of Sooraj Barjatya's 1989 Maine Pyar Kiya happened in the '80s because of its late December release. When Sooraj's new film Hum Aapke Hain Koun…!'s quantum of success made Maine Pyar Kiya look like an average grosser (it ran for 150 weeks), and a year later Aditya Chopra came up with what is known India's longest-running film (now in matinee shows past the 800th week!!), the stage was set for directors to become brands as big as, if not bigger than, stars. Both these whizkids came from well-known film industry families and the hat-trick was completed by a third film industry scion, Karan Johar in Kuch Kuch Hota Hai.


Interesting all top directors in the '90s with the exception of Lawrence D'Souza (Indra Kumar and David Dhawan bagged two films each) had at least one relative already established in the film industry. Kumar and Dhawan were brothers of actors Aruna Irani and Anil Dhawan, the '70s star. Dharmesh Darshan was the son of filmmaker Darshan, while J.P.Dutta was the son of writer-director O.P.Dutta, who wrote the dialogues of his film Border. D'Souza, however, was himself known as a gifted cinematographer before Saajan, his second directorial effort.



The Barjatyas as a clan, however, taught a thing or two about marketing to the industry. HAHK was the first film whose Home Video rights were withheld for six months or so after the film's release. This boosted the theatrical revenue. DDLJ started the Punjabi-ization of Hindi films, showcasing the culture in so alluring a light that from music to characters and lyrics to dialogues and locations, Punjab has dominated post-1995 cinema in a far bigger manner when Punjabi filmmakers and actors had been holding sway for decades!


HAHK and DDLJ also opened up the overseas territory for Hindi cinema as never before, and DDLJ made overseas shooting endemic. Soon, NRIs (non-resident Indians), especially stationed in Europe and USA, were the protagonists of rooted Indian stories. While Aditya openly admitted to inspiration from Sooraj, the fact remained that the Indian wedding became a huge cinematic attraction. More importantly, HAHK and DDLJ conclusively proved that a simple story could be made into a terrific film just by the lethal combo of a great director, super music (and lots of it!!), attractive stars and above all - that true hero of a film - the perfect screenplay where the three vital Quotients of Entertainment, Emotional and Intelligence were mixed in perfect proportions! Sooraj and Aditya themselves wrote their film scripts and soon big-name directors began to prefer writing or co-writing their own scripts, a trend that continues even today.


With the old guard virtually being wiped out of the Numero Unos, except for Rajshri Productions (HAHK), Yash Raj Films (DDLJ) and Dharma Productions (which started in the '80s) with Kuch Kuch Hota Hai, new associations began - like Indra Kumar's with Madhuri Dixit, Aditya Chopra's and Karan Johar's with Shah Rukh Khan, Karan's with Kajol, and the consolidation of Dhawan's associations with Govinda and Salman Khan.


Star breakthroughs

Star breakthroughs happened too. Aamir Khan got his first outside hit and follow-up to Qayamat Se Qayamat Tak with Dil, ditto Salman Khan with Saajan. Kajol's stardom was consolidated with DDLJ, Akshaye Khanna made his first impact and Suniel Shetty was recognized as a good actor with Border, and Rani Mukerji and Sushmita Sen got their careers on track with, respectively, Kuch Kuch Hota Hai and Biwi No.1.


DDLJ and Kuch Kuch Hota Hai consolidated SRK and Kajol as the new magic pair of the '90s. The two had a flop free tally with two other blockbusters, Baazigar (1993) and Karan Arjun (1995), which was the first runner-up to DDLJ that year. Salman Khan and Madhuri Dixit also came up with two winners - Saajan and Hum Aapke Hain Koun..! . Madhuri Dixit and Anil Kapoor came up with Beta four years after the '88 topper Tezaab.


Individually, Dixit was the uncrowned Queen Bee with Dil, Saajan, Beta in a hat-trick and HAHK. Karisma Kapoor (Raja Hindustani, Biwi No.1) and Kajol (DDLJ, Kuch Kuch Hota Hai) had two films each. Tabu had Border and Biwi No.1.



Salman Khan managed four films (Saajan, HAHK, Kuch Kuch Hota Hai, Biwi No.1) and Aamir Khan (Dil, Raja Hindustani) two. The ruling Khan troika had made its impact, but no one knew that they would rule for more than a decade after the '90s too. Anil managed the solo Beta and the multi-hero Biwi No.1. Somehow, starlets went on to do cameos in these film, like Ekta (Saajan), Pratibha (Raja Hindustani) and Neelam (Kuch Kuch…).


The runners-up

The runners-up showed a trend away from action and crime for most of the decade. 1990's second biggest hit was Ghayal, 1991 had Phool Aur Kaante, 1992 had Deewana, a violence-studded love triangle, 1993 saw Khal-Nayak, 1994 had Krantiveer, 1995 had Karan Arjun and 1996 had Agnisakshi, It was only in 1997 that Dil To Pagal Hai lost to Border, 1998 saw a rom-com Pyaar To Hona Hi Tha in second place, while 1999 saw Hum Saath Saath Hain, as much a melodrama as Biwi No.1 with four lead stars (Salman, Saif, Karisma and Tabu) and a lyricist (Dev Kohli) in common!


Mixed melody

Hit music rather than excellent melodies got bigger importance, despite Raamlaxman's music-fest HAHK and Jatin-Lalit's brilliant DDLJ and Kuch Kuch Hota Hai. While none of the music scores were below-par (Dil and Beta were heavily ripped off from Ilayaraja), the tendency seemed to be more towards a single chartbuster that sold the album, like 'Mujhe Neend Na Aaye' from Dil, 'Dhak Dhak Karne Lagaa' (Beta), 'Lal Dupatte Wali' in Bappi Lahiri's Aankhen, 'Pardesi Pardesi Jaana Nahin' from Nadeem-Shravan's Raja Hindustani. Nadeem-Shravan, however, gave a well-rounded score in Saajan and Anu Malik showed his strength as an original composer with Border, even if he was back to the chaalu stuff in Biwi No.1. Sameer dominated the list completely with six of ten films as solo or main lyricist, the only exceptions being Indeewar's Aankhen, Dev Kohli's and Ravindta Rawal's HAHK, Anand Bakshi's DDLJ and Javed Akhtar's Border. The significant breakthroughs among singers were of Sonu Nigam and Roopkumar Rathod in Border while Sony Music entered the Hindi film scene with Kuch Kuch Hota Hai.


In the millennium, audience's tastes and filmmaking were to undergo paradigm changes.


Click here to read Part 1 - Part 2 - Part 3 - Part 4
BOLLYWOOD NEWS - LIVE UPDATES
Catch us for latest Bollywood News, New Bollywood Movies update, Box office collection, New Movies Release , Bollywood News Hindi, Entertainment News, Bollywood Live News Today & Upcoming Movies 2023 and stay updated with latest hindi movies only on Bollywood Hungama.