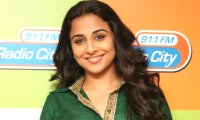 Many actresses have been considered sex symbols. Katrina Kaif and Deepika Padukone are just a few to have been famed for setting male pulses racing. Far fewer have been considered hugely talented as well as super-sexy, Kareena Kapoor and Priyanka Chopra being just two capable of arousing both the body and the intellect. And no one has been considered super-sexy (Ishqiya) hugely talented (Paa) and strikingly beautiful (Parineeta) for quite as long as Vidya Balan. A wholly inflammatory character, she's been one of the India's top thespians. And even though she's been in the film industry for only half a decade, she is still being touted as that wild card in movie land. But it's only when her films like Parineeta, Paa and Lage Raho Munnabhai release that the wild card becomes a much deserved contender to win the most coveted crown of the 'Best Actress'. Given the traditional paucity of fine roles for more mature women, this is proof positive that Balan's talent can often turn manure into gold-dust. And everyone knows it, too. What everyone doesn't know is that Vidya and I have never met since both of us started our careers. I was all geared up for my first ever meeting with her in the hotel room where her makeup man, hair stylist, publicist and PR were trying to make her look glamorous. I walk in and to my surprise; she was sitting on the chair with her face in the direction of the beautiful scenic beach side. At an arm's length away and I still wasn't able to meet eyes with her. Then I deliver, "Do you think Vidya Balan needs make up to look beautiful?" Hearing this, Balan turns and I walk towards her. A warm hug to a person I had never before met in my life. It was special, more because she made me feel so, like a true friend who is all excited to meet you after decades. Strangely, for someone whose screen persona is usually so open and simple, it was difficult to accurately describe Vidya Balan. But while going home after meeting her, I thought of a word - impeccable. In part one of this exclusive two part series, UK's Harrow Observer columnist and Bollywood Hungama's London correspondent meets the rare wholesome Indian woman dressed in her beautifully embroidered black dress looking irresistibly vicarious.


Truth & Fiction


Of course, the film No One Killed Jessica is based on the court case of Jessica Lal. We did have access to the case files through various mediums. Jessica's sister Sabrina shared with the director Raj Kumar Gupta, a lot of her real life experiences in that matter. She shared a lot of facts that weren't clear. In terms of character, I'm more interested in the emotional journey of Sabrina which we couldn't get access to. She was kind enough to share with us whatever she did but we didn't think it was right to ask her to go through those days of turmoil and torture she surely crossed by during all her struggle with the court and the media.


Case & Script


Today, Sabrina's perspective has also changed. She looks at what happened as a bygone and has evolved as a stronger person. She is calm and there is certain poise about her. My Sabrina had to be vulnerable, raw and someone who was a regular girl, living a very cushioned life. Suddenly, reality hits and how. I didn't necessarily have to follow the case because I just had to follow the script. As a citizen, I was aware of the case anyway. If this Sabrina tends to share any similarities beyond the name, with the real Sabrina, it'd one be the strength and her spirit. Everything else would be a co-incidence.


Range De Basanti & No One Killed Jessica


Nothing ever works in isolation. While I think that the film was hugely instrumental to bring out the Jessica Lal murder case in the open, it was also to do with the fact that the film came out at the right time. RDB was a delayed film but look what it did to the case. In the real life too, the right kind of people were backing the case. There was Sabrina who wasn't giving up the struggle at one point in time and the media was helping her achieve justice. A good film has the power to inspire you in the right way. That is how potent cinema is. No One Killed Jessica has been inspired by the Jessica Lal murder case and the case came to light thanks to the film Rang De Basanti. So we can't thank Rang De Basanti enough.


Real Sabrina & Reel Sabrina


When I met Sabrina at the trailer launch for the first time, she hugged me and she said, 'Finally!' I was actually over-whelmed. Not just because I played her in the reel life but just as a person who had admired the fact that Sabrina kept her ego and self righteousness aside and fought for ten years to win this vigorous battle of giving her Late sister justice. Her life turned around 360 degrees and thanks to what she did, a lot of other cases came out in the open and got the prominence they deserved, whether it was Nitish Kataria or Priyadarshini Mattoo. I saluted her and that's all I had to say.


Emotion & Co-incidence


A very emotional moment took place when we were shooting our first scene in the court. The court trial scene was supposed to be shot on that day when the real verdict of the real case came out. The guilty was sentenced to life imprisonment. On the one hand, we were all thrilled. It seemed like a poetic justice that it had to happen on the day we were to start the court trial scene for our film. That was the moment I got a bit emotional. I didn't cry but I was moved. Eleven years of struggle for Sabrina is almost like a life-time.


What you know & What you don't know


It's about what happened with those people who were involved with the case of Jessica Lal. So what you know before you come in the theatres is what was published in the papers about which witness backed out and how Sabrina reacted to it. But what you don't know as a viewer is what prompted those happenings. For me, No One Killed Jessica is a dramatically thriller. When I asked the director, 'Who doesn't know about Jessica Lal?' He handed me over the script and told me to read it. I read it and I didn't put the script down. It was extremely gripping and interesting. The director told me that the Jessica Lal murder case was a thriller in itself.


Watch this space for Part 2 of Vidya Balan's interview!
BOLLYWOOD NEWS
Catch us for latest Bollywood News, New Bollywood Movies update, Box office collection, New Movies Release , Bollywood News Hindi, Entertainment News, Bollywood News Today & upcoming movies 2020 and stay updated with latest hindi movies only on Bollywood Hungama.