August 4 saw the birth of Kishore Kumar, who was many things in films, but primarily known as a singer and actor. July 31 was the death anniversary of Mohammed Rafi. Going a bit back, Mukesh was born on July 22. These three singers ruled Hindi cinema in the phase that was its musical cream. In that sense, this fortnight is the most musical phase of any year!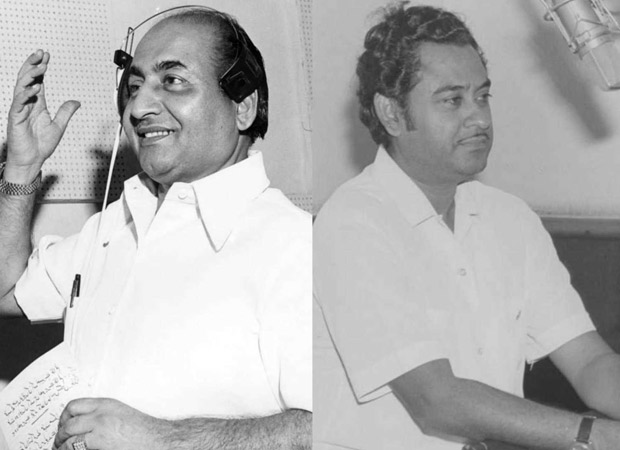 Two quick points: Kishore Kumar, who started out as a featured singer in 1948's Ziddi, loftily refused to sing for any actor, with negligible exceptions, other than Dev Anand and himself on screen until 1967, when his acting career went into a decline. Arguably, he would have sung much more had this not been a pre-condition, for among the great songs he had turned down was 'Kasme Waade Pyar Wafa' from Upkar.
The other point: Mukesh was always called for select songs, unless it was a Raj Kapoor film, and in his entire career from 1941 to 1976 (the year of his death) recorded less than 1000 songs to Rafi's final tally of approximately 7000 (he passed away in 1980 after starting out in 1944) and Kishore's 5000-plus until his death in 1987. And these numbers include non-Hindi film songs and non-film tracks. Plus, he hardly recorded with Kishore and did not have many with Rafi either.
In the final analysis, therefore, the true competition was between Rafi and Kishore. And that is why we need to evaluate their bond. More importantly, for whatever weird reason, they were pitted against each other by their 'fan-atics'! So, if you liked Rafi, you looked down on Kishore, and vice-versa! After their deaths, we have strong lobbies for both. If Rafi and Kishore could watch this sordid drama from Up Above, they would not only be furious but also immensely upset!
Deep friendship
Amit Kumar, Kishore's son, is the best person to recall their deep friendship today. "My dad and Rafi uncle had the highest regards for each other and would talk on the phone frequently," he told me. "Rafi uncle refused to take more than a token one rupee as payment for singing two songs in dad's film Chalti Ka Naam Zindagi. Later, he did not even charge a penny when he and the late C. Ramachandra again sang for—and with—dad for Shabhash Daddy, but the song was somehow never filmed."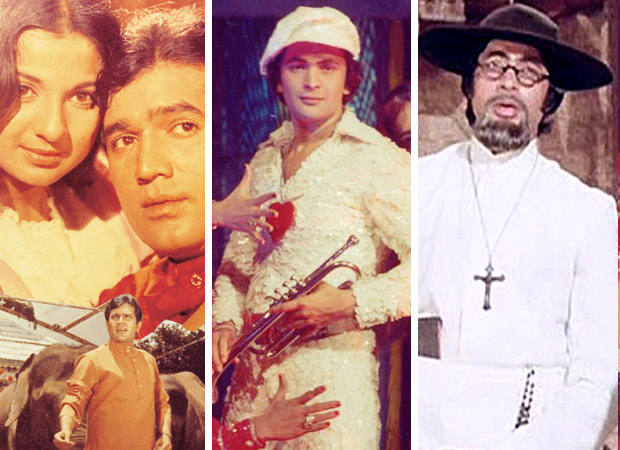 Duel?
He goes on, "In 1972, when the media was highlighting the rivalry between dad and him, we were in London for a show and Rafi uncle invited us over to his home there and served us an exotic homemade meal. It was a great evening with both dad and him also singing and recalling their days when my father would sing in the chorus of a Rafi song! Dad and Rafi uncle were both so similar in their simplicity and genuineness as human beings!"
Even when Rafi's recordings after Aradhana were outnumbered for some years by Kishore Kumar, Rafi always encouraged the singer and told him that since he was a good actor, he should do more live shows as well. Kishore, in turn, told Laxmikant-Pyarelal that the Dushmun cult hit 'Sacchai chhup nahin sakti' should be sung by Rafi. A wily Laxmikant then convinced Kishore that if he did not record the song, it would be scrapped completely, because they had composed the song with Kishore in mind!
Perhaps, the greatest proof of Kishore's fondness for Rafi was the latter singing at least eight songs for the actor, the popular ones being 'Man Mora Baanwra' (Ragini), 'Ajab Hai Dastaan Teri Ae Zindagi' (Shararat) and 'Apni Aadat Hai Sabko Salaam Karna'(Pyar Diwana). Among the others were 'Main Iss Masoom Chehre Ko' (Baaghi Shehzada), 'Hamein Koi Gham Hai' and 'Chale Ho Kahaan' (Bhagam Bhag). And in no song do Rafi's vocals sit oddly on Kishore!
Their immense respect for each other, in a paradoxical way, was highlighted when Kishore also mock-complained to Laxmikant, "You only think of Rafi for your best songs!" It was his way of stating that the level of their compositions for Rafi was far higher than even the high level they created for him. And yet, this was the same Kishore who insisted they go to Rafi again for 'Nafrat Ki Duniya Ko Chodh Kar' in Haathi Mere Saathi, a score in which he had sung all the five other songs!
And Rafi openly complimented Kishore for 'Dukhi Mann Mera' (Funtoosh) and 'Meri Neendon Mein Tum' (Naya Andaz) among others. When they recorded the title-track of Deedaar-E-Yaar, Jeetendra remembers how Rafi returned most of the amount he had been paid because it was on par with Kishore's going (and high) rate then. He kept only the money he had been paid at the time of Humjoli eight years earlier—Rs 4000 out of Rs 24,000! "Pay Kishore what is his price. My price remains the same for you!" he told the star.
Kishore took extra pains over the nuances of the strong Urdu lexicon and sailed through this song while Rafi, despite being strong in the language, fumbled. So they did consider each other as competition, but never as rivals. Rafi, in turn, did realize that his work had reduced due to Kishore's popularity, but decided to let his work do the speaking until a combination of the multi-hero trend, Rajesh Khanna's decline and Manmohan Desai brought him back to the reckoning with Dharam-Veer, Amar Akbar Anthony and Hum Kisise Kum Naheen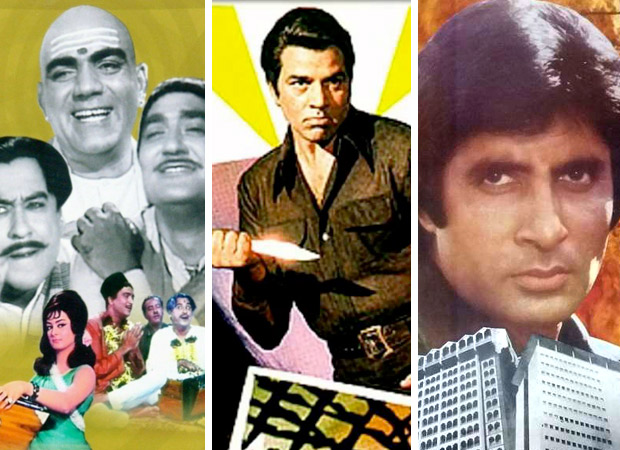 Duet
Though both were versatile, Rafi's strong points were classical and semi-classical numbers, but when given the chance, even Kishore excelled in strongly raag-based songs like 'Prem Ka Rog Laga' (Do Premee), 'Jai Govindam Jai Gopalam' (Ansoo Aur Muskan) and 'Priye Praneshwari' (Hum Tum Aur Woh) besides matching Manna Dey in 'Ek Chatur Naar' (Padosan).
Similarly, though Kishore was known as an ace in yodeling, a few songs like 'Unnse Rippy Tippy Ho Gayee' (with Geeta Dutt) in Agra Road also saw Rafi yodel, but in a style of his own. Another such song was 'Hello Sweety Seventeen' (Doctor Z).
Among the dozens of songs they sang together, with or without other singers, the first two were probably heard in the late Roshan's Malkin, way back in 1953—'Kahin Se Oonchi Kahin Se Neechi' and 'Aji Tum Hi Kaho Ji'. Rafi and Kishore also sang separate versions of 'Tum Bin Jaaoon Kahaan' (Pyar Ka Mausam), fuelling the first hint of rivalry in their fans who chose to play one against the other.
But apart from a few other sporadic and situation examples (like Humjoli and the title song of Yaadon Ki Baraat), their real association began only when multi-star films became a trend.
Their duets and ensemble songs of films as varied as Chupke Chupke, Zakhmee, Parvarish, Amar Akbar Anthony (with Mukesh also along with Lata Mangeshkar!), Aap Ke Deewane, Ram Balram, Badaltey Rishtey, Doosraa Aadmi, The Burning Train, Shaan, Kranti, Naseeb and many more, under a bevy of composers, remain timeless examples of their bonding, as they were all live recordings.
But perhaps, the song that best exemplifies their deep regard and respect for each other is that fabulously situational Anand Bakshi-written masterpiece composed by Laxmikant-Pyarelal again, 'Bane Chahe Dushmun Zamana Hamara/ Salamat Rahe Dostana Hamara' from the 1980 Dostana. Oddly enough, the lyrics (May our friendship remain evergreen even if the world becomes our foe) illustrates their relationship almost as much as that of the characters who enacted it on screen! As a veteran composer put it, "There was zero rivalry among our male singing legends."
Right. And that's how it should be.
BOLLYWOOD NEWS
Catch us for latest Bollywood News, New Bollywood Movies update, Box office collection, New Movies Release , Bollywood News Hindi, Entertainment News, Bollywood News Today & upcoming movies 2020 and stay updated with latest hindi movies only on Bollywood Hungama.