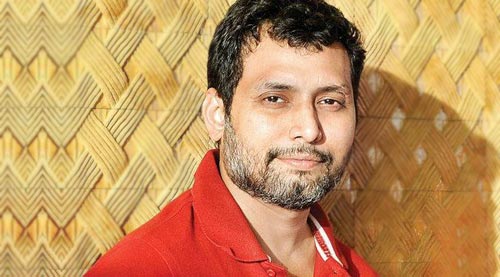 Neeraj Pandey's Baby is being seen as one of the most important films on counter-terrorism. It creates a sense of heightened reality while staying true to the malignant malaise of militancy. Subhash K Jha darts questions at the director about a film that creates a new benchmark in the action genre.

Baby has been banned in Pakistan. Your comments?
It's surprising and sad. For a developing nation it is important to recognize and identify its troubled areas. If we don't acknowledge the disease how do we cure of it? If they choose to remain in denial how can they tackle the situation?

Naming Pakistan as a terror zone could hardly endear you to that country?
I was aware of that. In fact during shooting I was one day chatting with Rashid Naz Saab (the Pakistani veteran actor who plays a radical religious political leader and terrorist). Naz Saab suddenly said to me, 'Aapko iss film ke baad problem hone wali hai. It's okay for me as a Pakistani to bring up the terror issue. I'll be seen as a liberal. Lekin Hindustani hokar yeh sab aap nahin bol sakte hain mere mulk ke bare me (as an Indian you can't say these things about my country).'

He was right?
Yes, I could see what he meant. Let's see where we go with this.

Rashid Naz plays a character modelled on the Pakistani Islamic fundamentalist Zaki ur Rehman Lakhvi?
He is not modelled on one individual. He's an amalgamation of several such religious leaders. And why only one religion? We've leaders like those in both the Hindu and Muslim communities. But if one community chooses to feel targeted by my film, I can't help it. I can't control perceptions. Audiences see what they want to see. In my opinion the film is very balanced in its view of terrorism.

Chillingly, your film pre-empts the terror threats issued this Republic Day?
Research and just a plain eye at the newspaper headlines would tell you that the world is disintegrating due to terrorism. One doesn't need to be Nostradamus to prophesy the catastrophe that terrorists are planning. It's not about just one Republic Day or one Peshawar. The threat is everywhere. It's a worldwide problem and we need to tackle it. In my film the terrorist warns that there are going to be many Diwalis (euphemism for explosions) in the near future. It's up to us prepare ourselves.

But your film shows a slew of brave hearts led by Akshay Kumar, countering terrorism. Isn't that escapist heroism?
You mean you don't believe there are people out there who are combating the dangers to make sure we are safe? I feel the Intelligence agencies have vastly improved in their damage-prevention skills. I've no doubt the brave hearts like Akshay and his team exists in our country. Otherwise, how do devastating terror plans get foiled?

You believe in humanity-saving heroes?
Men who have a mindset of country-above-all-else do exist. They are the reason why we survive so many attacks,

How did you get Akshay to give such a natural unfilmy heroic performance?
It was quite easy, actually. He is very easy to work with. His ability to surrender to a part is exemplary. Once he's on he is fully there for the project. We both believe that when we're working on a project we should be a slave to it.


Did you have to educate Akshay on the politics of terrorism?
For me to educate him would be too presumptuous. But when we had our readings Akshay showed a lot of healthy curiosity. He would be like, 'Did this really happen?' I myself got to know a lot of facts on global terrorism through my research. So it was a process of mutual discovery.

Did you have to re-acclimatize Akshay and the whole team into believing a more real kind of reality?
That's part of my job. When we started the project we decided we'd not got to areas that we were not comfortable with and areas that were not real. That doesn't mean I have anything against escapist cinema. I enjoy watching it. It's just that I can't make that kind of cinema.

Apart from Tapsee Pannu there are no developed women characters in Baby. How come? Akshay's wife's character is sketchy?
I don't agree with you. The whole film is seen through the eyes of the protagonist played by Akshay. We don't really move out of his character's mind-zone except for those occasions when we go into Danny Denzongpa's mind-zone. I feel Madhurima Tuli has done a good job as Akshay's wife.

Every time Akshay's character leaves for a mission his wife says, 'Don't die'?
That's right. When we had a show for the cops and their families the cops' wives gasped in recognition when the wife says, 'Don't die.' For us civilians the trauma faced by families of soldiers and law enforcers is beyond comprehension. They live in shadow and dread of death 24x7.

Why do you make only rugged macho masculine films?
(Laughs) Not in Tapsee's character for sure. That's a film in itself. My first film was meant to be a delicate love story. But it didn't attract finances. I plan to do a film on the novel Ghalib, Danger which is a sensitive film.

How much of a heft was it to direct the complicated action scenes in Baby?
Not much actually. I had a fantastic action team on board. Though there are mammoth fight scenes we had fun doing them. There were no glitches doing stunts in costly crowded locations.

The climax of Baby seems inspired by Ben Affleck's Argo?
When Special 26 released someone said the same although Argo had not been released when Special 26 was being made. Again this time there is an Argo reference in the reviews of Baby. They both have an airport climax. The similarity can't be helped. I was not in any obvious way inspired by Argo. My story had to finish in only one way. The way we saw in Argo.

What next?
I am growing with every film. Maybe someday I'll do a fantasy film. But even if the film is rooted to reality it better be worth the ticket payer's money.
BOLLYWOOD NEWS
Catch us for latest Bollywood News, New Bollywood Movies update, Box office collection, New Movies Release , Bollywood News Hindi, Entertainment News, Bollywood News Today & upcoming movies 2020 and stay updated with latest hindi movies only on Bollywood Hungama.