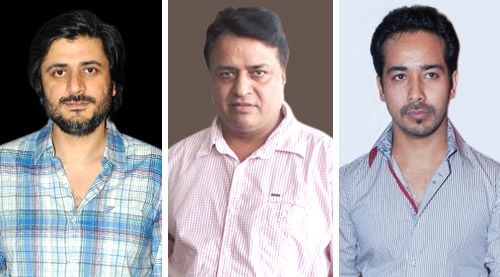 After a largely not-so-happening 2014, it could well be time for Bollywood to sit back, relax, take more than just a few moments to retrospect on what really happened, and make the next move. One such move could well be revival of many veteran filmmakers in the business who may well strike with vengeance and produce more films while also releasing them through independent distributors. Considering the fact that many corporate houses not being expected to be aggressive as before in 2015, is there going to be change in guard soon?



"In every despair there is also a hidden opportunity, but then finally only good content succeeds," says Goldie Behl, who is expected to bring a couple of films on floor soon, "There is always a cleaning/filtering that takes place after every high. I have seen it while growing up in the times when the home video guys ruled. Then the music companies came and now it is the corporate houses. However, it is pretty much time tested that finally only the genuine filmmakers survive."



This is what's keeping the veterans in the business alive and at least to some extent on their own terms. For someone who started his career with Ajay Devgn and then became an independent filmmaker, Kumar Mangat has been trying out different genres ever since he started producing films. Now that his son Abhishek Pathak has co-founded Panorama Studios and is running the show as a Managing Director, there is change which is expected down the line.



He says, "See, it's not about corporate or about independent producers; it's about doing wrong films. Today everyone is looking at front loading the film at box office and they forget all about the long run which actually changes the numbers at the box office. I am also surprised by the fact that top actors of the industry are doing these kinds of bad scripts. Cinema cannot change just if we producers and directors start making different films; these actors too need to work in them and take a risk, thus lending mass appeal. "



With quality of movies standing out as the single most reason behind the success or failure at the box office, the young ones in the business feel that more than corporate versus independent filmmaking, the trouble lies with 'what' we are making.



Milap Zaveri goes on to share a couple of examples, "Look at Ek Villain or Queen; they rocked the box office way more than expectations! The moment we get the taste back which the audience enjoys, our films will again do great in 2015! Rather than feel that any bubble has burst, I just think that we are chewing the wrong gum!"



"The bubble, as we call it, may not have yet burst. It will take a lot to wean the formula specialists away from a 300 crore gamble. It is like people losing at the casinos and races; they will continue to speculate and bide their luck. Having said that, a brick has certainly been displaced and discerning audiences and film makers must strain every nerve to break the wall a la Berlin wall," says Ananth Mahadevan, who has seen the business up, close and personal after being attached to the world of films and television for over three decades.


As for the budgets, it all boils down to where the money is eventually going and whether the costs are indeed justified.


"I think the cost of films, especially of marketing and releasing them, has reached ridiculous proportions," says Sudhir Mishra, who is a veteran in the business, "The ticket rates make people think twice before going to the movies and usually the decision reached is to give the film a miss in the theatres. The solution is for films to be made by people who care for them and pay attention to the story. Hopefully independent distributors, who have worked out the correct marketing spend, will come forward to release. Some of these distributors could be the big studios as well."


Anil Sharma wonders though if there is too much fuss being made around the whole debate of corporate houses versus independent filmmakers in the business. For someone who has been movies for over three decades and seen trends come and go; Anil Sharma states that every coin has two sides and one cannot ignore the other.


"That's how filmmaking is. If producing one is important, distributing in a right manner is critical too. This is something that you cannot deny. In any case, in India there is nothing like independent producers or corporate houses; you cannot separate them," says Sharma.


Talking about studios that can indeed be termed so in a true sense, Sharma reflects, "Remember the times from the past when Raj Kapoor, Shakti Samanta, Guru Dutt, B.R. Chopra or Sohrab Modi ruled? Now these are the men who ran studios. That carried its own weight because these men produced as well as directed the films; they knew the business they were in. They were not there just because they wanted to make films as a business."


"If one looks at the current times, Yash Raj Films and Rajshri are doing that. They make films and then they distribute them. They are also making films with new directors. They are the ones who are operating as real studios," he adds, "On the other hand, these corporate houses are basically distributors, and it is just incidental that some of them have also become individual producers."


Adds Milap Zaveri, "I feel the only reason corporate houses or others have had a disappointing year is because the quality of films hasn't been good. Be it a veteran film maker or a corporate in charge of the situation, the audience doesn't care. If even a rank newbie ends up making a great film, they will rush to the theatres! At the end of the day, content is king."


We couldn't agree more!
BOLLYWOOD NEWS
Catch us for latest Bollywood News, New Bollywood Movies update, Box office collection, New Movies Release , Bollywood News Hindi, Entertainment News, Bollywood News Today & upcoming movies 2020 and stay updated with latest hindi movies only on Bollywood Hungama.