While the country is the amid the Lok Sabha Elections 2019, Akshay Kumar sat down with Prime Minister Narendra Modi to have a conversation about his career, personal life etc. In a glimpse which he shared on Tuesday, Akshay dubbed the interview as 'non political interview'. The full interview was unveiled this morning.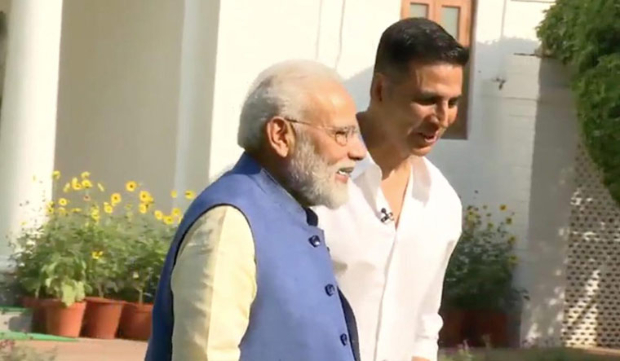 The video conversation took place at PM Modi's official home in 7 Lok Kalyan Marg in Delhi. Here are revelations Prime Minister Narendra Modi made during his conversation with Akshay Kumar:
1. "You sleep only three-four hours, a body needs at least seven, right?" asked Akshay Kumar in the interview. In response, PM Modi shared a conversation with former US President Barack Obama and said, "When President Obama met me for the first time he asked me why do you do this? Now, whenever we meet he asks me have you increased the amount you slept or not?"
2. Talking about becoming the Prime Minister, when Akshay Kumar asked whether he had even thought of leading the country, the politician said, "I never thought I'd become the Prime Minister. A common person doesn't think that. The kind of background I come from, even if I got a simple job, my mother would have been distributing ladoos to neighbours."
3. When asked whether he misses living with his entire family, Modi said, "Very early in life, I had quit all of this. I had left home very early and since then I have become very detached. May be when I left home at that young age, I did feel some difficulties in leaving my family, but not anymore."
4. When Akshay asked if the PM likes having mango, Modi revealed that he would pluck mangoes from trees when he was a child but now he has to think twice before having mangoes.
5. Talking about the meme culture and how much the PM gets trolled, Akshay Kumar asked about the PM's response. "I enjoy seeing these memes. Shows their creativity, their talent. The biggest advantage of social media is that it allows the common man to express his creativity," said Modi.
6. When asked by Akshay if you get Aladdin's chirag (lamp), then what will be his three wishes. Modi said, "I would ask it to stop educationists feed children and others folklores about Aladdin's lamp."
7. When asked about his bank balance, Modi said, "I never had a bank account earlier. When I was in school, people from Dena Bank came and gave us a piggy bank. I never had enough money. Later, the bank officials tracked me and they wanted to close the account due to inactivity. Thirty-two years later, they told me I had an account since childhood. When I became chief minister, salary used to get credited. I told them I wanted to give away the money, they tried to dissuade me, saying I had cases against me and I might need it, but I insisted I wanted to give Rs. 21 lakh from the bank account to people in need."
8. When asked whether he has friends beyond politics, Modi revealed that Mamata Banerjee sends him sweets and kurtas every year. "Mamata Didi sends two kurtas and sweets every year to me. Sometimes, Sheikh Hasina sends me sweets from Bangladesh."
9. Akshay further asked if he ever gets angry, Modi said, "I don't get angry easily. But it's a part of human nature. These are emotions that just spread negativity. Right from the time I was a peon, I have never had an opportunity to express anger. There's a difference between anger and being strict. You just have to ensure discipline at times."
10. When asked if he was always interested in becoming the PM, Modi said, "During childhood, I used to see soldiers etc, used to be inspired. When Faujis used to come, I would go to visit them with tea, used to enjoy it. I heard about an Army School in my area. So I went to meet the head. I also met the head of the Ramakrishna Mission. He used to love me a lot, explain and talk about love. These were new experiences. By 18-22, I travelled a lot, learnt a lot. But there was confusion too. Did not start out to be the PM, but life took its own shape."
Check out the videos:
#WATCH PM Narendra Modi during interaction with Akshay Kumar, speaks on if he ever thought that one day he will become the Prime Minister pic.twitter.com/aXhJE3ImwF

— ANI (@ANI) April 24, 2019
#WATCH PM Narendra Modi during interaction with Akshay Kumar, speaks on why he doesn't have his family living with him at 7 Lok Kalyan Marg in Delhi pic.twitter.com/Y3xnaaSyi2

— ANI (@ANI) April 24, 2019
#WATCH PM Narendra Modi during interaction with Akshay Kumar, speaks on his friends in opposition parties, especially Ghulam Nabi Azad & Mamata Banerjee pic.twitter.com/8GkqrHpqXv

— ANI (@ANI) April 24, 2019
#WATCH PM Narendra Modi in an interaction with Akshay Kumar speaks on his friendship with former US President Barack Obama pic.twitter.com/rGxgPJAAlC

— ANI (@ANI) April 24, 2019
#WATCH PM Narendra Modi in an interaction with Akshay Kumar, says, "I avoid using humour in today's times as I fear that my words will be twisted & misinterpreted for TRP" pic.twitter.com/JV4Gw4fslY

— ANI (@ANI) April 24, 2019
#WATCH PM Modi during interaction with Akshay Kumar, talks about his fashion style, says being careful about his appearance could possibly be psychological reaction to an inferiority complex he felt growing up poor pic.twitter.com/zCVOaAMCY5

— ANI (@ANI) April 24, 2019
#WATCH PM Narendra Modi speaks on Akshay Kumar & Twinkle Khanna pic.twitter.com/r0Y2fCjaK0

— ANI (@ANI) April 24, 2019
BOLLYWOOD NEWS
Catch us for latest Bollywood News, New Bollywood Movies update, Box office collection, New Movies Release , Bollywood News Hindi, Entertainment News, Bollywood News Today & upcoming movies 2020 and stay updated with latest hindi movies only on Bollywood Hungama.